Estimated read time: 6-7 minutes
This archived news story is available only for your personal, non-commercial use. Information in the story may be outdated or superseded by additional information. Reading or replaying the story in its archived form does not constitute a republication of the story.
SANDY — As David Blitzer searched for a way to embed himself into American soccer and its top league, the six-time European club owner knew Major League Soccer was his best bet for investment.
But the occasional patron of New York City FC never found the right club, the right market or the right partner to make the final investment — until he found all three in the most unlikely place.
On conference calls with the NBA's other owners.
By the time an opening appeared at Real Salt Lake, with MLS commissioner Don Garber taking over the sale from Dell Loy Hansen, the part-owner of the Philadelphia 76ers had found the perfect partner in new Utah Jazz owner Ryan Smith.
It was, to use the cliché, a match made in heaven — so much so that the negotiations and discussions preceding Thursday's big reveal of the third ownership group in RSL history rarely centered on soccer, or MLS, or even professional sports.
"I talked to him about business, I talked to him about Utah, about this market and the potential for growth and the community," Blitzer said via videoconference. "We talked a lot about the academy and what else can be done for the academy to serve more and more people in this region.
"This was clearly the market that I wanted to make an investment in," he added, "but then I wanted to do it with somebody who I felt was the perfect partner. Luckily, I was able to come together with Ryan Smith and his team to partner and to invest in Real Salt Lake as an amazing experience."
The partnership materialized Wednesday in the form of a press release, and became physical when Blitzer, Smith and Garber sat at a table at Rio Tinto Stadium and met with employees of the organization and members of the media in the middle of one of the shortest offseasons in MLS history.
That partnership brings together two central tenets of what Garber and the league looked for in new RSL ownership: the "deep passion and commitment to the game" offered by Blitzer, and the "deep roots in the state and community" of Smith, said the MLS commissioner whose first expansion franchise awarded was Real Salt Lake (along with the now defunct Chivas USA) in 2005.
"This is a great soccer market, and today we begin a new chapter with a new ownership group," Garber said. "They bring, most importantly, a deep belief in this sport and in this state.
"David knows this game, and he loves this game," he added. "He also believes in a strong foundation, and he believes in the academy that they have here and a school that is growing to be part of a strong RSL system."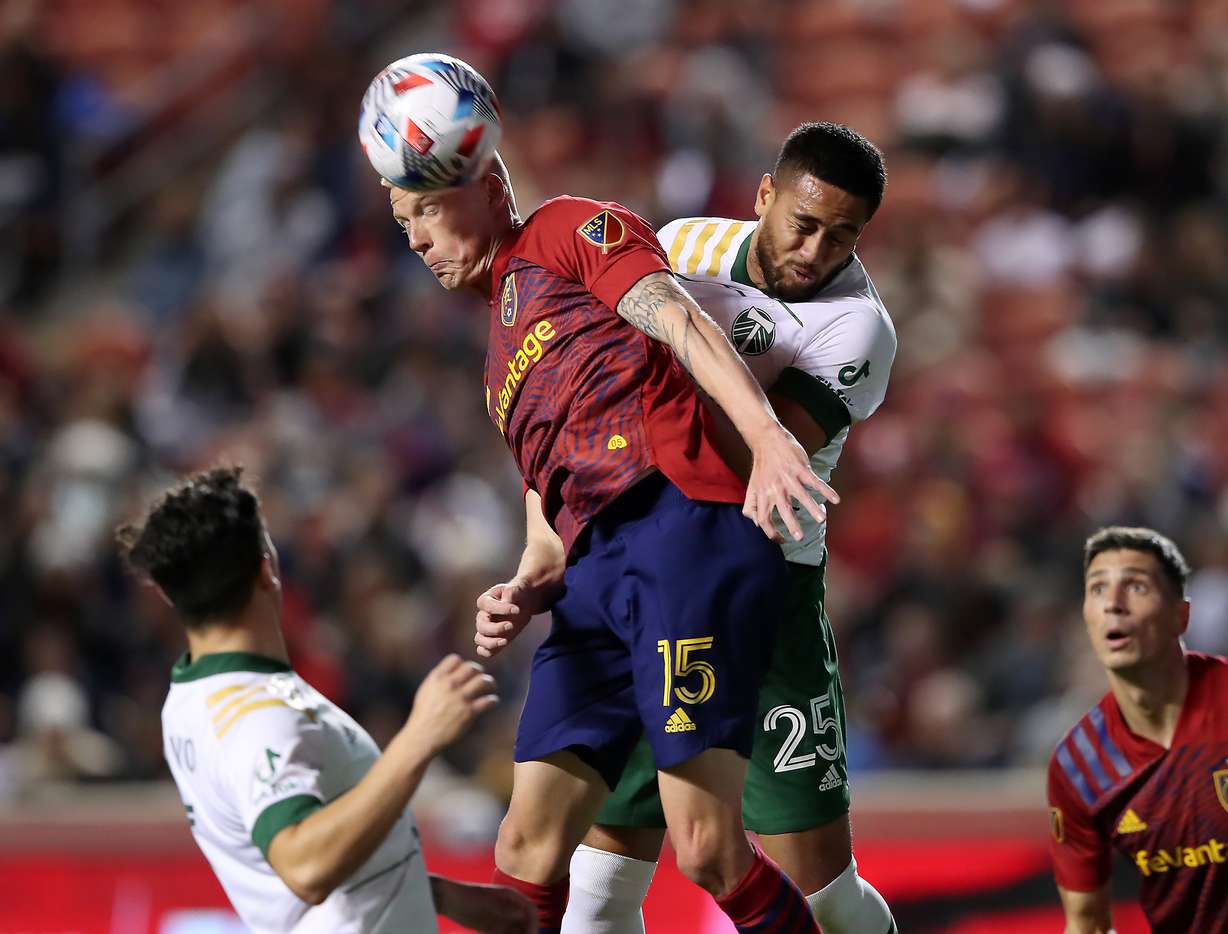 There's a lot to do between now and the time Real Salt Lake kicks off the 2022 season on Feb. 27 at Houston Dynamo FC. But the foundation is in place, Blitzer said — why mess with an organization that just advanced to the Western Conference final and promoted head coach Pablo Mastroeni from his interim position?
While Blitzer and Smith both indicated plans to be hands-on owners — especially Smith, the BYU graduate and co-founder of tech giant Qualtrics whose year-long track record with the Jazz points to such — but they also haven't seen much reason to deviate from the track laid out under interim president John Kimball, executive vice president Rob Zarkos and general manager Elliot Fall while they also prepare the franchise for some big-picture moves.
That includes the return of a former professional women's soccer team that once played at Rio Tinto Stadium.
Yes, RSL fans, Utah Royals FC is (almost, sort of, unofficially) coming back.
"Ryan and I talked about it in our early conversations, about this community, Utah and the passionate fanbase — and how incredibly well the Royals did when they were here," Blitzer said. "We're huge believers in women's soccer and in the NWSL in this market. From our perspective, we both agreed very, very clearly on Day 1 that we want to make that happen.
"Like anything, there are dynamics that need to occur and timing. But we both said this is 'when' not 'if.' We're very excited to bring the Royals back to Utah, and to this club."
When the franchise was sold and moved to Kansas City a year ago, one clause in the negotiations kept hope alive for the 10,000-plus regular fans who flocked to Rio Tinto Stadium to see the best women's players in the world: RSL's new owners — whoever they would be — had the exclusive option to bring back the Royals, name and all, to Utah by or after the 2023 season.
Whether the Royals revival comes in 2023 or a more likely 2024 is yet to be determined — neither Smith nor Blitzer would commit to a timetable on their first full day as co-owners of the organization. But both were committed to making it happen.
"We're stewards of these franchises," said Smith, borrowing a line often cited by former Jazz owner Gail Miller. "We're happiest when we're winning and when we are bringing people together."
Thursday's ownership transfer also includes Smith's associates at the newly-created Smith Entertainment Group — including former NBA all-star Dwyane Wade and venture capitalist Ryan Sweeney — to form a group keen on helping grow soccer in North America, and keeping the Salt Lake in Real Salt Lake.
"We're bullish on the MLS, we're bullish on Utah, and I hope Utah understands the benefit for Blitzer to choose to be here — as someone who could've been anywhere," said Smith, who fell in love with soccer as a missionary for The Church of Jesus Christ of Latter-day Saints in Mexico close to 20 years ago. "Our footprint just got a lot larger."
Indeed, while Smith brings the local connections and in-market savvy — in addition to being a Utah native and member of the state's dominant faith, he's also a graduate of Brigham Young University and one of the more front-facing alums of the Marriott School of Business — Blitzer brings the global acumen.
In addition to stateside investments like the 76ers, the NHL's New Jersey Devils and esports giant Dignitas, Blitzer's soccer investments include several lower-division sides in Europe and a stake in the Premier League's Crystal Palace FC.
But how will that management transfer over to RSL, which until now has been majority owned by Utah natives like Hansen and Bountiful's Dave Checketts?
"I'm a big believer in empowering excellent people to do their jobs really, really well," Blitzer said. "And we have excellent people here.
"My entire career has always been about finding incredible people and letting them do their jobs. Of course, that means getting involved in major decisions … but on the day-to-day, I let the management teams do their jobs."
×
Related stories
Most recent Real Salt Lake stories