Estimated read time: 4-5 minutes
LOS ANGELES — As Ohio State and Utah players made their way through Disneyland Monday, one of the week's favorite pregame events was canceled as a precaution for a recent surge in COVID-19 cases around the U.S.
The Lawry's Beef Bowl, an event where players are served an extravagant prime rib dinner that has been called "the greatest meal in America" by Lawry's founder Richard N. Frank, was nixed "given the growing concerns around COVID-19 and the Omicron variant," according to a statement from Lawry's Beverly Hills.
Players from both teams will still get their promised dinner, but it will be delivered to each team's hotel instead of as an in-person event.
While not the greatest of tragedies in the history of the world, the canceled event served as the latest reminder that after nearly two years of a global pandemic, not everything is back to normal — even in the sports world and the pageantry of one of the most celebrated bowl games.
That's even more true given that four bowl games have already been canceled this season and two more were at risk until two other teams were inserted last minute to salvage the games.
Several college basketball games have also been canceled already this season, and professional leagues — NBA, NFL and NHL — have struggled to maintain a consistent roster over the last few weeks as players enter health and safety protocols. It's an unpredictable problem that was thought to be something only from an unforgettable 2020 year.
Welcome back, I guess.
But until the ball is officially kicked off on Saturday (3 p.m. MST, ESPN) in the 108th Rose Bowl, there's growing caution about the game. There's no reason to believe either team is in trouble, but there's also no guarantee, either.
So should you be worried about the Rose Bowl being canceled, especially if you've already planned a trip to Pasadena on New Year's Day? That's not an easy question to answer, but the Rose Bowl is committed to hosting the game unless it absolutely can't be played.
Both team's will continue to utilize the protocols from the regular season for testing athletes for COVID-19, which could include testing asymptomatic athletes or only vaccinated players that have symptoms.
Utah head coach Kyle Whittingham said Monday his team is now 99% vaccinated — only one player hasn't been vaccinated — and he's optimistic that his team will be able to play the game, and he believed Ohio State will be in a similar situation.
"Well, I don't know why there should be, but I'm confident," Whittingham said of the fear of a game being canceled. "I'm hoping that everything can continue on its course. We seem to be doing OK as a team — knock on wood — and expecting Ohio State the same."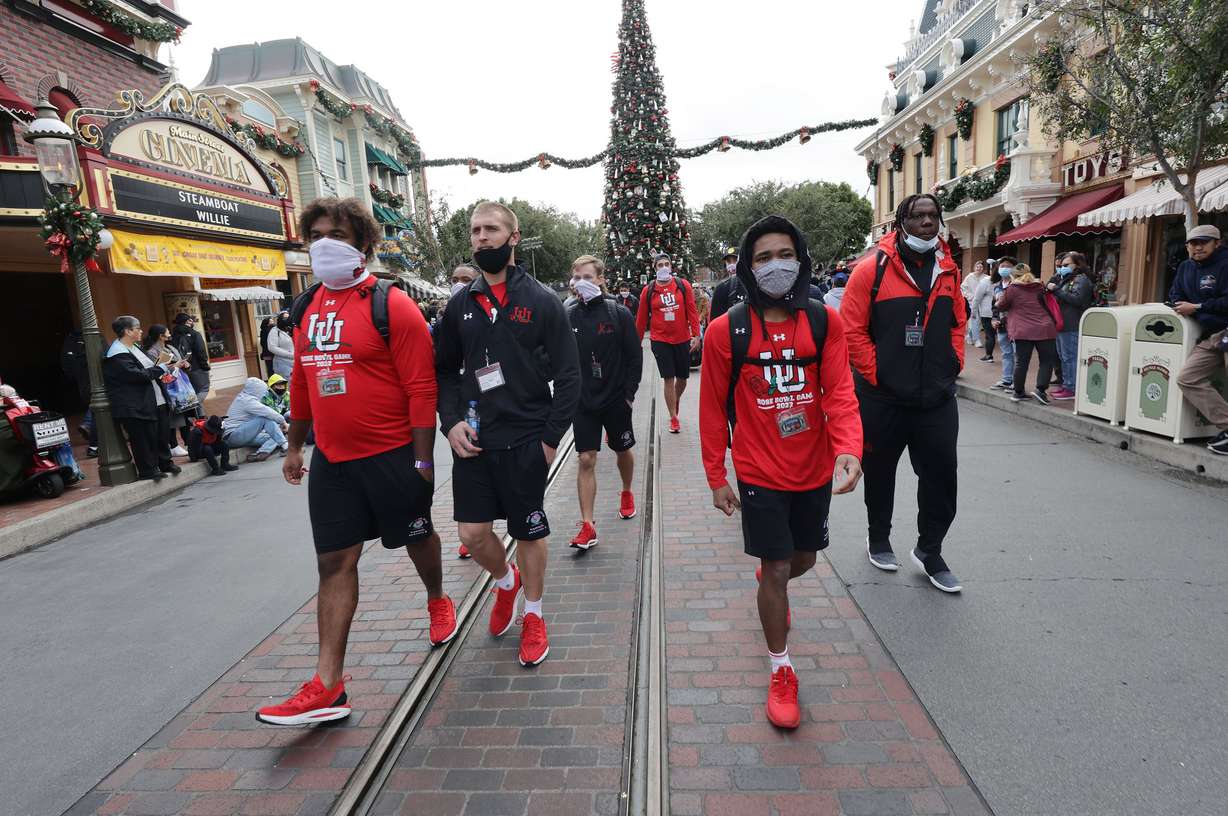 Utah receiver Britain Covey agreed with his head coach and believed the team has approached the protocols with the right mindset.
"We try to wear masks, we do whatever we can," Covey said. 'This is what we've been aiming for for years now, so if it's going to be canceled, it's not going to be on our part because we've talked about this as a team. We're just trying our best thing to keep this thing.
"I know we're at Disneyland right now, which kind of seems counterintuitive, but at the same time it's part of the bowl experience and we're hoping for the best."
The rules in California are different to that of Utah, but the team has followed the rules as best as possible since landing in California Sunday night. In Disneyland, the players wore masks indoors while some didn't while walking around outside in the park. But to their credit, the park doesn't require masks to be worn when outside.
Covey's teammate, linebacker Devin Lloyd, said the team has been "really safe as far as COVID protocols" so far and that he wasn't worried about the game being canceled.
"I know this team has done a great job from past years and up to this point of just being smart, not putting themselves in position to where they could be knocked out for COVID reasons and stuff like that," Lloyd said. "I'm not really too worried about that. I'm really just focused on preparing for Ohio State."
The Rose Bowl has lightly changed the week's plan by eliminating one press conference and the Beef Bowl, and only vaccinated members of the media may cover the week's events as a precaution, but it hasn't gone as far as other New Year's Six games and the two semifinal games of the College Football Playoff where most events are limited to only the team.
Ahead of the week's events, Rose Bowl officials said they were "monitoring the situation very closely" but they felt "confident in our ability to host both the parade and the game successfully, and in compliance with all the applicable government protocols needed to keep everyone safe."
So until something drastically changes — and that's fully in the realm of possibility — there's reason to have confidence in the game being played. After all, there's still four days to go before kickoff.
×
Related Stories