Estimated read time: 4-5 minutes
OGDEN — A Weber County woman who faced the unimaginable devastation of losing her first husband and 4-year-old daughter in a 2015 car crash has worked hard to find joy over the last six years and recently published a book about her inspiring journey.
"After the Victory" is a personal memoir about Alyssa Winslow's experience of overcoming tragedy and trying to find healing after her great losses. Written in first person, Winslow said she tells the story as if it's currently happening.
"I think readers will definitely get an insight into the emotions that I had and the thoughts and feelings I was experiencing and the lessons that I learned along the way," Winslow said.
In August of 2015, Alyssa and her first husband, Ryan Chambers, were stopped behind a semitruck on I-15 with their 6- and 4-year-old daughters, Kaya and Evee, when a driver collided with the back of their car and sent them into the back of the semitruck. Both Ryan and Evee were killed, and Alyssa and Kaya were critically injured.
"I could have pitched this to a publisher, and I may still in the future, but I just felt very strongly that I needed to get this out soon and now," Winslow said of her book. "And I think it's because so many people are — especially with the pandemic — have lost loved ones or are experiencing really difficult health challenges. It seems almost on a daily basis, or a weekly basis, I'm hearing of someone who has passed, and it truly breaks my heart because I know how it feels to be there in those first few days, in those first few hours, and it sucks so bad."
Shortly after her husband's death, Winslow felt inspired to begin writing a blog on a website with a domain name Ryan Chambers had purchased not long before he passed away. "After the Victory" was a phrase that kind of belonged to Ryan.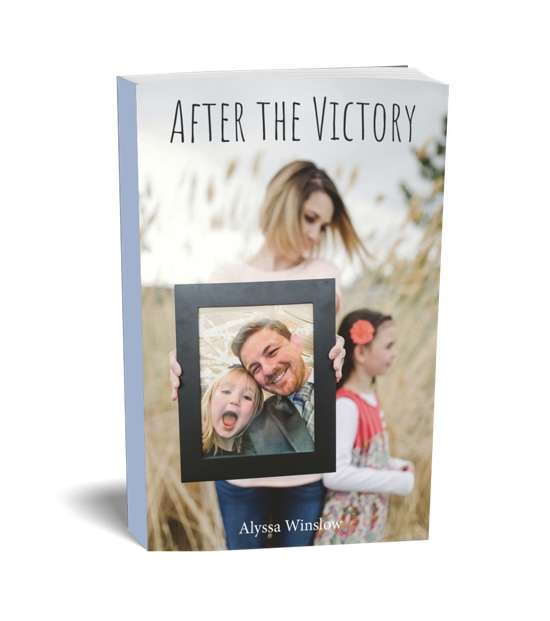 For three years, Alyssa faithfully wrote in her blog. She said it was very therapeutic for her, helped her heal, and strengthened her belief in God. Several people wanted her to write a book that included her blog posts.
Her writing slowed down after remarrying her current husband, DC Winslow. Several months after their marriage ceremony, she went to check in on her blog only to discover all her content had been lost. This heartbreaking news made her realize how easily her history could be lost. Wanting to preserve it for her daughter, she decided to write her book. Fortunately, a few of her blog posts were saved on her hard drive and are included in the book.
"(The book) draws you in. And it's very raw and very vulnerable, and anybody that reads it will probably cry," Winslow said. "I hope, though, that people come away feeling inspired and knowing that even though we all go through hard things that there is joy after the grieving and the hurting, and that there is a plan for each of us."
"After the Victory" is divided into three parts. Part one tells the story of losing her loved ones and adjusting to her new normal. Part two encompasses her blogging years, and part three details her love story with DC and how they have blended a family of five.
"It's a love story, I think, that is pretty awesome because it kind of culminates at the end that even though there is this devastation and tragedy of losing one spouse and a daughter, in the end I was able to find a new husband who is … different than Ryan, but they have similarities, and he brings me so much joy."
Winslow said it was difficult to move forward with her life because of her fear that if she did, it would almost mean she was forgetting Ryan and Evee. But over time, she learned that letting new relationships into her life can be compared to a mother making room in her heart to have more children.
---
For those who have lost loved ones, who are grieving, who are in a hard position right now, I would just say you're not alone.
–Alyssa Winslow
---
For a long time, Winslow prayed that if she were to remarry, God would help her find someone. She said Ryan set a high bar for a husband, and she was not going to settle. When she met DC, she knew there was something special about him. On their first date, he shared with her that he was also in a car accident with someone close to him who didn't make it. Alyssa felt like it was as if their angels were setting them up together.
"For those who have lost loved ones, who are grieving, who are in a hard position right now, I would just say you're not alone," Winslow said.
"After the Victory" was released Nov. 24 and can be purchased on Amazon. DC wrote a song of the same title that can be streamed on Spotify and other major streaming services.
"I would hope that (Ryan and Evee) are happy and proud of where we've been and where we've come and where we are today," Winslow said.
---
×
Photos