Estimated read time: 5-6 minutes
SALT LAKE CITY — It's looking to be an especially white Christmas for Utah's mountains this year.
The National Weather Service on Wednesday issued winter storm warnings for northern Utah's mountains and mountain backcountry areas, as a storm arrives with the potential of delivering 1 to 2 feet of snow in the state's mountains, and even as much as 3 feet of snow in some areas.
The agency also issued several winter weather advisories that cover mountainous areas across central and southern Utah
The storm arriving signals a wave of storms set to arrive in the state over the next few days, said KSL meteorologist Grant Weyman. The massive pattern is also bringing much-needed snow and rain through other states across the West, from northern Idaho to southern Arizona.
"(Thursday) is the storm initially coming in," he said, adding that high-elevation snow and a combination of rain and snow are expected Friday and Saturday, continuing into early next week.
The warnings issued by the weather service Wednesday are for the first half of the storm system, taking effect at 6 a.m. Thursday and remaining in place through early Christmas Day, Saturday. The warnings cover the Wasatch and Western Uinta mountains, as well as the Wasatch backcountry. Communities like Alta, Brighton, Dutch John, Heber City, Huntsville, Manila, Mantua, Park City and Scofield are included.
Most of the snow is expected in the highlighted mountain areas, where 1 to 2 feet is forecast by early Christmas Day. However, "favored areas" in the central Wasatch and western Uinta mountains may end up with up to 3 feet during that span, according to an update issued Wednesday afternoon.
Ten to 16 inches are forecast for the eastern Uinta Mountains, which include Daggett County. Another 5 to 15 inches is expected along the Wasatch Back — but "locally higher" accumulations up to 18 inches are now forecast by Park City and Kamas.
The weather service's winter weather advisories cover parts of northeast Utah not included in the warnings, such as Garden City and Roosevelt, as well as parts of the central and southern mountains. Those advisories begin Thursday afternoon and continue through early Christmas Day.
The advisories state that 5 to 15 inches of snow is forecast for the central and southern mountain areas, with possibly higher totals by Brian Head and the Tushar Mountains. Another 6 to 12 inches is forecast for the Abajo and La Sal mountain ranges in southeast Utah.
Rain is more likely across the region's low-elevation valleys Thursday before a wave of cold air arrives Friday, the weather service tweeted. Linda Chang, a meteorologist with the National Weather Service, told KSL.com Monday that some snow is possible ahead of Christmas.
The system is also expected to clear out poor air quality tied to the latest inversion.
Travel impact
The weather service warns of potentially hazardous driving conditions for areas within the winter storm warning Thursday and Friday. Wind gusts up to 50 mph may even cause blowing and drifting snow in some mountain areas.
"The period of heaviest snowfall is expected Thursday evening through Friday morning, and could impact peak holiday travel times," the agency wrote in the alerts.
Road Weather Alert: Heavy mountain road snow expected across northern and central Utah mountain routes 12 PM Thursday - 6 AM Sat. For more information visit: https://t.co/4P1gO1U0Gg#utwx#utsnowpic.twitter.com/J2OjbSGezQ

— UDOT Traffic (@UDOTTRAFFIC) December 22, 2021
The Utah Department of Transportation issued a road weather alert for parts of Utah from noon Thursday through early Christmas morning.
"By Thursday night, all mountain routes will see accumulating road snow and continue, heavy at times, through Saturday morning," UDOT officials wrote. "Most valley locations will see rain during this time with the exception of valleys along the Utah-Idaho border and the Uinta Basin. These locations will see some light road snow Friday night and into Saturday morning."
The agency says these are the freeways and highways expected to be most impacted by the storm:
I-15: Idaho border to Tremonton; Scipio Summit
I-80: Parleys Canyon to Wyoming border
I-84: Entire route in Utah
I-70: I-15 to U.S. 89; Salina to Fremont Junction
U.S. 89: Idaho border to Brigham City, U.S. 6 Junction to Fairview and Hatch to Long Valley Junction
U.S. 40: Entire route in Utah
U.S. 6: U.S. 89 Junction to Helper
U.S. 191: Helper to Wyoming border
U.S. 189: Through Provo Canyon
State Route 14: Upper 14 to Long Valley Jct.
State Route 20: Upper 20 to Summit
State Route 143: Upper 143 to Summit
State Route 153: Upper 153 to Summit
State Route 190: Big Cottonwood Canyon
State Route 199: Johnson's Pass
State Route 210: Little Cottonwood Canyon
Avalanche outlook
For those recreating in the mountains, the Utah Avalanche Center still lists most of the Wasatch Mountains in a "considerable" risk for avalanches. This comes after about three dozen avalanches were reported in the Utah mountains since Friday, caused by human or natural action.
A skier was even caught up in one but was able to escape without injury. Drew Hardesty, a forecaster for the Utah Avalanche Center, told KSL-TV over the weekend that the avalanche risk mixed with an increase of people recreating in the backcountry can be a recipe for disaster.
"Last year, we had six avalanche fatalities. We're prime to have more avalanche fatalities if we continue to see people heading into steep terrain," he said.
A boost for the snowpack
Utah's collective snowpack was at about 72% as of Wednesday morning, according to the Natural Resources Conservation Service. The storms forecast over the next few days are going to significantly boost that figure, Weyman says.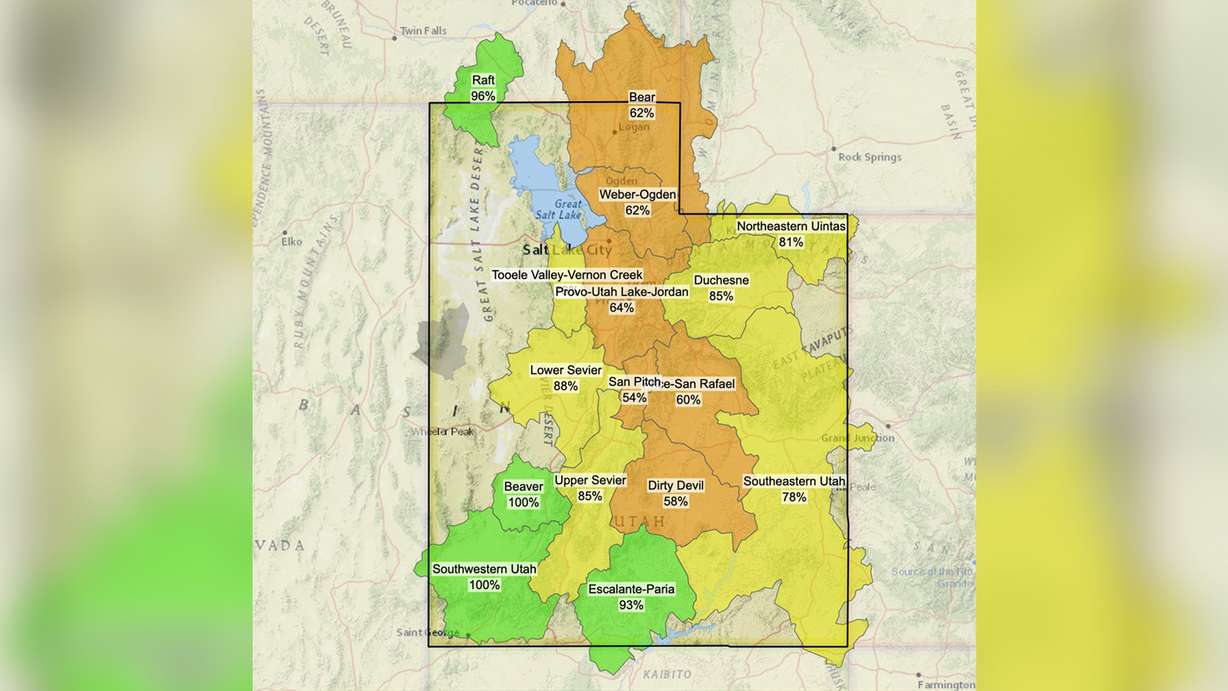 He expects some parts of the Wasatch Mountains may end up with 4 feet of snow or more by early next week. That's huge for the range, where levels from Provo to Logan range from 62% to 64% of average at the moment.
"It's coming our way one storm at a time," Weyman said.
Full seven-day forecasts for areas across Utah can be found at the KSL Weather Center.
×
Related Stories