Estimated read time: 6-7 minutes
SALT LAKE CITY — Are you dreaming of a white Christmas? Then you may be in luck this year, depending on where you live in Utah and how you define one.
After a lull in the winter weather, which is expected to continue through the first half of the week, snowstorms are expected to return in northern Utah just before the holiday and possibly during it, too.
A high-pressure ridge returned over Utah during the weekend, creating another inversion and poor air quality along the Wasatch Front. The Utah Department of Environmental Quality issued its first "mandatory action" day Saturday, meaning solid fuel-burning devices cannot be used.
That pattern is expected to continue into Thursday, according to Linda Chang, a meteorologist with the National Weather Service.
"We're expecting inversion conditions to continue, so we're going to continue to see some haze and maybe some patchy fog at night — and reduced air quality," she said.
The Department of Environmental Quality forecast calls for air quality levels to reach levels considered "unhealthy for sensitive groups" in Salt Lake, Davis and Cache counties Monday through Wednesday. The mandatory action those days also means state employees will work from home to reduce car pollution, per state policy.
Air quality levels are considered "moderate" in Weber and Box Elder counties Monday but reach "unhealthy for sensitive groups" Tuesday and Wednesday, according to the forecast. Those counties are also listed as in mandatory action days through Wednesday, while Utah and Tooele counties are listed in mandatory action for just Tuesday and Wednesday.
High pressure will result in strengthening valley inversions through midweek. However, we are seeing a light at the end of the tunnel with the potential for a storm system Thursday into Friday to help mix things out. White Christmas? Maybe. #utwxpic.twitter.com/Kx35kDbwa3

— NWS Salt Lake City (@NWSSaltLakeCity) December 19, 2021
This will all begin for the second half of the week as "active storm patterns" with snow and rain return to the northern half of Utah, with a strong possibility that it remains "pretty active" over the weekend, Chang said. KSL meteorologist Kristen Van Dyke adds that a low-pressure system currently off the Pacific Coast is expected to make its way into Utah from the west, bringing precipitation with it.
"It is going to be on the move eventually, so by late Wednesday into Thursday we're going to start to see that get some momentum and we'll start to see some changes moving again," she said. "By Wednesday night, (it's) a very wet one for the West Coast, and we start to see that moisture even creeping into northern Utah."
A white Christmas?
It seems Utahns are split as to what constitutes a white Christmas. Is it snow falling on Christmas Day or snow on the ground on Christmas Day?
The weather service's Salt Lake City office asked Twitter followers this question Sunday; out of the 766 respondents, 56% consider it as snow falling on Christmas Day, while 44% consider it as snow on the ground.
Both sides may get their wish along the Wasatch Front, according to Chang and Van Dyke. It becomes less likely, however, the farther south you go.
The first storm is currently expected to provide another foot or more of snow in the Wasatch Mountains by early Christmas Eve, with some snow also falling in mountains across central and southern Utah likely. While it may provide rain at first in the valleys, including a possibility of freezing rain near the Utah-Idaho border, it appears that rain will transition to snow, too, Chang said.
"It may not be much, but it should be at least a little bit of snow for a lot of the valleys," she said. "Across the valleys there's still a lot of uncertainties, but right now we're forecasting between 1 to 3 (inches) by the Idaho border and in some of the higher valleys. And then for a good chunk of the Wasatch Front, right now, it looks like under 2 inches — but that can still change as we get closer to the storm and we have more certainty in the forecast."
👀
Let's just say the end of December looks active. Likely good news for our mountain snow pack, but those with holiday travel plans will want to keep an eye on the forecast. #utwx#wywxpic.twitter.com/PI3JjkYvfs

— NWS Salt Lake City (@NWSSaltLakeCity) December 20, 2021
Other storms are expected to follow the first storm in Utah, although exactly when and how much precipitation remains unclear at the moment.
Chang says the Wasatch Front is "likely" to maintain at least 1 inch of snow on the ground on Christmas Day; there is "a potential" for at least 0.1 inches of snow falling at some point on Christmas Day, as well.
Van Dyke said that a statewide storm bringing precipitation is currently on track to arrive on Christmas Day. The active pattern is expected to continue into early next week as well.
"So our chances for a white Christmas are going up," she added.
How this year compares to past Christmases
Believe it or not, federal forecasters have kept track of snowy Christmases past for over a century in Utah. The records of snow falling in Salt Lake City on Christmas Day go all the way back to 1884, while snow on the ground levels dates back to 1928.
It's much more likely for there to be snow on the ground than snow in the air, just as this year's forecast demonstrates.
There has been at least 1 inch of snow on the ground in Salt Lake City in over 50% of the Christmases since 1928, with 3 or more inches on the ground in nearly one in four of those previous 92 Christmases, per the weather service record book.
Measurable snow (at least 0.1 inches) has only been recorded in Salt Lake City close to one out of every three Christmases since 1884, while at least 1 inch of new snow has fallen during one in five Christmases over the past 136 years.
There have been a few major storms that have hit; storms producing 6 or more inches of new snow account for about 2% of Christmases over this span of time.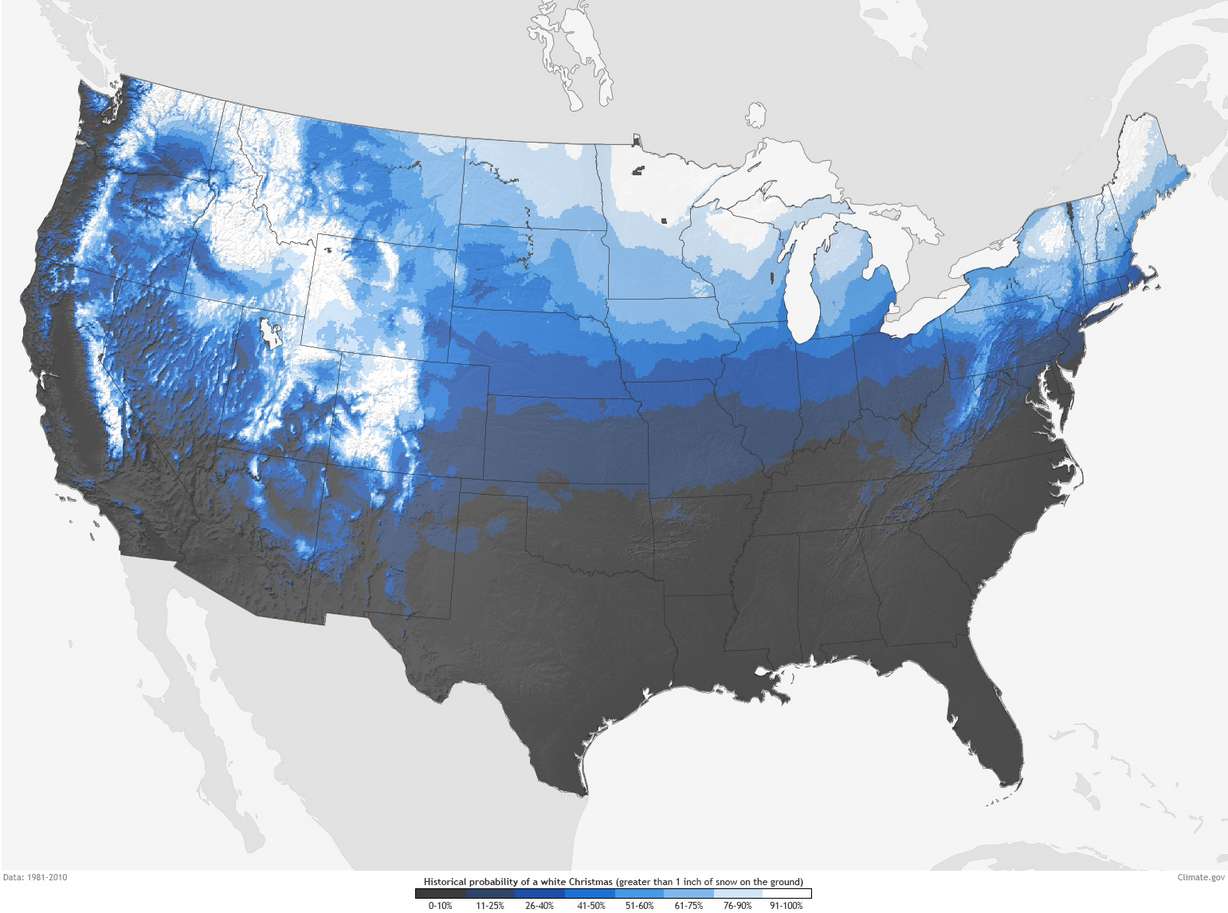 Of course, Utah's mountains are the safest bet for a white Christmas if you go by snow that's already on the ground. Data from the National Centers for Environmental Information show that Utah's mountains have about a 100% "climatological probability of at least 1 inch of snow being on the ground," based on the past 30 years. That will happen again this year.
Most of Utah has had a 25% or higher probability, while St. George and other parts of southern Utah have experienced a 10% or less probability, according to a map the agency created.
An impact on travel
Christmas and New Year's travel is expected to be busy. The American Auto Association projects 109 million Americans will travel between Thursday and Jan. 2, 2022, with more than 100 million traveling by car. The estimate is about 92% of 2019 transportation levels.
The forecast means holiday travel may be tricky in parts of Utah this year.
"I think (travelers) should keep an eye on the forecast because we are expecting active storm patterns," Chang said. "Depending on when people travel, it is likely that some part of the Christmas travel will be impacted. Even if you're not going on Christmas Day — the day before, the day after — we're still expecting at least a possibility of snow."
Full seven-day forecasts for areas across Utah can be found at the KSL Weather Center.
×