Estimated read time: 5-6 minutes
SHREVEPORT, La. — BYU's backfield will have a familiar name at tailback for the 2022 season, led by perhaps an even more familiar All-American guard paving the way in front of him.
And even if star tailback Tyler Allgeier follows through on what most expect to be plans to leave for the NFL at the end of the season, the Cougars' ground game may be just fine.
All-American offensive lineman Clark Barrington and running back Lopini Katoa confirmed that the duo will be return to BYU next year before practice at Loyola College Prep in Shreveport, Louisiana, giving the Cougars a solid core around expected quarterback Jaren Hall that definitely won't be going anywhere in two days after the program's Independence Bowl game against UAB (1:30 p.m. MT, ABC).
"It will not be my last; I'm coming back next year," Katoa said almost non-chalantly to a small group of local media before Thursday's practice. "I think for now, it's all on this year, and everybody is hoping to cap it off on the right note. After that, we'll go from there."
A redshirt sophomore who has spent four years at BYU, Allgeier hasn't yet to fully declare for the NFL draft or reveal if he'll come back for at least one more season. But all signs point to the 5-foot-11 tailback from Fontana, California opting out of his remaining college eligibility, after the all-time leading rusher in Kaiser High School history topped the 1,000-yard mark in consecutive seasons with 34 total touchdowns.
Katoa said it "wasn't one thing" that brought him back for what will be his final season in a BYU uniform, even as the junior from American Fork revealed to family members before the year — a year that included brain surgery for his mother Angie — that he was approaching the 2021 campaign as his senior year.
Rather, it was a combination of factors, and at least one of them likely involves his teammates. That includes Clark Barrington, the 6-foot-6, 302-pound redshirt sophomore with three All-America citations. One of two full-time, every-game starters for the 2021 Cougars, Barrington was the highest-graded offensive lineman for the No. 17 total offense in the nation that averaged 457.1 yards per game.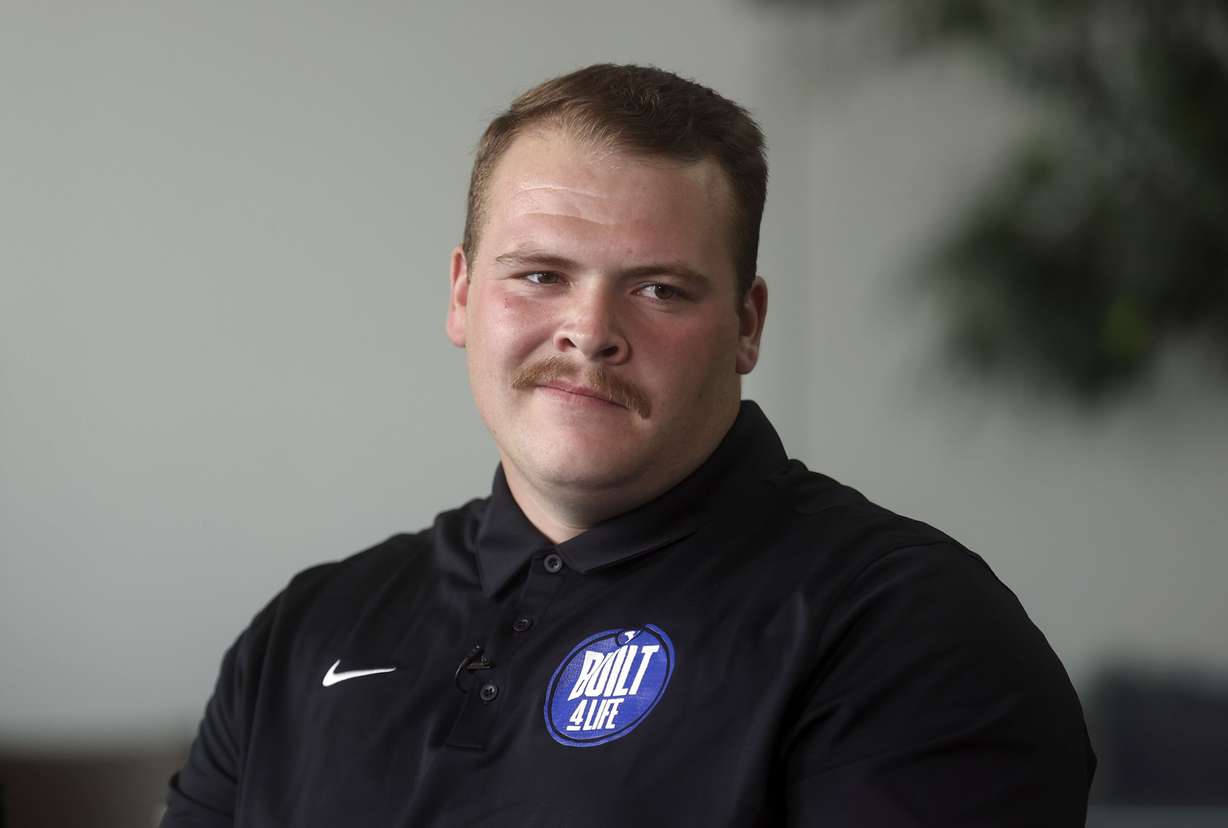 Much of those yards belonged to Allgeier, who picked up his second All-America honor this week after rushing for 1,409 yards — the eighth-best mark nationally — and 20 touchdowns, which is tied for the most in the country. Several of them belong to Katoa, who has 242 yards and two touchdowns on the season and another 28 receiving yards with a touchdown.
Others belong to Jaren Hall, the Cougars' dual-threat quarterback with 2,890 yards of total offense under center behind Barrington and the rest of the offensive line that included centers James Empey and Connor Pay and left tackle Blake Freeland. But the most consistent starter has arguably been Barrington, who has All-American honors from Pro Football Focus, Phil Steele Magazine, The Athletic and Pro Football Network.
Injured for the last four weeks of the season, Empey is unlikely to return by kickoff Saturday in Shreveport. Harris LaChance is likely to be available for the first time since Week 3 against Arizona State, but the senior center and team captain remained in a walking boot as late as the past week as he continues to rehab a lower-leg injury.
That leaves more pressure on Barrington — who has more than risen to the occasion in his first season as a full-time starter.
Paired with former left tackle Brady Christensen, a Bountiful High product drafted in the third round of April's NFL Draft by the Carolina Panthers, the All-American citation gives BYU rare back-to-back honors a year after Christensen was the first consensus All-American in Provo since Dennis Pitta in 2009.
"You're always trying to play your best and do what you can do," Barrington said. "I was just focused on doing my best, and whatever came, came.
"I think we're bringing back the mojo. Hopefully it will continue."
Hall is a redshirt sophomore, and would be draft-eligible after the season. But the Maple Mountain alum has given no indication that he will be leaving, like Katoa did when he put his name on the list of senior day honorees in the Cougars' home finale against Idaho State.
Coming back and playing behind Barrington, Freeland, Pay and the rest of the returning O-line, though, may be hard to pass up for a program whose transition to the Big 12 begins now and will ramp up in 2022. And the Spokane-born former basketball player in Barrington, whose younger brother Campbell was also named Freshman All-American second team by The Athletic, is a big lineman to run behind.
Even when he's not the biggest offensive lineman, the left guard has a way of opening up holes.
"He's gritty," said BYU defensive lineman Uriah Leiataua, who often lines up across from Barrington in practice. "Clark has the weirdest switch ever; he gets on the field, and does not like helping people up. He'll get in your face, flips people over on field goal team, and he's just unapologetic. He moves so well, though.
"People underestimate how well he moves. Everyone focuses on big maulers on the offensive line, the 300-pound guys who just carry someone. But Clark is really good at pushing off somebody and leading into the second level. You don't need to always be a mauler, but he moves so well into the second level, it's really difficult to hold him down. And that opens up a ton of lanes for Tyler and the other running backs."
And for at least another year, it should continue to open holes for the BYU run game.
But first comes Saturday against the Blazers, a chance to win 11 games in consecutive years for the first time since 2007.
"That's what motivates us all," Barrington said. "We want to be great, and that's just proving to everybody that we are great. That's our goal, and we're going to strive for it."
×
Related Stories