Estimated read time: 5-6 minutes
PROVO — It's been a few days since BYU was formally selected to play in the Radiance Technologies Independence Bowl, and much of the Cougars' fan base is warming to the idea of a warm-weather, pre-Christmas bowl game after the initial shock of not earning a New Year's Six bowl bid has worn off.
For BYU coach Kalani Sitake and his program, the chance to play Alabama-Birmingham of Conference USA in Shreveport, Louisiana, has another added benefit: the food.
Sitake, whose name emerged as a candidate for the Oregon coaching vacancy this week, has been a fan of Louisiana's cajun-style food since he was a young defensive coordinator on Kyle Whittingham's staff at Utah, when he and the Utes upset Alabama in the 2009 Sugar Bowl in New Orleans. More realistically, though, the former BYU fullback is a fan of food.
And next Saturday's game presents a delicious opportunity for the Cougars — and that's not just speaking of the chance for back-to-back 11-win seasons for the first time since 2007.
"The game was fun, but the food was unbelievable," Sitake said of the Sugar Bowl. "You don't get this body from not eating, and I plan on gaining some weight while I'm out there, and then I'll try to lose it in all of 2022.
"There's not a dish I tried that I didn't like. I'm going to try it all. … I'm every chef's dream, because I always want seconds and thirds."
Ditto for his players, especially the "hogs" up front on the offensive and defensive line of scrimmage.
"I think I can speak for the majority of players on the team that we'll eat whatever," defensive end Tyler Batty said. "At home, we're treated very well, but good food on the road is great. Everyone is excited to get out there and enjoy some of the favorites.
"I think everyone is excited for a little taste of the South."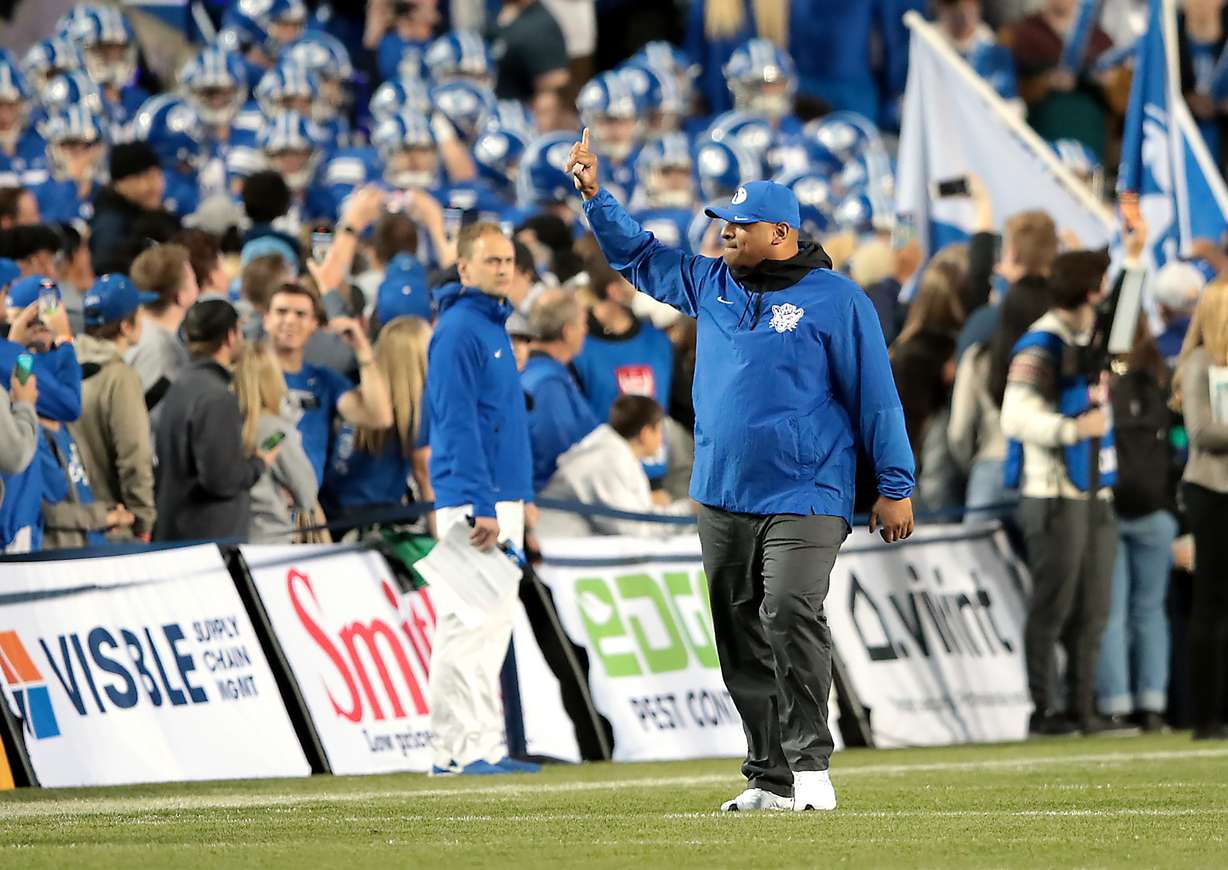 Ranked No. 13 in the College Football Playoff final bowl selections and No. 12 in the Associated Press Top 25, BYU (10-2) is the highest-ranked team to ever appear in college football's 11th-oldest bowl game, founded in 1976 in celebration of the nation's bicentennial celebrations.
The Cougars will fly to Louisiana Tuesday and arrive at the hotel in time for an official welcome reception at 5 p.m. MT at Independence Stadium. Among the bowl game committee's highlights of "what to do" at the Independence Bowl are several area casinos and a handful of craft brewery pubs to indulge in the pregame festivities.
It's doubtful that most of BYU players and coaches, the majority of whom are members of The Church of Jesus Christ of Latter-day Saints, will indulge in such variety. But the Shreveport area will also host both teams in a variety of pregame activities, including a visit to the Holy Angels Residential Facility, an independent nonprofit that works with adults with developmental and intellectual disabilities.
And of course, the area features nearly two dozen cajun-style restaurants — enough to fill even a man of Sitake's proportions.
"We have great food; lots of Creole cajun food, and we're about 15 miles from Texas, so there is lots of barbecue and Tex-Mex. Just about anything you can imagine," Independence Bowl director Missy Setters told BYUtv. "It's typical Louisiana; you can expect good food, great cuisine, and everyone is very friendly."
The Cougars will practice three days in Shreveport, while also celebrating the incoming class of 2022 on the first day of the early signing period Wednesday in Louisiana. But everyone has to eat, and there are plenty of options in the southeastern states.
Every game a home game
Setters also expects plenty of BYU fans to make the trip to Shreveport to support their team, whether from Utah, Louisiana or the surrounding area, including Dallas.
The LSU graduate who has been executive director of the Independence Bowl since 2005 saw firsthand the army of traveling fans from the Provo school when BYU played her alma mater in 2017, and the Cougars invaded the Big Easy on relatively short notice.
"We know what it's like for BYU fan bases to travel," Setters said. "BYU fans were everywhere we went (in New Orleans); it was packed with BYU fans. We're looking forward to hosting the fans and the team here.
"As far as UAB, it's only six hours down the road, an easy trip down I-20, and we're hopeful that they will have a strong contingent of fans here, too."
It's a shorter distance, at least by drive time, but UAB coach Bill Clark still expects to see plenty of BYU blue in the stadium on Saturday (1:30 p.m. MT, ABC).
"The BYU fans kind of make it their home; it may be a neutral site, but there will be a BYU fan base," he said. "I think that says a lot about who they are, and having a national program. You want fans all over who will support your program."
Independence Bowl on the air
No. 13 BYU (10-2) vs. UAB (8-4)
Independence Stadium; Shreveport, La.
Kickoff: 2 p.m. MST
TV: ABC (Roy Philpott, Cole Cubelic, Paul Carcaterra)
Streaming: WatchESPN
Radio: BYU Radio SiriusXM 143, KSL 102.7 FM/1160 AM (Greg Wrubell, Riley Nelson, Mitchell Juergens)
Linemen on the mend
Sitake confirmed Monday that tight end Isaac Rex, who went down with a gruesome ankle injury in the Cougars' season finale at USC, had surgery last week and is now rehabbing to return for the 2022 season.
But he also added that there remains "a chance" that center James Empey returns from his own ankle injury in time for the Dec. 18 kickoff. Less of a chance is wide receiver Neil Pau'u, whose career may be over at BYU after the standout wide out suffered a foot injury in the regular-season home finale against Idaho State, after which the junior Pau'u walked with the seniors.
More of a chance to return? Harris LaChance, the 6-foot-8, 310-pound offensive lineman from Herriman who hasn't played since Sept. 25 against South Florida.
"That would be great," Freeland said. "If we could have those two guys back, it would be fantastic.
"Our dudes have stepped up and have done a really good job, but those guys are seasoned veterans. It's always great to have guys back like that."
×
Related Stories