Estimated read time: 6-7 minutes
PROVO — Nothing's official until the ink is dry and the celebratory Instagram post has been sent.
But BYU took the first step toward the end of the Tyler Allgeier era Saturday afternoon.
All good things must come to an end, and the Cougars honored 14 players — including 11 non-seniors — prior to kickoff against Idaho State in the home finale at LaVell Edwards Stadium, a 59-14 win over Football Championship Subdivision foe Idaho State (1-8). Three of them were known — seniors Jared Kapisi, Uriah Leiataua and Samson Nacua have exhausted their eligibility.
But 11 total underclassmen — or those with eligibility remaining, most because of the NCAA's free season of eligibility offered last year — will be honored as well. That includes star running back Allgeier, the 5-foot-11, 220-pound redshirt sophomore with an extra season of experience provided by the NCAA's accomodation of the COVID-19 pandemic.
And when all 14 took their final lap across the field at LaVell Edwards Stadium, when all but the most diehard of fans had trickled out of the stadium, they took a few extra steps and few more dance moves near the end to celebrate the end of a long career — one made longer, in most cases, by the pandemic.
"It was kind of sad," said Leiataua, who sixth-year senior from Compton, California. "It just felt really weird; I can't believe it's over. It really does go by in a flash.
"I felt really grateful, happy, a mix of emotions. It was really crazy for me."
Here's the full list of Senior Day honorees, courtesy of BYU Athletics:
2021 Seniors
Jared Kapisi, DB, Pukalani, Hawaii
Uriah Leiataua, DL, Compton, Calif.
Samson Nacua, WR, Provo (Timpview HS)
Additional players being honored:
Tyler Allgeier, RB, Fontana, Calif.
Matthew Criddle, DB, Highland (Lone Peak HS)
JT Gentry, OL, Littleton, Colo.
James Empey, OL, American Fork (American Fork HS)
Drew Jensen, LB, Cottonwood Heights
Lopini Katoa, RB, American Fork (American Fork HS)
Jason Money, DB, Spanish Fork (Spanish Fork HS)
Neil Pau'u, WR, Santa Ana, Calif.
Gunner Romney, WR, Chandler, Ariz.
Earl Tuioti-Mariner, DL, Topeka, Kansas
Joe Tukuafu, OL, Glendale (East HS)
Once a Coug, Always a Coug!! 💙🤙 pic.twitter.com/fQ37y4XJL5

— BYU FOOTBALL (@BYUfootball) November 7, 2021
"The three seniors, we know that this is it for them. The others, it's up in the air for some of them," BYU coach Kalani Sitake said. "But I thought it was important that, if it is their last game, we recognize them."
Saturday became less about keeping any surprise announcements or hidden departures under wraps. The Cougars just wanted to send off their departing players — whoever they might be — the way they felt they should be.
"I feel like it was always a secret, but I live with Neil and Tyler and I knew the whole time. They knew they were out of here," Leiataua admitted. "I think those guys are going to be missed. James will be missed; he's a leader on and off the field. Neil bounced back so well from what happened to him. I'm so happy about this group of guys — Lopini, Tyler — it's a really strong group of guys."
Underclassmen or those with eligibility remaining are not required to leave after this season, and indeed, BYU has 21 players who are "juniors" but have played 3-4 seasons with the program. Head coach Kalani Sitake said he would welcome back any player who chose to return for another season — including those listed above, so let the recruiting season begin.
But Saturday's list provides a look at those who are most likely to depart for other pastures — be they professional careers, or graduation. Like Criddle, for example, who hasn't fully decided if he's leaving — but he admits chances are good he'll move on with his career ambitions upon the close of 2021.
Saturday's festivities, from the pregame honoring to the postgame traditions to receiving his first career start in between, were everything he'd hoped to receive upon the close of his career.
"It's kind of a weird feeling," Criddle said. "I could come back another year if I wanted to, as well. But I feel like some guys have fulfilled their purpose as a BYU football player. I know some guys are looking to move on to the NFL.
"For me, I just felt it would be smart to celebrate this as my senior day. I feel like my time has come to an end."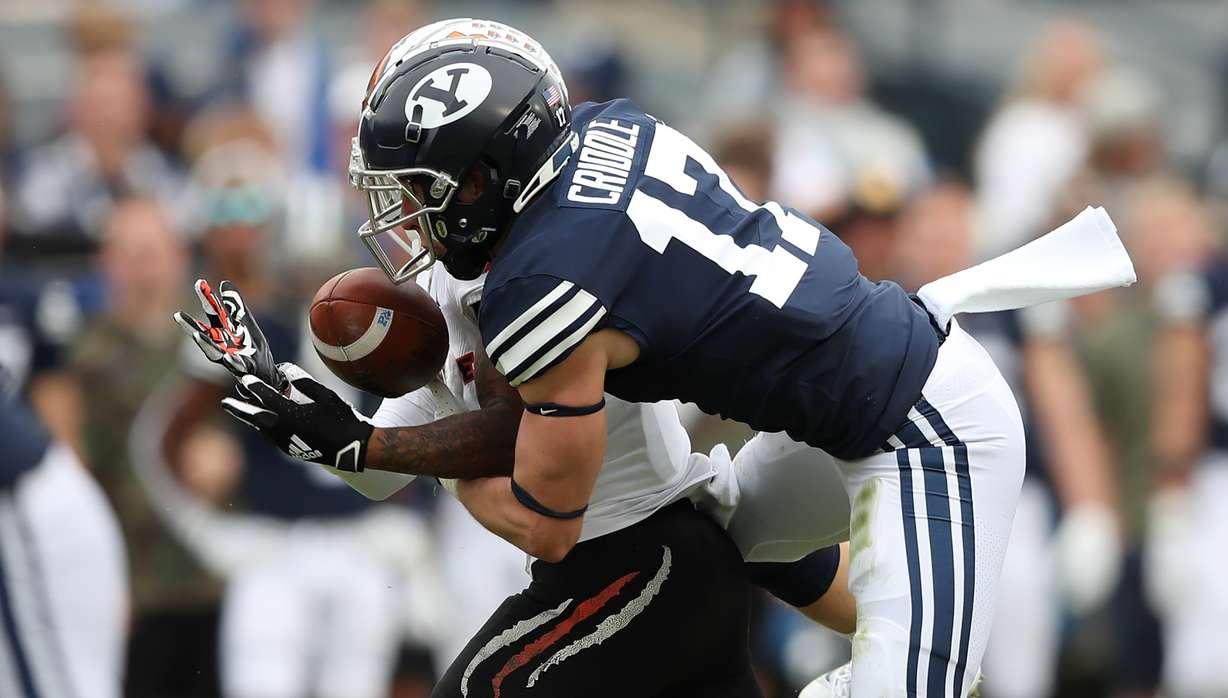 Allgeier has perhaps the best NFL draft stock odds since Zach Wilson set a program record as the No. 2 overall pick by the New York Jets in April. The Corner Canyon product was sent into the NFL without his own senior day, though the multi-million dollar NFL contract likely assuages most of what he felt by not getting one.
Either way, Sitake felt it only right to make a slight adjustment to the "seniors only" policy on Senior Day, due to the circumstances of the last few years.
"If some of them come back, then great; we'll do it again next year," Sitake said. "But I think it was important to do it, just in case it was their last one. I wish we could've done that with Zach. If there's a chance that they could leave, we're going to put them in that senior recognition."
But Allgeier was his trusted tailback during a breakout 2020 season, stockpiling 1,130 yards and 13 touchdowns during the Cougars' 11-1 season that ended at No. 11 nationally.
The knock on the all-time leading rusher at Kaiser High School was if Allgeier could do the same thing against a Power Five-like schedule. And in his fourth season of eligibility, he did just that, notching 1,127 yards and 16 touchdowns in nine games, including a career-high 266 yards and five touchdowns in a shootout victory over Virginia last week.
The Doak Walker Award candidate ranks No. 3 nationally in rushing yards, No. 3 in rushing yards per game and leads the Football Bowl Subdivision in rushing touchdowns. Were it not for the nation's leading rusher Kenneth Walker III at Michigan State, Allgeier would be a shoe-in for the Doak Walker Award that honors the top running back in college football — and a prominent Heisman Trophy candidate.
He's one of just five BYU running backs all-time to post multiple 1,000-yard seasons. His running back coach Harvey Unga tops the list with three, a group that also includes Jamaal Williams, Curtis Brown and Jamal Willis.
Each of the above-mentioned tailbacks had some form of an NFL career, and most were drafted. Allgeier could be in store for a big payday in April — assuming he departs the program.
Saturday's step is anything but official. But it's a step in that direction.
×
Related Links
Related Stories