AMERICAN FORK — A majority of the state will be focused on one game this week, and arguably one of the biggest rivalries in college sports, as BYU hosts the University of Utah in Provo.
But in BYU's 24-16 victory over Arizona, fans quickly learned that there's more to life than football when defensive back Keenan Ellis was taken off the field in a stretcher after a tackle had gone wrong less than two minutes into the game.
And for BYU running back Lopini Katoa, whose given name is Zachary, and his siblings, that feeling extended through the start of the football season — to just how valuable life truly is — when they received the news that their mother, Angie, had a brain tumor.
About a month ago, Angie Katoa experienced constant headaches and dizziness, which led her to see a doctor for an MRI. The results weren't related to any of the symptoms she was then experiencing, but they did discover something startling: Angie had a tumor in the pineal region on her brain.
On Friday, Angie will undergo intense brain surgery to fix the tumor. The expected recovery time after surgery is two months — which means two months of not attending any football games.
That is, perhaps, the hardest part of the procedure, Angie's daughter Shalet Nonu told KSL.com.
"I think it's been difficult for her because she had to get this surgery done rather quickly," Nonu said. "It's Zach's senior season at BYU, so she's gonna miss a lot of his season in terms of going to his games in person. We've just been trying to be supportive of her through that because that's a hard part of it for her, too."
When BYU traveled to Las Vegas to play Arizona, Angie's five children used the game as an opportunity to create the best weekend for their mom because it was one of the few games she would be able to attend this season, and it was the last weekend before she goes in for surgery. Before the game, Lopini Katoa scribbled the word "MOM" down the back of his arms, in a spot clearly visible as he ran for 33 yards on nine carries.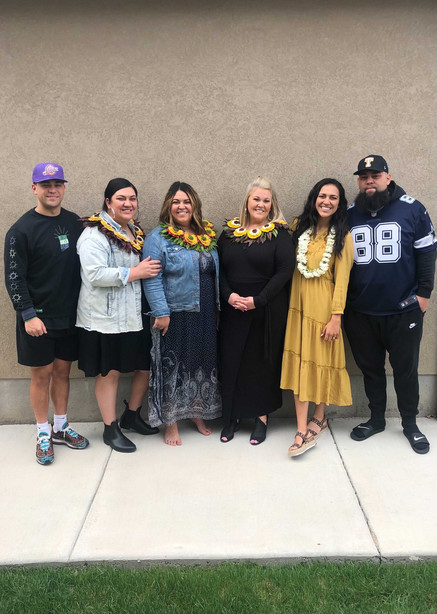 With each stride, Katoa flashed the sacred title held by his mother across his back. It was, in many ways, the least he could do for her.
A single mother of five children who raised three girls and two boys, Angie has felt the support from each of her children in their own way, because each child knows what "Mom" would do for them, Nonu said.
"She's everyone's No. 1 cheerleader. I just feel like her whole world has always been her kids and being supportive of them," Nonu said. "She's just always been like that mom all of our friends could come to and was like a second mom to all of our friends."
The love and support has spread to Katoa's teammates, as well. Colleen Olive, Angie's youngest daughter, provided an opportunity for others to show their support for her mother by hosting a fitness fundraiser event Tuesday night, with all proceeds going directly to Angie to help cover her medical bills. The fundraiser filled up quick, according to a post on Instagram, and the group had already received more than $8,000.
Katoa and several teammates learned of the fundraiser and showed up in Lehi during midweek of a rivalry game to show support and give thanks. Among the rostered Cougars in the gym were offensive lineman Joe Tukuafu, wide receiver Neil Pau'u, running back Tyler Allgeier, quarterback Sol-Jay Maiava-Peters, running back Hinckley Ropati and defensive lineman Alden Tofa.
It was a reminder that, for as important as the game is to them and their lives, football is still just that: a game. That reminder spread to this week, when BYU released plans to honor the victims and first responders of the Sept. 11 terrorist attacks 20 years ago with a special-edition helmet sticker, and also to run out a flag in honor of the late Utah running back Ty Jordan, who died tragically last Christmas from a gunshot wound.
"There are bigger struggles in this world than winning or losing a game," Pau'u said Wednesday after practice.
Angie's other children have all shown her support and expressed sincere gratitude for her, as well. Her oldest son, Sam Katoa, wrote the following on Instagram:
"One of my greatest blessings is having a mother with unconditional love for me. Recently found out she has a tumor on her brain and has to get intense brain surgery next month so been thinking of all she has done for me and how lucky I am to have her as a mother and to have her around."
Angie has already received support from the community and has been overwhelmed with it, her children shared.
So while BYU hopes to earn its first victory over Utah since 2009 and while the Utes look for their 10th consecutive victory over the Cougars, a family will be focusing on the health of their mother and grandmother.
To many close to Angie, the week is about more than a rivalry and a football game; it's a week about prayers for a perfect recovery for a family's No. 1 cheerleader.
Contributing: Sean Walker
×
Related Stories