Estimated read time: 6-7 minutes
PROVO — It was a big weekend around BYU football, one week before the Cougars head to Shreveport for the Independence Bowl against UAB.
But it wasn't just because of head coach Kalani Sitake's "unprecedented" contract extension through the 2027 season.
The Cougars hosted their final batch of recruits before the first day of the early signing period Wednesday, and off that hosting, pulled a number of previous commitments from the University of Virginia.
The list started Friday when Lone Peak offensive lineman Joe Brown flipped from Virginia to BYU, and was followed by Pine View twins Dominique and Marcus McKenzie following the same path Monday morning.
All three were legacy BYU recruits — Brown's older brother Terence played at BYU before spending a year with the Miami Dolphins, while the McKenzies' father Bryan played running back at BYU in 1996-97. All three also previously committed to Virginia, where former BYU coach Bronco Mendenhall spent his time until abruptly resigning his position after the Cavaliers' upcoming bowl game.
And all three were among the guests of the Cougars' mega-recruiting weekend this past weekend, bookended by Brown's commitment Friday and Dominique and Marcus McKenzie on Monday morning.
The trio gives BYU 19 commitments ahead of the first day of the NCAA's early signing period Wednesday, a class highlighted by Corner Canyon wide receiver and Gatorade Utah Player of the Year Cody Hagen as well as Weber star defensive lineman Aisea Moa.
But the new trio are all top-twelve recruits in the state of Utah, and represent the third-, fourth- and fifth-highest rated recruits in the Cougars' recruiting class of 2022, according to 247Sports, which also ranks the class No. 51 nationally.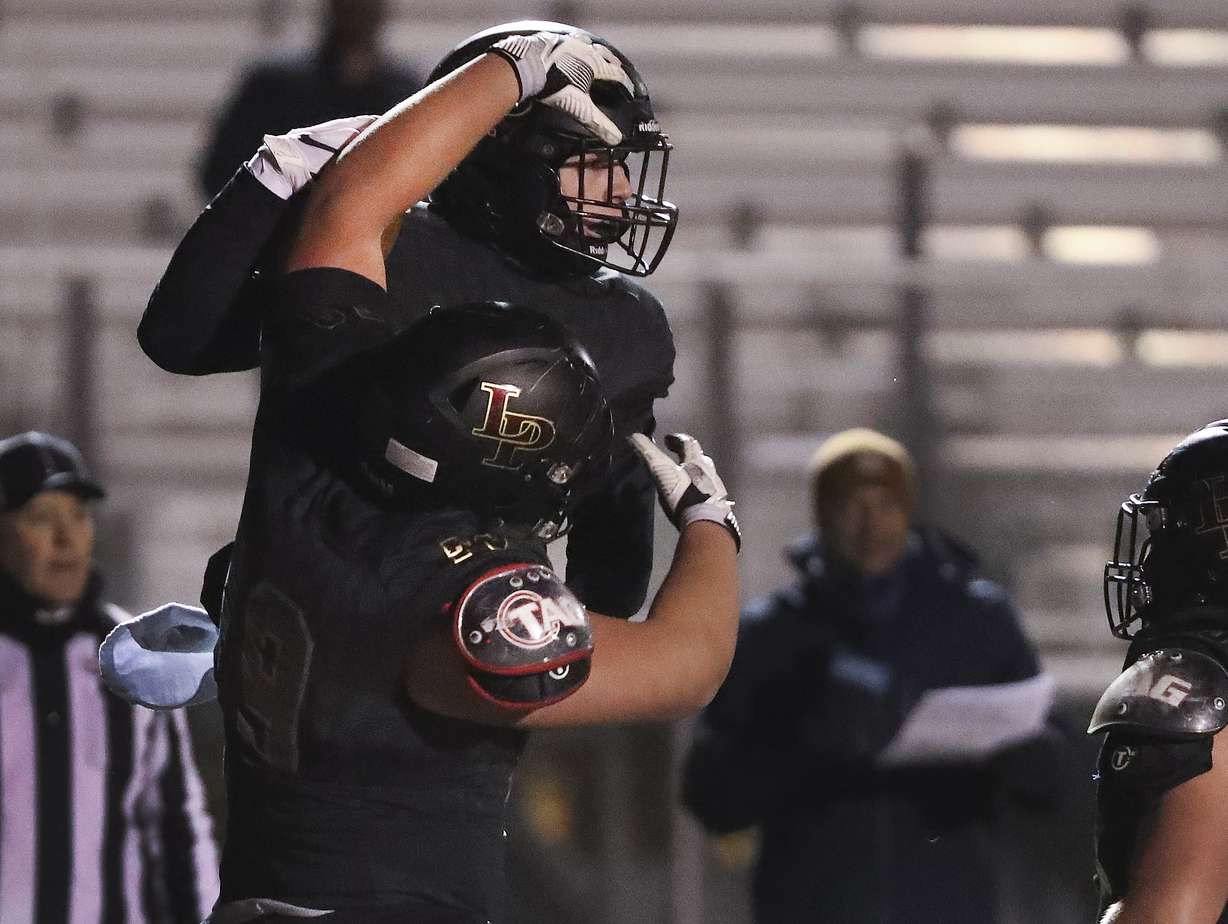 That may not sound like much, but it's 20 spots ahead of where BYU's 2021 recruiting class finished in the 247Sports composite ranking, and lands the Cougars six spots behind future Big 12 conference mate Texas Tech, two behind Boise State's third-best Group of Five class nationally, and just ahead of North Carolina State, Maryland and Utah with two days to go.
Combine the class with head coach Kalani Sitake's recent two-year contract extension and the program's forthcoming move to the Big 12 in 2023, and there was plenty of momentum around BYU campus this weekend.
"I would argue right now that we have some of the most momentum of any team in the country, with what's been done this season and last season," said BYU wide receiver Gunner Romney, a junior with pro aspirations who hasn't decided if he will return for his final season of eligibility next year. "In the background is Kalani's extension, the Big 12, some momentum in recruiting; I would say that this program is really rolling right now. And you can feel it on the inside.
"The culture since I was a freshman until now has been a complete 180. It's a complete shift. We go in and expect to win games now; it wasn't always that way. This is a winning tradition now; this is a winning program."
Recruiting has a way of snowballing, as it did a few months ago when the four-star Hagen stiff-armed several Pac-12 programs like Stanford and Arizona and Moa followed by de-committing from Utah to pledge with BYU. And the snowball could continue for a signing class that the NCAA will allow to add up to seven additional players to account for the transfer portal as a one-time exception.
BYU is still in the mix for several top targets nationally, including the nation's top junior college cornerback, Keionte Scott of Snow College. The 6-foot, 185-pound cornerback who counts BYU running back Miles Davis among his best friends will decide Wednesday morning between the Cougars, Auburn, Tennessee, Oregon and Miami, among other offers.
Those recruits will be celebrated this week, as all high school seniors and junior college graduates should be celebrated when they move to the next level. But after they join the team — the family, as most organizations call it — they'll be another player, outgoing BYU defensive lineman Uriah Leiataua is quick to point out.
"I just want to make sure that when they come through, they have to continue a culture of hard work," the senior said. "We're seeing all these four- and five-stars, which is good; it makes the fans happy. But I could care less.
"Kalani makes sure to let us know that USC had 40 five-stars, and we had like three — but we beat them. So if they come through, they need to know that this isn't going to be a fun thing. We make it fun, but it's gritty football, the way we play here."
There's one thing that BYU's top end recruiting class brings, though, that could make an immediate impact on the current roster: speed.
The three athletes of Hagen, McKenzie and McKenzie aren't just star football players, but also track and field standouts.
Hagen laid down a 6A state record with a 10.52-second 100-meter dash last May, when Dominique McKenzie wrote his own name in the Utah High School Activities Association record book with the sixth-fastest time in state history at 10.57 seconds. Marcus McKenzie, the one who carries the "athlete" label and is (perhaps) most likely to play defensive back at BYU, ranks 10th overall with a 10.63.
Recruiting roundup
The McKenzie brothers also boast the top two marks in the state's 200-meter dash history, with Dominique's 20.96-second 4A record and Marcus at 21.10 seconds.
It's the kind of speed that BYU hasn't seen in one class since 1999, when Nate Soelberg, Cody Fonnesbeck and Brett Cooper brought the 3A, 4A and 5A state champion sprinters in the same recruiting class.
And while track speed doesn't always translate to the football field, in this case, the speedster trio has shown plenty in their high school days to get excited about a Division I career.
"You put enough on it, because there are only a handful of kids who can do that," said Soelberg, who worked with Hagen and his older brother Cole with his Utah Speed Academy. "The 100-meter doesn't necessarily translate to football — unless you've got a guy breaking off 90-yard runs or catches. But the more 100-meter guys you can have, the faster your team is going to be. You definitely want to look for them."
There's no guarantee any of these players will work out — that's the nature of recruiting. But the promising essentials are there, and in a recruiting world where hope springs eternal, that hope is thriving at BYU.
"There's a reason all of us came here, and the good seasons and people we have around us is why others are now attracted to BYU," offensive lineman Clark Barrington said. "It's always been a good place, and just continues to grow and to be a great place to play football at."
×
Photos
Related Stories