Estimated read time: 9-10 minutes
PROVO — Kalani Sitake didn't go full "Wolf of Wall Street," but if he did, no one would've blamed him.
The sixth-year BYU head coach is not leaving. Quite the contrary; Sitake was so excited for Friday's long-anticipated reveal that he "wore three shades of blue" to a virtual news conference with local media.
The Cougars have agreed to a contract extension with the former BYU fullback Friday, keeping the head coach in Provo through the 2027 season. And while exact details of the extension weren't revealed, the school did call his contract "new" and "unprecedented" in program history.
"In recent days and weeks there has been a lot of movement among college football head coaches," BYU athletic director Tom Holmoe said. "Today, I'm thrilled to know that Kalani will continue to be our leader, coach and mentor going forward. In the past 50 years, BYU has had only four head football coaches. Consistency, creativity and culture have been our hallmarks. Kalani will continue to strengthen our football team culture and develop young leaders based on his emphasis of 'love and learning'. I'm grateful for Kalani and the Sitake family for their commitment to BYU."
So what's so "unprecedented" about Sitake's new contract? For starters, the biggest changes won't be directed at the head coach, but provide "all the resources necessary" to compete as the Cougars take arguably the biggest step upward as an athletic department with the forthcoming move to the Big 12.
"This whole situation has never been about me," Sitake said. "It's been about our program, and specifically about our players. I'm really excited about the opportunity we have with our coaching staff, our support staff and specifically our players."
It would be foolish to assume more years does not translate into a better financial situation for Sitake. But while his name is on the new deal, Friday's announcement was barely about Sitake.
Holmoe added in a news conference with local media that the extension of the head coach's contract is the first of several similar contractual upgrades on BYU's campus that will go into effect Jan. 1. That includes Sitake's coordinators, assistant coaches and football staff personnel — or at least, as many of them as are still around after the most active coaching carousel in years has finally stopped spinning (whenever that may be).
Whether it's about money, time or additional staff commitments, Holmoe said the new contracts will position BYU as they make the jump into a Power Five conference with the school's upcoming Big 12 membership in 2023.
"It's not part of Kalani's deal, but part of our vision is that there are separate pieces moving forward," said Holmoe, who added such new deals are "coming together as we speak." "I think it's important to note that we went about all of the budget items. We talked about salaries, areas of different commitments and outlets of money and funding. We looked at what other schools in the Big 12 were doing, some Pac-12, some other P5 schools.
"Together, we came up with those numbers as to what we were going to need to do to get it right. I wouldn't want to compare us to any one or any conference, but I think we can look each other in the eye and say, 'we're on track.' And if we have to adapt, we'll adapt."
In many ways, Sitake's resume speaks for itself. The 46-year-old head coach is 48-28 as a first-time head coach, including a 21-3 record over the past two seasons that have made him an attractive candidate for much, much higher-paying jobs than the one he currently owns at his alma mater. He's the first former player of legendary BYU coach LaVell Edwards to lead the football program.
Only Alabama's Nick Saban and Cincinnati's Luke Fickell have won more games in the past two seasons. Both will be playing in the College Football Playoff on New Year's Eve.
"I am grateful for the confidence that Tom Holmoe, President Worthen and the administration continue to have in my role leading the BYU football program," Sitake said. "As both a former player and a BYU fan, it is an honor to be the head coach at this great university. I am blessed to lead a football program full of tremendous young men, outstanding coaches and staff and the best fans in the world. We're all excited about the opportunities ahead as we prepare to enter the Big 12."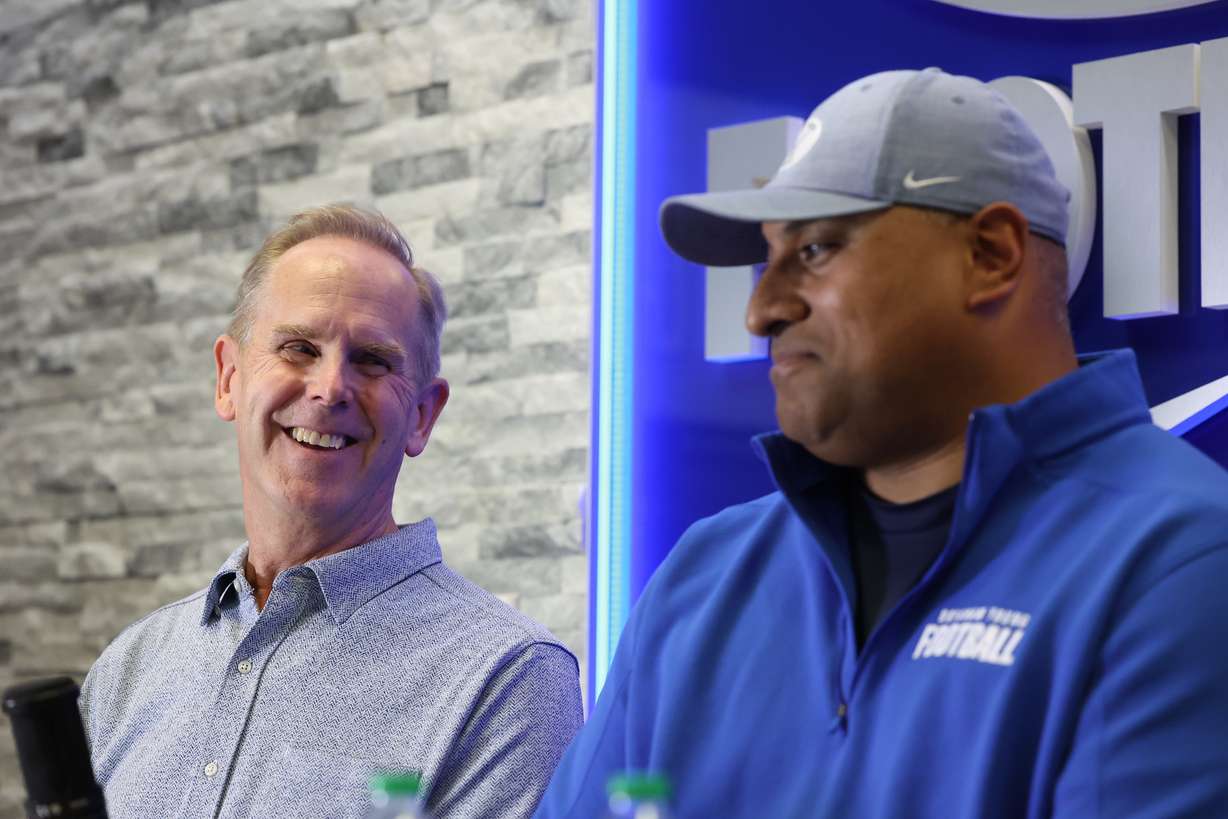 But the contract extension isn't just for Sitake; it includes significant adjustments and upgrades for his entire coaching staff — from offensive coordinator Aaron Roderick and defensive coordinator Ilaisa Tuiaki to each position coach, right down to the support staff of analysts, recruiting coordinators and football operations personnel who most ply away anonymously each day inside the university's Student-Athlete Building.
As a private university, BYU doesn't release full financial information about its coaching staff. But sources have indicated to KSL.com that Sitake has been the best compensated head coach in the history of a football program with only four of them since 1972. The next step for the beloved head coach has always been providing for those around him, from recruiting coordinators Jack Damuni and Jasen Ah You to director of football operations Jon Swift, right down to strength coach Nu'u Tafisi and head athletic trainer Steve Pincock and the dozens of other staff members that aren't the sidelines on Saturday or appear on television throughout the week.
"We have wonderful people that are behind the scenes, who do a lot of work that people don't ever hear about. This program doesn't work without the people who are in the background, who don't really care to be in the spotlight, but do so much and sacrifice their time," Sitake said. "Whatever we can do to get them more resources and opportunities — I feel like we have a wonderful brand of football, and the more people we can add to it, the more we can grow to different parts of the country and the world. The culture of our team is well in line with the mission of the school and the athletic department; whatever we can to promote the brand.
"Everything is going to grow. It's going to happen naturally. I've seen some wonderful things from our leadership, but we have an opportunity now going into the Big 12 where we can get our brand going even stronger. The brand is really strong because Cougar Nation is really strong; it's big time. This gives us opportunities to innovate and create more opportunities for a bigger impact and bigger influence."
Sitake has BYU ranked No. 13 in the final College Football Playoff rankings and at No. 12 in the Associated Press Top 25, and he could have his team in position to garner the highest final ranking in the AP Top 25 since the 1996 team claimed the No. 5 postseason ranking.
But his connection to BYU goes beyond wins and losses, and even beyond money.
Rarely does a coach pair so well with a university, but BYU has struck gold with Sitake, the returned missionary for The Church of Jesus Christ of Latter-day Saints who played briefly in the NFL before rising to become a Power Five defensive coordinator prior to accepting his first head coaching job.
"We're so grateful that he is a coach for BYU that brings stability in a time where, in college athletics right now, there is a lot of instability," Holmoe said of Sitake. "I'm grateful that we are now moving forward into a great future, one more year as an independent football schedule and then into the Big 12. And there's no one else on the planet that we would rather do it with than coach Kalani Sitake."
His success attracted the attention of Power Five openings across the west coast, including Oregon and Washington, though the Ducks' interest reportedly faded this week as the program shifted its attention toward replacing former coach Mario Cristobal, now at Miami, with former coach Chip Kelly, currently at UCLA. Sitake had plenty of momentum behind him for a job like Oregon, with his recruiting prowess and a career spent entirely on the west coast — but the Oregon legislature passed a law in 2009 that requires the state's public universities to interview a qualified minority candidate before filling an open position in any state school's athletic department.
Whether or not it was the only reason for the interview (it likely wasn't), Sitake would certainly fulfill that legal requirement.
Sitake reportedly met with other schools, too, though how deep into conversations he got with any of them remains a mystery. He previously held interest from UCLA, but rebuffed each suitor as he tried to set up his alma mater for success, both in the present and the future. He has been reported to have met with the Ducks earlier this week, but quarterback Jaren Hall told KSL.com that when the Cougars reported to practice this week in preparing for next Saturday's Independence Bowl against UAB (1:30 p.m. MST, ABC), they were always comforted to know that Sitake was at practice, or on the third floor in his office.
Now, they couldn't be happier.
"It gives you a lot more energy in the building," Hall said. "But Kalani has done a great job; he hasn't even mentioned anything going on. He's kept so much focus on this game, because that's the type of man he is.
"Every day has been the same thing, realizing it's the most important bowl game ever played because it's the one we have next. And I think the players have done a good job of taking that and running with it."
He never put his personal job growth over the team, he said. Which may explain why when Hall and wide receiver Puka Nacua stood up from talking to the media on what they called a "historic" day, they both did so by shouting "Kalani for President."
Sitake's not going anywhere. BYU has a date with the Big 12, its new conference home beginning in most sports in 2023.
"I'd say right away, it just shows the confidence it has for us as players," said Hall, a draft-eligible redshirt sophomore who would still have eligibility remaining by BYU's first season in the Big 12. "It builds a lot of confidence in us and in the recruits that are coming in."
Added Nacua: "We want to build a dynasty here, and that's part of coach Kalani's plan."
×
Related Stories