Estimated read time: 5-6 minutes
PROVO — After six seasons in Charlottesville, Bronco Mendenhall's time at Virginia is coming to a close.
The former BYU coach will step down from his position as head coach of the Cavaliers following the ACC squad's upcoming bowl game, the university announced Thursday.
A native of Alpine, Mendenhall compiled a 36-38 record at Virginia, which he took following 11 years at BYU. He has led the Cavaliers to five consecutive bowl-eligible seasons, turning around a struggling program in much the same way he did when he accepted the Cougars' head coaching job in 2005.
"It has been a privilege to have Bronco Mendenhall direct the Virginia football team over the past six seasons," Virginia athletic director Carla Williams said in a statement from the university. "He has done an exceptional job of not just transforming the program, but elevating the expectations for the program. He has established the necessary foundation to propel our football team upward. He is more than a football coach and the impact he has had on these young men will be a positive influence for the rest of their lives."
Mendenhall, 55, told Charlottesville-area reporters that he informed his staff of his decision Thursday afternoon around 4:45 p.m. ET.
"It's going to take time to process," he said, per the Richmond Times-Dispatch, before adding, "None of this I'm viewing as permanent" and the decision was "100% my choice."
#UVA football coach Bronco Mendenhall said he informed his staff of his decision at 4:45, told the team at 5 and is now speaking the media.
"It's going to take time to process."

— Mike Barber (@RTD_MikeBarber) December 2, 2021
After 17 years as a head coach, 11 as an assistant and a pair of graduate assistant years, it's time for Mendenhall to take a step back and look for something new.
"There are times when you need to pause and refuel and put the oxygen tank back up and, man, unthaw the freeze-dried food and recharge the butane tank," Mendenhall said. "Unless you like eating cold, freeze-dried food, if you've ever camped, doing that, it's not very good."
So maybe it is permanent. Maybe not. The tenured head coach can't say, and when you've dedicated 31 years of your life as a football coach, giving it up in one moment isn't easy. But Mendenhall is many other things: a longtime surfer, a cowboy, a motorcycle enthusiast, a husband, a father, a devoted member of The Church of Jesus Christ of Latter-day Saints.
Mendenhall said the decision to step aside was his and his alone — even his wife was shocked. His athletic director tried to convince him to stay. The university president tried to convince him to stay. But he felt now was a good time to move along, even regardless of the four-game losing streak the Cavs suffered at the end of the regular season.
Thursday's decision, reached at its end within the previous 24 hours, was something "personal and bigger picture," Mendenhall said.
"My belief governs everything," he added. "My belief governs the principles and the principles govern the choices. Where else would I start than what I think governs all? And so yeah, that's where I started.
"And I tried different things in a few number of days and different paths that I thought might address another way. It did not feel right, and I was not at peace. As I returned to my initial thought, it was very clear."
In 17 seasons as a head coach, Mendenhall has led his teams to 15 bowl appearances, assuming the Cavaliers are selected for a bowl game this year. Virginia is 6-6 on the year and 4-4 in ACC play following Saturday's 29-24 loss to rival Virginia Tech, the Cavs' fourth consecutive loss that started with a 66-49 defeat to BYU.
"I'm grateful for and thankful for the personal reception with my return to BYU and for the fans and that acknowledgement," Mendenhall said after the loss in Provo. "I'm grateful and appreciative. BYU has a good football team, and I'm excited for their future. I'm also excited about ours', based on what is happening in the Coastal Division. We control our destiny."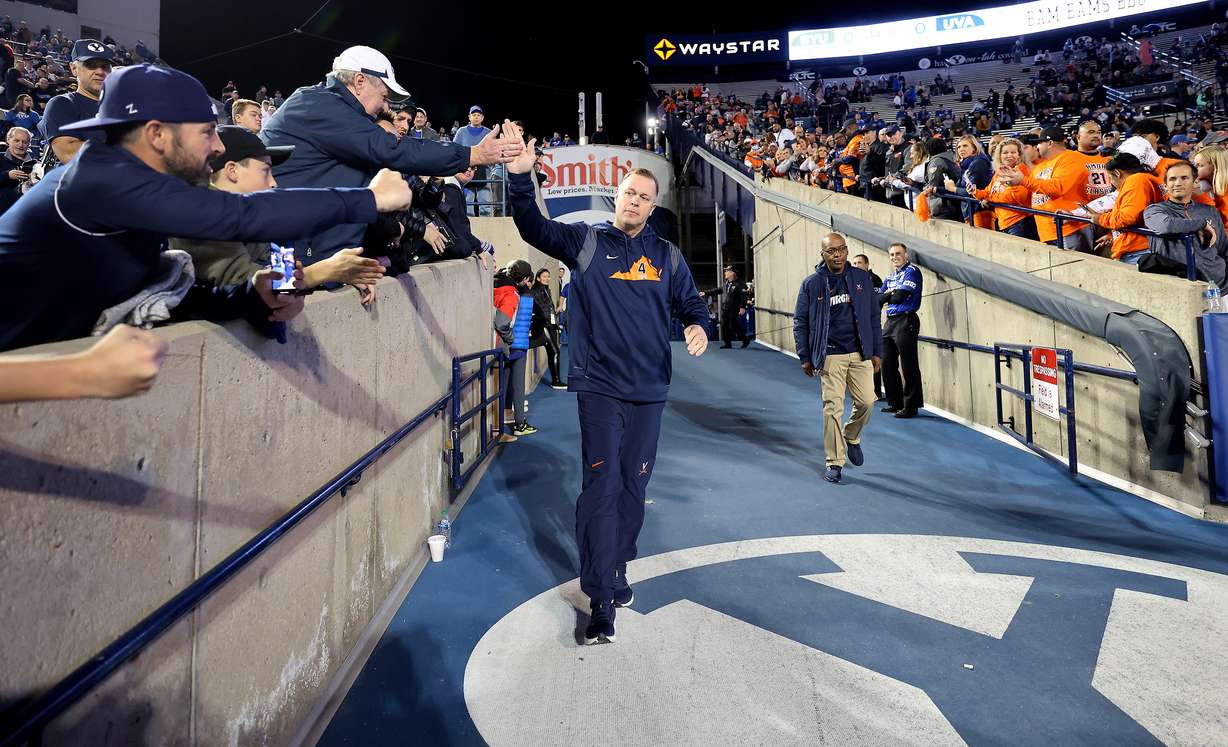 Mendenhall is 135-81 in 17 seasons as a head coach, including a 99-43 mark at BYU. He ranks eighth among active Football Bowl Subdivision head coaches in winning percentage at .625 and 12th with seven bowl victories.
His time in Charlottesville includes an ACC Coastal division title in 2019 and the program's first-ever New Year's Six bowl appearance via the Orange Bowl that season.
The former Oregon State and Snow College defensive back became the youngest defensive coordinator in the history of the then-Pac-10 Conference in 1996 at the age of 29 before working at Louisiana Tech and New Mexico prior to accepting the job as Gary Crowton's defensive coordinator at BYU in 2003.
Mendenhall and his wife Holly, with whom he recently celebrated 25 years of marriage, are the parents of three sons. His oldest Raeder recently returned from a two-year mission for The Church of Jesus Christ of Latter-day Saints in Layton, while second son Breaker — who completed his true-freshman season as a safety at Utah State in 2020 — will depart for the Pocatello, Idaho, mission on Jan. 3.
In addition to Mendenhall, former BYU offensive coordinator Robert Anae, defensive coordinator Nick Howell, linebackers coach Kelly Poppinga, running backs coach Mark Atuaia, quarterbacks coach Jason Beck, offensive line coach Garett Tujague, and director of football analytics Matt Edwards also joined Mendenhall's staff in Charlottesville.
"These are my closest friends," Mendenhall said. "And this is now their wives and kids who all came. And I'm responsible for all of them. And I love all of them. We were very close before we took this journey. This is now inseparable and galvanized and welded to where you can't break it. I just did in terms of now the paths become different."
×
Photos
Related Stories