Estimated read time: 5-6 minutes
PROVO — It all came down to a race to 15.
And then 16. And finally, 18.
BYU women's volleyball came up a hair short in a photo finish.
Caitlyn Newton poured in a match-high 20 kills to go with seven digs, three blocks and two aces, and sixth-seeded Purdue rallied four times off match point in the decisive fifth set to take a 25-12, 16-25, 21-25, 25-13, 18-16 win over No. 11 BYU in an NCAA Tournament regional semifinal Thursday in Pittsburgh.
Kenzie Koerber went gang-buster in her final match for the Cougars. The Utah graduate transfer totaled 16 kills, 12 digs, five blocks, two aces and two assists for BYU, which got 10 kills and five aces from Taylen Ballard-Nixon.
"I didn't want this to be my last game of my college career. It stings and it is tough," Koerber said after the match. "But this year has been a blessing and I'm grateful for the experiences that I have had with these girls and coaches. It hurts and it's frustrating. This has been the best year of my college career and I couldn't be more grateful for it."
With tear-stained cheeks and an obviously emotional embrace, BYU coach Heather Olmstead turned toward Koerber in the post-match news conference and gave her one final directive: smile.
In one season, the fifth-year senior opposite who transferred to Provo after joining The Church of Jesus Christ of Latter-day Saints during her time with the Utes has done everything she could to build on BYU's historic volleyball program — and then some, totaling a team-best 364 kills and providing the leadership of a three-time All-American and two-time Pac-12 honoree en route to West Coast Conference Player of the Year honors.
"She has brought a lot of joy. She is so grateful. It makes us all appreciate what we have even more," said Olmstead, the Pacific South coach of the year. "You can see her competitive spirit and that she cares. She did everything in her power to get us here, and to advance. I'm grateful that we had the chance to have her in our program and be influenced by her and her leadership."
Erin Livingston added nine kills for the Cougars, and Heather Gneiting had seven kills, four blocks and three digs for the Cougars (30-2). Whitney Bower dished out 37 assists and nine digs for BYU.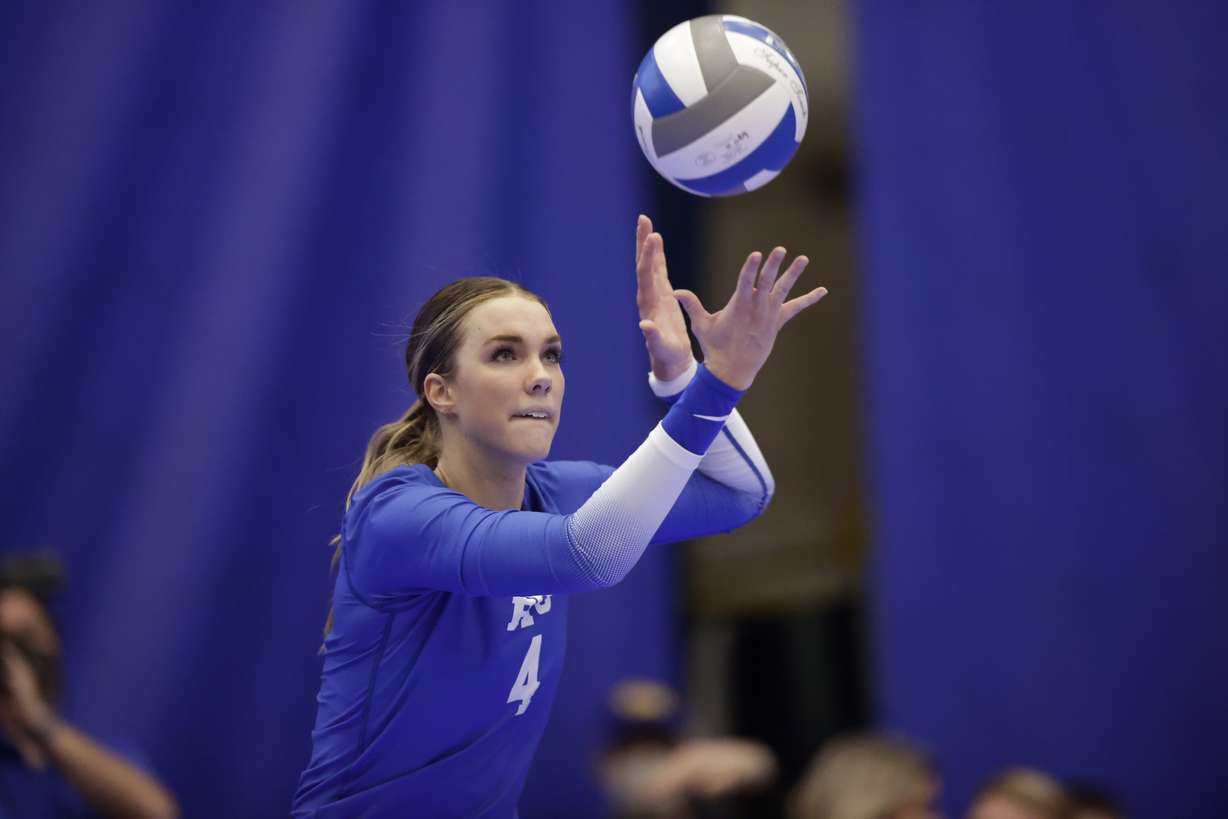 Kennedy Eschenberg added seven kills and six blocks in her final match at BYU, a season where she didn't have to come back but took advantage of an extra season. But the former Bountiful High star in volleyball and basketball delayed graduation by one semester to make one final run with her squad.
The Cougars came within four match-point attempts of upsetting the Boilermakers in a magical season that included the ninth regional semifinal appearance in the past 10 seasons — but came up just short of their first regional final since advancing to the national semifinals in 2018.
"This isn't the end we were looking for," Eschenberg said. "It has been the best time of my life. I'm grateful for the girls and the coaches and I'm proud of this team."
But it wasn't enough to overcome Purdue, led by Newton and four scorers with double-digit kills. The Boilermakers out-hit the Cougars .275 to .151, getting 14 kills from Grace Cleveland, 11 from Raven Colvin and 10 more from Jael Johnson.
And when BYU had the chance to close out the higher-seeded Boilermakers, they came back — and back, and back again.
"That might've been our worst offensive match of the year, and we still had a chance to win," said Olmstead, who gave credit to Purdue's defense in holding the Cougars to just .151 hitting percentage and 51 kills on 152 attempts. "That is perhaps the most painful thing about this match."
Koerber capped a 3-0 spurt to give BYU a 5-1 lead in the decisive fifth set, a light touch over ner the net to push the ball over for the crucial early advantage. The Utah graduate transfer kept the Boilermakers' third-ranked block in the nation at bay with a stuff of her own, but Emma Ellis' solo block tied the set at 7-7 midway through the set.
BYU had four chances to win the match, but Jena Otec served back-to-back aces and Purdue tied the match at 14-14 on an attack error.
"Too much BYU, and the Cougars take set No. 3."

TUNE IN NOW FOR S4 ON ESPNU!!! pic.twitter.com/G00FiWaxqV

— BYU Women's Volleyball (@BYUwvolleyball) December 9, 2021
"We were up 14-10. We had a chance to win the match," Olmstead said. "We were just all about executing … and we couldn't finish it off when we needed to.
"It just didn't go our way."
Purdue took a 16-15 lead and served for the match, but Koerber wouldn't let her final season of college volleyball die for as long as she possibly could. But Newton was equally dogmatic, setting up Purdue's second match point with a kill before Emma Ellis and Colvin finished off the fifth set for the third-best blocking team in the nation.
Purdue coach Dave Shondell knew if his team could hold BYU to .150, they could win the match. The goal finished short — by .001 percentage points.
Close enough.
"If you know anything about volleyball in this country, you have automatic respect for Brigham Young University. We knew it was going to be a challenge to beat BYU," Shondell said after the match. "At 10-14, it didn't look promising for the Purdue team. But Jena Otec went back and made some big serves and that really turned the win for us."
The loss snapped BYU's 23-match winning streak, one that included an 18-0 spurt in West Coast Conference play — the Cougars' first unbeaten conference season since 1995.
Purdue advanced to face the winner of No. 3 Pittsburgh and Kansas in the regional final Saturday afternoon.
×
Photos
Related Stories