Estimated read time: 5-6 minutes
This archived news story is available only for your personal, non-commercial use. Information in the story may be outdated or superseded by additional information. Reading or replaying the story in its archived form does not constitute a republication of the story.
PROVO — Kenzie Koerber's first match against Utah for BYU was always going to be emotional.
A three-time AVCA All-American, Koerber was a four-year starter for the Utes before transferring to play her final season — her final semester, really — in Provo as a senior. But when her grandmother passed away recently and her extended family visited her in Utah for the funeral, Koerber's audience grew by several dozen with siblings who, in some cases, were watching her play for the first time in three or more years.
"It was a long week leading up to this game," Koerber said. "I'm really happy with the win, obviously, but treating it as another game really helped.
"It was awesome to see my sister here from Hawaii. She's a nurse in the Army and hasn't been to a game in 2 1/2 years. My parents are here for the first time with me at BYU, obviously; they've been here plenty of times. But to look up and see my family in the shirts and all the little kids, it was awesome. I'm so glad I was able to have so much support tonight."
Koerber poured in 14 kills and six digs, and Kennedy Eschenberg added 12 kills and two blocks as No. 15 BYU swept 10th-ranked rival Utah 25-23, 25-23, 25-16 in the team's first meeting since the truncated spring season Thursday night in front of an announced crowd of 5,140 in the Smith Fieldhouse — giving Koerber's family a taste of the emotional sold-out crowd as it cheered for their daughter, sister and aunt for the first time in her career.
Heather Gneiting added nine kills for the Cougars (9-1), and Whitney Bower dished out 33 assists and 16 digs for a BYU side that bounced back from their first loss of the year at No. 3 Pitt in the Panther Challenge. Since going down over the weekend, the Cougars have two wins — over High Point and Utah — ahead of their final nonconference series of the weekend Saturday at Utah Valley.
Madelyn Robinson led Utah (7-2) with 10 kills, six digs, three blocks and two aces. Dani Drews added seven kills and six digs — she was held to just .088 hitting — for the Utes, who got 15 assists and five digs from Stef Jankiewicz.
But questions remain for the Utes, who lost two in a row for the first time since back-to-back losses at then-No. 9 Washington, including a 3-1 loss to Boise State that was the Broncos' first-ever win over a top-10 team Monday night.
The Utes open Pac-12 play Wednesday at No. 7 Washington with plenty of questions following the departure of setter Saige Ka'aha'aina-Torres to Texas.
For BYU, a lot of the questions clear up after their first loss of the year.
"I think it's huge for our team and our confidence, coming off that tough road trip," BYU coach Heather Olmstead said. "We want to clean some things up and play a little tidier, and I thought we did that today. I loved our energy, saved and passed well against a big team up front, and our girls followed the game plan perfectly."
Koerber had seven kills in the first set, a .250 hitting percentage to go along with four digs as the six-hole hitter and All-American transfer put on a show against her former school.
Most importantly, the outside hitter's new school backed her up against her old school following one of the more emotional weeks of her career.
"I'm happy for Kenzie, to come out and play well in front of her family," Olmstead said. "We talked before we came out of playing for each other, including for Kenzie with her family, for Kennedy who is a sixth-year senior and wants to beat Utah, for the freshmen who have never beat Utah. We talked about playing for each other, leaving the egos at the door, and being as close as we can on the court today. I thought they did a great job."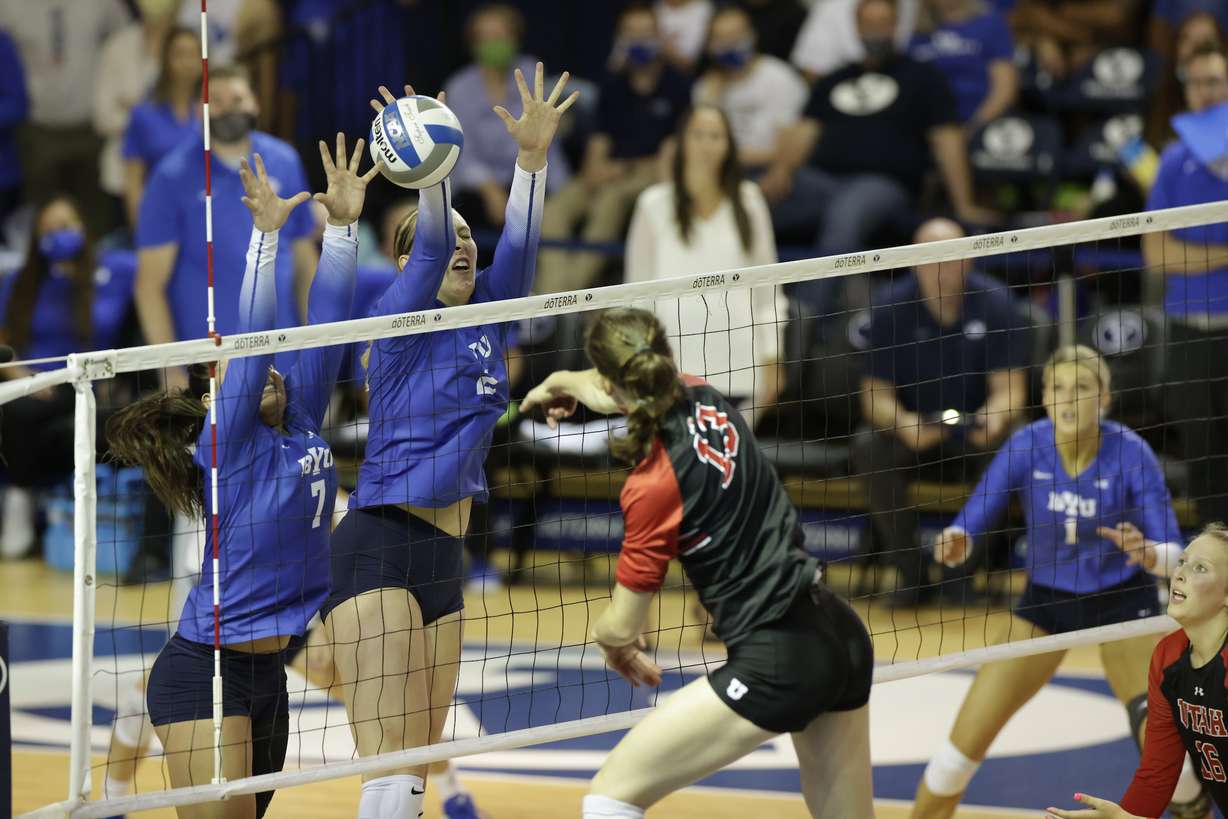 Set 1
Utah jumped out to a 3-0 deficit, but a Gneiting's kill off the block sparked a 4-0 rally for the home side.
The Utes opened hitting -.077 with two kills and three errors on their first 13 attacks, but trailed just 12-9 midway through the first set. Bower's first kill of the match on a setter's dump gave the Cougars a 14-10 advantage, and Koerber struck down her fifth kill of the set to stretch the lead to 20-13.
You didn't think it would be that easy, though, did you?
Robinson smashed her third kill of the set to cap a 5-2 spurt that pulled the Utes within three, 21-19. But Koerber had two kills in a 3-point span, and Gneiting set up a set point that Kennedy Eschenberg killed off 25-23.
Set 2
BYU opened the second set strong, holding the Utes to .000 hitting en route to an 11-3 advantage on Taylor Ballard-Nixon's thumping kill from the outside pin.
Koeber gathered her own dig to set up her 10th kill of the match to push BYU's lead to 15-7.
BYU hit .571 in the second set, hanging 17 kills before the Cougars' first error during a 11-2 run that pulled Utah back within 23-21. Erin Livingston tipped one off the block, and Eschenberg finished it off on BYU's fourth set point 25-23.
Set 3
BYU used a 10-0 run to jump out to a 14-7 lead on back-to-back kills by Koerber and Gneiting, and the Cougars never looked back in the decisive third set. The Utes used an 8-3 run to pull within three 18-15 before Eschenberg put BYU back on track.
Bower capped a 4-0 spurt that included an ace from Tayler Tausinga Hifo, and Eschenberg finished off the sweep with her 13th kill of the match.
"I think it boosts our confidence and shows us that we can play with good teams. We've performed really well this preseason, even if we didn't have the toughest schedule," Koerber said. "There was a lot of speculation, like what is this BYU team and how good are they, really?
"Tonight showed that we can rock it. We're firing on all cylinders, and we're excited for Saturday night and then the start of conference play."
×
Photos
Related stories
Most recent BYU Cougars stories