Estimated read time: 4-5 minutes
PROVO — Maybe the BYU women's volleyball team had somewhere to be Friday night, or maybe the Cougars wanted to get on to a second-round rivalry match.
Whether the team wanted to send the announced crowd of 5,340 to dinner and a move or they just wanted to watch the women's soccer team play in the College Cup semifinals in Santa Clara, California, the Cougars weren't messing around in a match that lasted just an hour and seven minutes.
Erin Livingston poured in 15 kills with just one error, and Kenzie Koerber stuffed the stat sheet with seven kills, eight digs, five blocks and three aces as No. 11 BYU rolled to a 25-6, 25-19, 250-10 win over Mountain West champion Boise State in the opening round of the NCAA women's volleyball tournament Friday night in the Smith Fieldhouse.
Whitney Bower dished out 25 assists, six digs and three blocks for the Cougars (29-1), who extended their winning streak to 22 matches with 12 blocks, including seven from Kennedy Eschenberg.
"Erin was a beast. We gave her the night off from the press because she was tired," BYU coach Heather Olmstead said of the machine-like outside hitter who had just one error on 21 swings. "But honestly, Whitney set a great game. She was putting up such nice, hittable balls and keeping it simple. And Erin was swinging fearless, going off hands, in between hands, around hands, over hands. She's playing with a confidence within herself that she can get a kill every time she swings — and she almost did tonight."
Aria McComber added three of the 10 aces for BYU, which advanced to face rival Utah in the NCAA second round Saturday night in Provo.
Danielle Boss dished out 12 assists with four digs and three aces to lead the Broncos (24-11), who hit -.012 against a BYU defense paced by 12 blocks.
That sets up a rematch with the Utes, whom the Cougars swept back on Sept. 16 in the regular season. It's also a second homecoming for Koerber, the West Coast Conference Player of the Year in her first season since transferring from Utah.
"Obviously early in this year, we played them and that week for me was pretty emotional," Koerber said. "But right now, I think it's just the next team in what we are trying to accomplish. I'm not even thinking about that being my former team. We have things we want to accomplish, games we want to win, and a run we want to go on.
"It doesn't change anything that we do, or anything that I want to do individually. We're just excited for the next team."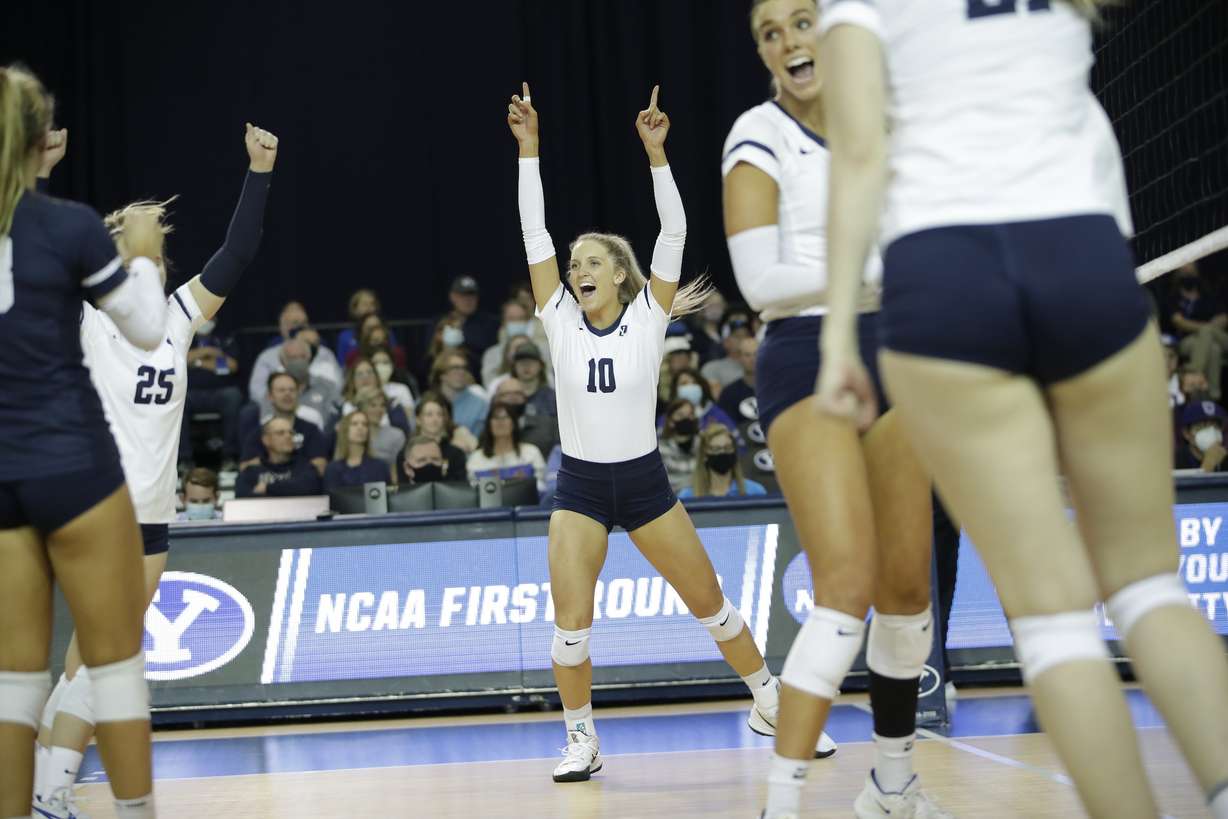 To get there, the Cougars had to take care of the Broncos — and Livingston made sure of that early and often.
BYU (29-1) jumped out to a 12-4 advantage in the first set and never looked back, hitting .571 to minus-.192 for the Broncos. Livingston had four kills and a block to pace a BYU squad that got four blocks, three aces and 11 digs, including back-to-back service stunners from Koerber that gave the Cougars a 17-4 lead in a first set that lasted just over 15 minutes.
"Every time we step on to the court, we talk about starting strong and playing together," Koerber said. "We just said, let's play as a team, with high energy, composed and together. It just takes care of itself when we are working on our own individual jobs.
"Everything just works together when we do that."
BYU was motivated — by a Broncos squad that had won nine of their past 11 matches, including three-straight in the conference tournament.
"They were hot coming into this match, winning the Mountain West Conference tournament," Olmstead said. "We knew we'd have our hands full.
"It was fun to get a chance to play a different team we hadn't seen this year, and I thought our team played pretty composed and executed the game plan pretty well that our staff put together."
BYU converted 100% of its sideout attempts in the opening set, and hit .388 for the match with just nine errors on 67 attempts. The Cougars were motivated, and Boise State could smell it early.
The Cougars used a 4-0 run capped by three consecutive points by Eschenberg and Livingston to turn a 5-3 deficit into a 7-5 advantage early in the second set, and BYU — again — never looked back.
"I thought BYU was fantastic, right from the start," Broncos coach Shawn Garus said. "Obviously, it's a really quality team that came out fired up and put us on our heels pretty early. I was proud of how our team responded, bounced back and played much tougher in set two.
"Lots of credit to BYU for this."
Livingston had a match-high 11 kills with just one error by the end of the second set, and the Cougars cruised to a 25-19 second-set victory.
Koerber's fourth point of the set gave BYU a 10-3 advantage, and the Broncos never threatened again before McComber threw down the Cougars' 10th ace of the night in the 25-10 third-set win.
First serve Saturday night is scheduled for 7 p.m. MT in the Smith Fieldhouse, and will be streamed live on ESPN+.
×
Related Stories