Estimated read time: 5-6 minutes
PROVO — Eventually, it had to come — and it did.
It wasn't just the offense that BYU women's volleyball coach was talking about as the Cougars hosted rival Utah in the second round of the NCAA Tournament, though. Eventually, the fans were going to get into it.
After they did, the seventh-year head coach went into the stands, to the student section next to the Cougars' bench and asked a few of them: "Do any of you want to go to Pittsburgh for us?"
"I'm still waiting to hear back from some of them," she joked.
Either way, the Cougars are moving on.
Erin Livingston poured in 13 kills, Taylen Ballard-Nixon added 12 kills, and Heather Gneiting supplied seven blocks as No. 11-seeded BYU women's volleyball used a balanced effort to rally past rival Utah 17-25, 25-22, 25-23, 25-23 Saturday night in front of a standing-room only crowd of 4,729 fans at the Smith Fieldhouse.
Whitney Bower stuffed the stat sheet with 42 assists, five digs, three kills and four blocks as the Cougars (30-1) clinched their second consecutive Sweet 16 berth and eighth in the last nine years.
But were it not for the seventh player on the court — the fans, who likely outnumbered Utah's traveling contingent by at least 3-to-1 in one of the toughest environments in college volleyball — things might have been different.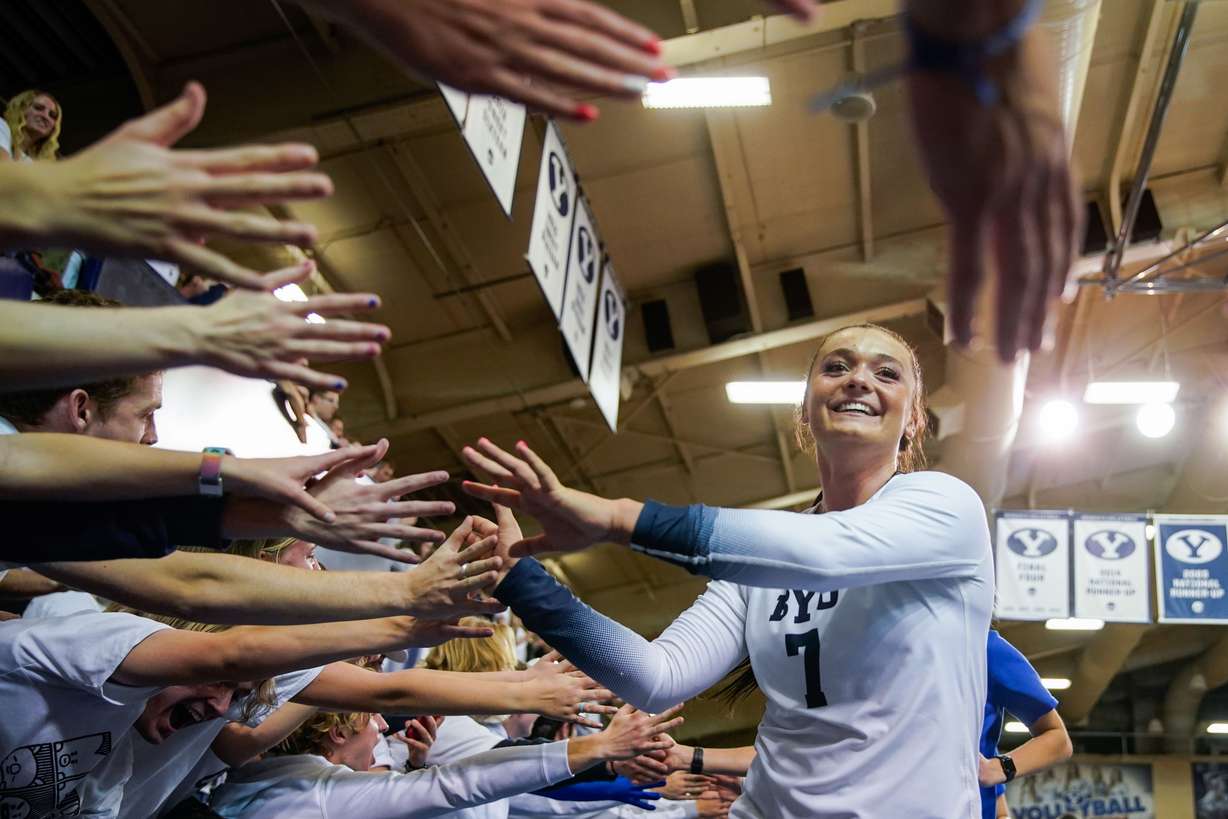 One last home match for Kennedy Eschenberg, who nearly graduated after last spring before taking advantage of one final season in Provo, was enough to push the Cougars into their 24th all-time appearance in the NCAA's round of 16.
"I get emotional a lot, but I got emotional after the game," said Eschenberg, the former Bountiful High multi-sport star in volleyball and basketball. "It was just an amazing feeling and gratitude that we got an opportunity to come back. It was just amazing."
Even the Utes' 32nd-year head coach who recently had her position endowed by the university had to tip her cap to the opponent's community.
"That was a great NCAA volleyball match," Utah coach Beth Launiere said. "It says a lot about volleyball in the state of Utah to have that kind of great, competitive volleyball match with the amount of fans that were here. It says a lot about our sport, and Utah."
Easy to say, too, when the visiting team almost silenced the sellout crowd.
The Cougars overcame an incredible effort by Utah seniors Dani Drews, who had 18 kills, eight digs and two blocks, and Madelyn Robinson, the BYU transfer who finished with 17 kills and six digs. Stef Jankiewicz dished out 47 assists to go along with four digs and four kills, for Utah (22-9), and Zoe Weatherington finished with eight kills, four digs and three blocks for the Utes, who out-hit BYU, 59 kills to 50.
The visitors took an eye-popping 129 swings to hit .256 on the night, but the Cougars were a more efficient .283 and posted eight aces and 11.5 blocks in the complete-game effort that started shakier than it ended.
"It definitely is not fun to end on a loss," said Drews, the Utes' all-time leader in kills who will go down as arguably the program's best-ever hitter since committing to the university from Brighton High. "But we were never down and out. I'm super proud of the fight that we put up. I love this group of girls; it's an amazing team."
Undeterred by the sold-out crowd and hardly neutral atmosphere, Utah started strong in the first set, taking a 10-7 advantage with a 6-0 run and leading by as much as 13-8 on a block by Allie Olsen.
The Utes held BYU to just .100 hitting percentage in the opening set, and put down 14 kills with just five errors, Robinson's five strikes en route to the 25-17 win.
Just like Utah, though, BYU didn't give up, either.
The second set is where things got conflicting. Olmstead said there's disagreement in the Cougars' locker room over where the turning point truly came.
Some seem to think it came when Gneiting, the former Pleasant Grove star and recently returned missionary, stuffed one of Drews' back-row kill attempts over the middle, highlighting a 9-3 run that gave the Cougars a 21-17 lead en route to a 25-22 victory in the second set.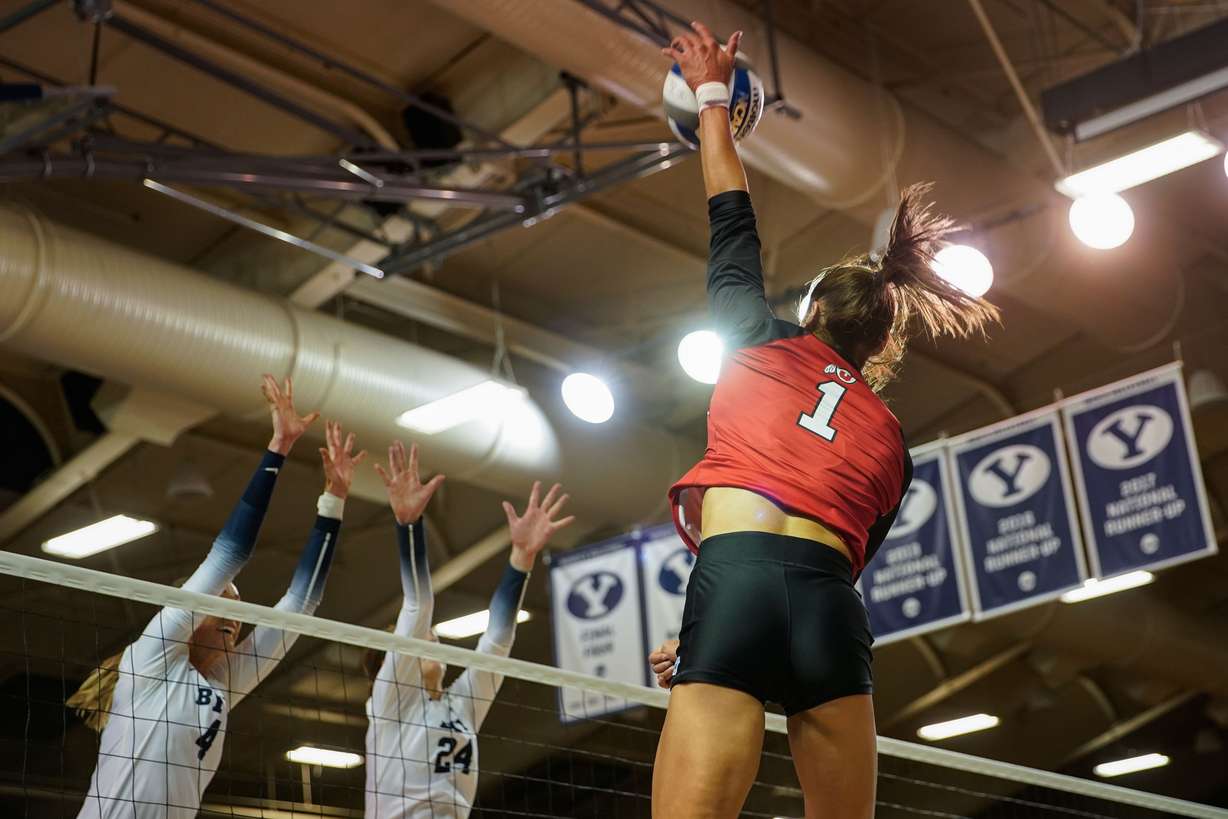 Olmstead also thinks the difference may have come in the third set, when Tayler Tausinga-Hifo stepped up to the service line and capped off a 6-0 run with an ace that put BYU up 16-9 in the third en route to a 25-23 victory.
Either way, the Cougars needed a comeback, and the two role players were the spark plugs — much like how BYU's block, which drowned out the Utes 11.5 to 7.0, also overcame the host's hitting deficit.
That included the four blocks from Bower, the 5-foot-9 West Coast Conference Setter of the Year who got up — and then sometimes under, around and through the Utah hitters — alongside Gneiting and Eschenberg.
"They were taking some really good swings," said Eschenberg, who had three blocks, the same as Utah transfer Kenzie Koerber who was picked on in serve-receive by her former teammate, "but I loved that our coaches trusted us and said to keep doing your jobs and getting over. It was really big, and our defense behind the block was huge."
At one point in the fourth set, Olmstead called timeout and offered to congratulate Bower for "a great block." The junior from Nampa, Idaho, responded that "it was Heather," and a small argument ensued over her should get credit for the stuff.
"I think it ended up being Whitney," Olmstead said. "But that's just Whitney; she does so many things for us, and she's always going to give credit to other players."
The Cougars will face Purdue in next week's Pittsburgh regional in the Sweet 16. First serve against the sixth-seeded Boilermakers is scheduled for Thursday on ESPN+.
×
Photos
Related Stories