Estimated read time: 6-7 minutes
OREM — On paper, nothing about Wednesday night's midweek road tilt between BYU and Utah Valley should've been close.
The 12th-ranked Cougars held the No. 22 ranking in KenPom's predictive metrics, while the Wolverines trailed — just a bit — at No. 181.
Both teams were riding six-game winning streaks, between the unbeaten Cougars and Utah Valley which hadn't lost since the season opener at Boise State.
Not even close, right?
Think again.
Fardaws Aimaq had 24 points, 22 rebounds and four assists, including the go-ahead jumper with 43 seconds left, as Utah Valley survived its fourth overtime game of the season to stun No. 12 BYU 72-65 Wednesday night at the UCCU Center.
It was everything Aimaq could've dreamt of when he opted to forego the NBA draft in the summer after receiving positive feedback from a myriad of teams, before he slimmed down 25 pounds and turned to a primarily plant-based diet to take his game to another level.
With his parents sitting a few rows up in a sold-out UCCU Center of 8,550 strong — and then some, based on standing-room estimates — Aimaq put on a show.
And it's only Dec. 1.
"I think a lot of it was preparation that I put into this season, and it's nice to see it pay off. At the end of the day, I'm a much different player than I was last year," said Aimaq, who shot 1-of-9 from the field for 3 points and seven rebounds in a loss a year ago in the Marriott Center. "When we went and played them last year, I can remember myself being nervous and not really prepared to how I was tonight.
"I didn't start off great tonight, missed a couple of bunnies. But I know I can do other things, and I just trusted my work that I put in over the summer. I know the coaches trust me, and I want to make them proud of me until the wheels fall off. That gives me the confidence to keep going, keep playing and keep doing my thing."
Fardaws Aimaq with a 3 during OT!#UVUvsBYU#GoUVU#ProtectTheDen#UVUmbbpic.twitter.com/sdZygdLQRP

— UVU Men's Basketball (@UVUmbb) December 2, 2021
Modest? Maybe a little. But that's Aimaq, too.
"Fardaws Aimaq is the most skilled, well-rounded big man in the country. Period," UVU coach Mark Madsen said. "And he showed it tonight. I'm proud of him, from the rebounding work that he did to 2-for-4 from three, the five steals. Fardaws Aimaq is the best all-around big man in the country.
"But our locker room was full of big-time players."
Justin Harmon poured in 24 points and seven rebounds for the Wolverines (7-1), who got 10 points form former BYU guard Connor Harding in the upset — the first-ever over an Associated Press Top 25 opponent at home.
After the loss, BYU dropped five spots to No. 27 in KenPom's metrics. Utah Valley soared up to 164.
But Wednesday night's upset — the biggest win in program history for the Wolverines, and it's hardly arguable — was about Aimaq, who worked out for a dozen NBA teams before returning for his redshirt sophomore season in Orem to try to improve on his game.
And improve he did. Last year's top rebounder in the nation also leads the NCAA with his seventh double-double of the season, and he's added a terrifying weapon to his arsenal.
The 3-point shot.
Aimaq only took a season-high four treys — four times as many as he took in a single game in all of 2020-21 — and made two of them at the most critical times, including a step-back 3-pointer with 2:43 left in overtime that gave the Wolverines the lead for good 60-59.
"I know I put in the work this summer, and I'm just trying to take the right ones," the 6-foot-11 post from Vancouver, British Columbia, said after the game. "I thought tonight were the right ones.
"Coach probably wants me to roll a bit more, but we'll have that conversation after this. At the end of the day, I can't ask for anything more. I just try to come up big when I can come up big."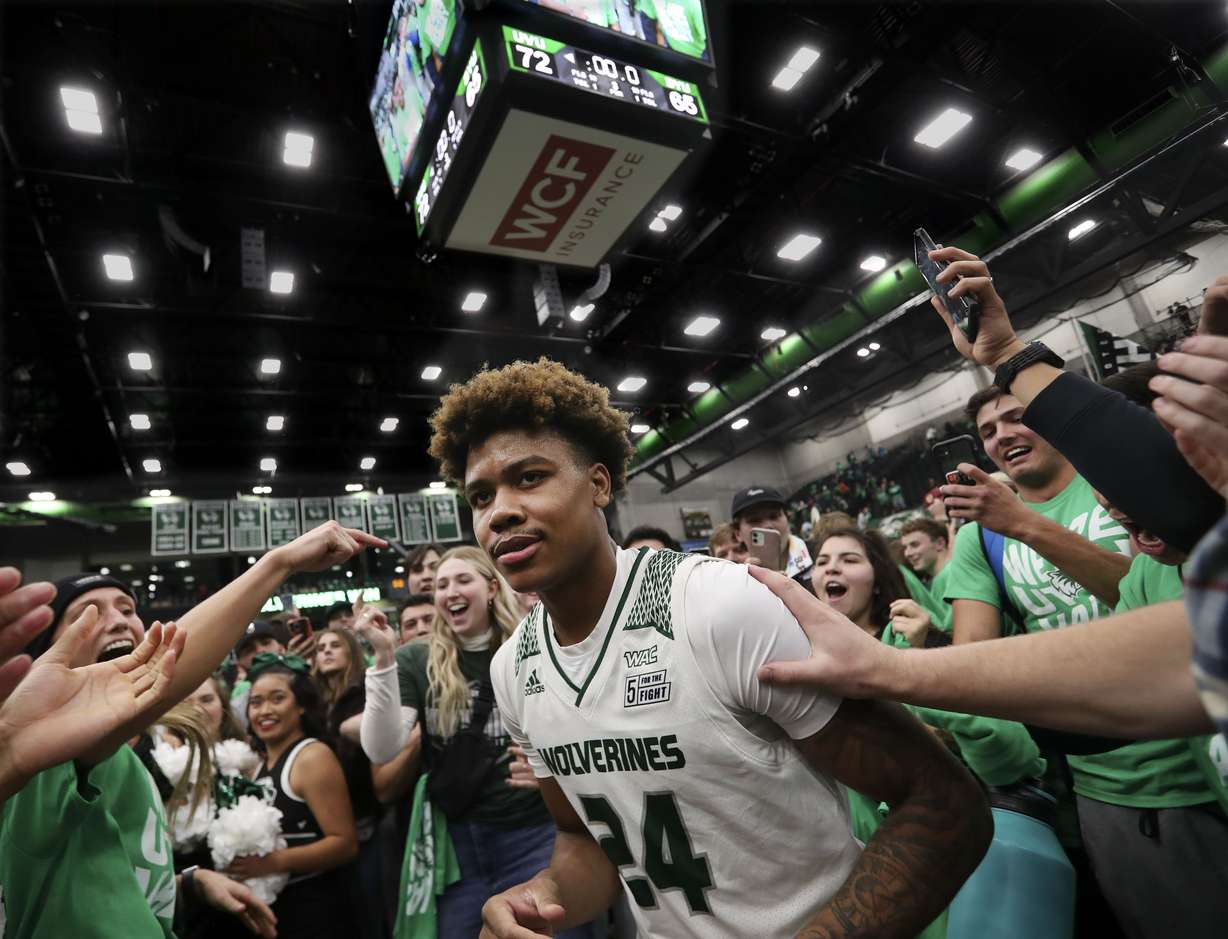 At this, his head coach Mark Madsen interrupted.
"I said, Daws, if you get more than 15 (rebounds) in a game, at least shoot one 3," Madsen crowed, his shirt still drenched from the postgame locker room celebration. "If you can shoot another, then I can give him another. That's our deal."
Added Aimaq: "I like that deal."
Alex Barcello had 17 points and 11 rebounds for BYU, which shot just 30% from the field with two field goals during overtime. Spencer Johnson added 15 points and nine rebounds for the Cougars (6-1), and Te'Jon Lucas and Seneca Knight scored 10 points apiece.
BYU never led by more than 7 points, and made just two field goals in overtime before Barcello's cosmetic 3-pointer with 3.5 seconds to go.
"BYU has a great team. Nothing but tremendous respect for them," said Madsen, a former Stanford star who spent a decade in the NBA and won two league titles with the Los Angeles Lakers. "My college coach Mike Montgomery used to talk about how to win anything, you have to have some great individual performances. We had that tonight. I've been involved in very few basketball games in my life where anyone from either team gets over 20 rebounds — but Fardaws has done that four times already (this year). Justin Harmon got a key steal in overtime.
"The individual performances allow teams to win."
3-pointer by Justin Harmon!#UVUvsBYU#GoUVU#ProtectTheDen#UVUmbbpic.twitter.com/t6TYUKUO54

— UVU Men's Basketball (@UVUmbb) December 2, 2021
After Aimaq's go-ahead jumper in the final minute, the Wolverines led by as much as four on Tim Fuller's fast-break dunk with 17 seconds to go. But BYU, which lost starting center Gavin Baxter to a torn ACL midway through the first half, battled back and tied the game on Johnson's drive inside with one second on the clock.
It's the third season-ending injury for Baxter, but BYU coach Mark Pope said it had nothing to do with the team's loss in a game where the Cougars shot just 31.3% from the field, made seven 3-pointers, and outrebounded the Wolverines 53-50 behind a team-high 11 boards from Caleb Lohner.
"It has a huge impact on our team, but it doesn't have anything to do with tonight," Pope said of Baxter's injury. "Utah Valley beat us, and they earned it and they deserve it. Going forward, it's what you do in the course of a season. The season is a journey, you take it, and we've just got to get better."
But at the overtime break, Utah Valley took confidence. The Wolverines were unbeaten in extra periods, a perfect 3-0 that included a 77-68 home win Saturday over Denver.
Wednesday marked their seventh consecutive victory of the season — and by far the biggest one of all.
"Our associate head coach Todd Phillips told the players before the game, he said, 'Guys, don't let this get into overtime because if it goes to overtime, we're going to win it,'" Madsen recalled. "Our players showed that confidence. I thought they really executed really well, especially in overtime."
×
Photos
Related Stories