Estimated read time: 8-9 minutes
OREM — Blaze Nield would never be so dramatic, but those around him tell a slightly different story: He thought about quitting basketball this summer.
The pain was just too immense.
Initially, he thought it was a groin injury, suffered during his one season at BYU when he played sparingly in 17 games before transferring to Utah Valley. Nield went through the entire 2020-21 season with the Wolverines with immense pain in both hips, the byproduct of bone spurs that caused his femur bone to grind irregularly in the hip socket. Such bone deformities are relatively common, and for most people, it leads to surgery — just oftentimes, later in life.
But with Nield's basketball drills and activity, the pain was almost unbearable. Publicly, he never said much; the smile on his face since his days putting up 17.3 points and 3.1 assists at Lehi High School en route to all-state honors never left, even in his struggles.
But privately? He admitted to a few people that the bone spurs were draining on his life and his game.
At one point, he even thought about hanging it up.
"Last season, I had to get cortisone shots in both of my hips before I played, and I barely made it through the year," Nield told KSL.com. "I guess you could say I feel a lot better."
Fortunately for the Wolverines, Nield came back — and thrived. Double hip surgery may not have changed his life, but his career. The procedure doctors performed over the summer shaved the head of both femurs, allowing each to sit flush against the ball joint in the pelvis.
He felt like a new man. At the very least, he's played like one.
As the Wolverines prepare to host crosstown rival BYU for the first time in four years Wednesday night (7 p.m. MT, BYUtv), Nield has Utah Valley on the right track ahead of a matchup against the 12th-ranked Cougars.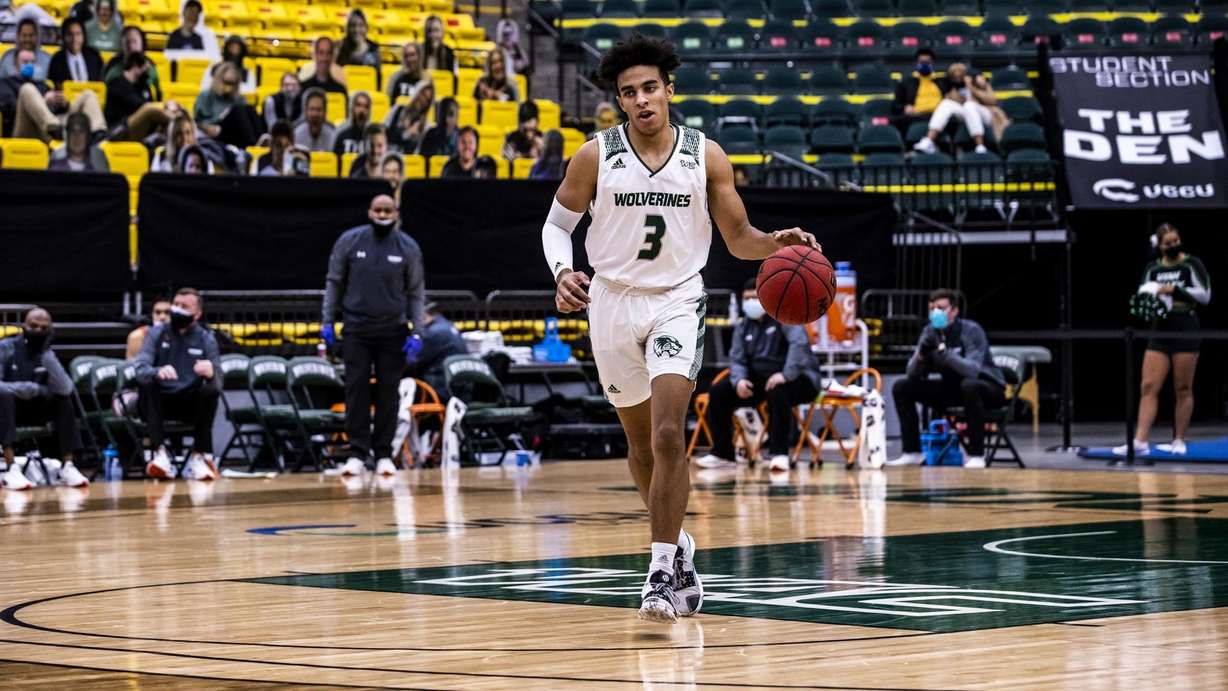 The Wolverines are 6-1 on the year, riding a six-game winning streak since a season-opening road loss to Boise State, and riding high after a week in California that ended with the SoCal Challenge title. Utah Valley beat Pepperdine, Long Beach State, Idaho and Nicholls State to clinch the Sand Division title of the invitational in San Juan Capistrano, California, then returned home Saturday and rallied to beat Denver 77-68 inside the UCCU Center.
Now they'll welcome back BYU coach Mark Pope, who led the program for four years and compiled a 77-56 record in his first full-time job as a head coach in college basketball. None of the players on this year's UVU team played for Pope in Orem, though Nield and fellow BYU transfer Connor Harding played for the third-year BYU coach in Provo.
Nevertheless, the UCCU Center will always hold a special place in the heart of Pope and his family.
"I've got a lot of love for Utah Valley," Pope said. "You know, we fought and bled and sweat there for four years. We still laugh about things that happened as we tried to find our way as a staff. We had some incredible young men compete for us in four years there. It's a really special place and a great university. It's serving this community of Utah incredibly well, and has filled a space that was desperately needed.
"I've got a ton of love for it."
Wednesday is the Cougars' second road game of the season — they're one of six unbeaten teams in college basketball to have played at least one true road contest — and marks the beginning of a stretch that will see BYU play away from the Marriott Center in seven of eight contests, including Saturday at Missouri State. That's another Quad One game for the Cougars' schedule.
Wednesday's game isn't there — at least, not yet, though it may move up if the Wolverines continue a similar start to their current 6-1 record. But road games are special in college basketball, too.
"I like going on the road. I like playing against hostile crowds," said BYU guard Spencer Johnson, an American Fork product who spent time briefly at Weber State, Utah Valley and Salt Lake Community College before transferring to BYU. "It's just a cool, fun environment where you get in, and fans are going at you. It just creates a really fun environment to play in.
"I think it helps prepare us for league play. Being able to take these hard road games early in the season, it helps us get better."
In Wednesday night's game, the Cougars won't just find a hostile environment — fewer than 1,000 tickets remain at the newly remodeled 8,500-seat UCCU Center — but a team riding a six-game winning streak and 6-1 record overall playing just its third home game of the season.
Nield started each of those games, and he's been the Wolverines' floor general the whole time. The 6-foot-1 junior who averaged 20.6 points, 5.2 rebounds, 4.1 assists and 1.6 steals while shooting 44.3% as a freshman at Utah State Eastern has had his best year since then, totaling 9.0 points, 4.5 assists and 2.1 rebounds on 48.8% shooting while leading the Wolverines to their best seven-game start in the program's Division I era.
Of course, credit goes to Fardaws Aimaq, Utah Valley's returning Western Athletic Conference player of the year who passed on the NBA draft a year ago and has returned to his brilliant form in his redshirt sophomore season. The Vancouver, British Columbia, product again leads the nation with 96 total rebounds, six double-doubles and 10.0 defensive rebounds per game. He's a narrow second nationally with 13.7 boards per game and is only getting better.
But as teams pay more attention to Aimaq — and they certainly are — it's leaving open space on the perimeter. The biggest beneficiaries have been Nield and fellow BYU transfer Conner Harding, who is averaging 11.9 points, 4.7 rebounds and 3.3 assists in seven starts.
"Daws is such a beast down there that teams have to send double, sometimes triple, teams at him," Nield said. "That just leaves us open on the perimeter, and me and Conner are veteran, smart players who can find open space. When the defense sucks into Daws, we're able to attack in different ways.
"He's such a beast out there that it makes it easier for us."
Teaming up with Harding, who transferred from BYU last year, has been special for Nield. The duo reconnected as soon as the Pocatello, Idaho native hit the transfer portal, and his recruitment took as about as long as it took to drive the 4.7 miles up University Parkway to UVU.
"Playing over there (at BYU) with him, I knew Conner was someone I can go to battle with," Nield said. "He's a dog, and knowing you can go into the trenches with a guy like that every day is super exciting.
"We love playing with each other, and feed off each other. It's been fun."
Nield, Harding, Aimaq and Justin Harmon — the Wolverines' other double-digit scorer at 10.4 points and 3.9 rebounds per game — have led Utah Valley during their current six-game winning streak, one that has included three overtime games.
That's the identity of a team still coming together in Madsen's third season, even if the Wolverines weren't really sure of their identity at the start of the season.
"I think we're figuring out that we're menaces out there; we fly around on defense, play hard, talk some mess if you get in our face," Nield said. "We're going to fire back and keep fighting.
"At Pepperdine, we were down 12 in the second half, but came back, got to overtime, and then beat them by 8 to 10. There's no quit in us. I think that's our identity."
Nield calls the group "dogs" on defense, and the name fits. The Wolverines average just 0.9 assists/turnovers per game and force 17.4 takeaways, scoring 16.7 points off turnovers.
The group includes "beasts" on the glass and beasts on defense, a variety of packages that include Nield himself. He's the floor general for UVU men's basketball, and one who takes care of the ball with 32 assists to just 16 turnovers in seven games.
"Blaze has been fantastic; he's a steadying influence on the entire organization," said UVU coach Mark Madsen, pointing specifically to his breakout performance against Long Beach State. "He knows every single thing we're trying to do, on offense and defense, and he's great at communicating it to the guys."
"He's overcome adversity. The double-hip surgery last summer, I can't even imagine what that must have felt like — and he came back a month early. We had to hold him back, telling him, 'Blaze, it's too early.'"
Nield also has reasons to keep smiling. He and his wife Rilee, a Utah County-based videographer, married last summer and he's signed a half-dozen name, image and likeness deals promoting products from athlete care and massage to clear bags to Latter-day Saint mission-themed neckties.
And he's done it all with that same cheery demeanor.
"Blaze is someone who never has a bad day," Madsen said. "He just lives life in an even-keeled fashion. Win or lose, he's always a winner. He wants to win every drill, every game — but he's also not going to sit there and be mired in too much emotion if something doesn't go his way. He's very resilient."
How to watch, stream, listen to the game
No. 12 BYU (6-0) at Utah Valley (6-1)
UCCU Center, Orem
TV: BYUtv
Streaming: ESPN+
Radio: KSL 1160 AM/102.7 FM, ESPN 960 AM
Series: BYU leads, 5-1
Double-Double, Animal Style: Fardaws Aimaq earned his second consecutive WAC Player of the Week honor after winning MVP honors at the SoCall Challenge. Last year's leading rebounder in the nation, Aimaq record his nation-leading sixth double-double of the season Saturday night with 19 points and 14 rebounds in a 77-68 win over Denver in overtime.
Making History: BYU's No. 12 ranking in the latest AP top 25 is the fourth-highest ranking in program history and the first time the Cougars have been ranked in November since 1981. BYU is the highest-ranked opponent to ever visit the UCCU Center in Orem.
Staying Home: Utah Valley's roster features three former Cougars in Connor Harding, Blaze Nield and Colby Leifson. Harding, whose wife Paisley is a senior with the BYU women's basketball program, appeared in 90 games during his career in Provo and scored 536 points.
×
Related Stories