Estimated read time: 5-6 minutes
HANNA, Duchesne County — Bighorn sheep were rather common to find when pioneers arrived in Utah over a century and a half ago.
"When early settlers came to the state, bighorn sheep were maybe one of the most abundant ungulates on the landscape. They certainly had the ability to be even more abundant than our mule deer, which is at times difficult to believe given where our numbers are at today," said Riley Peck, the once-in-a-lifetime species coordinator for the Utah Division of Wildlife Resources.
But settlers brought domestic sheep and goats with them, which introduced new diseases that crushed the native bighorn sheep population. There were also issues, such as overharvesting and landscape changes, that have "almost completely extrapolated" bighorn sheep from Utah, Peck said.
There are hundreds of thousands of deer across Utah today compared to a few thousand bighorn sheep. The exact figure has bounced around for decades, but the division estimates there are 2,800 desert bighorn sheep and 1,500 Rocky Mountain bighorn sheep in the state.
It's a significant increase from two decades ago but nowhere near the population size state wildlife biologists want.
That's why Peck and state wildlife biologists are enthusiastic about a new 1,800-acre nursery aimed at helping the species thrive. The Utah Division of Wildlife Resources on Tuesday announced plans for its first desert bighorn sheep nursery, mirroring a similar nursery that exists on Antelope Island for Rocky Mountain bighorn sheep.
The new nursery will be located at the massive SkyRider Wilderness Ranch by Hanna, Duchesne County, a private property owned and managed by Utah-based essential oil company Young Living. It will be able to hold about 150 desert bighorn sheep, according to the Utah Division of Wildlife Resources.
The DWR and Young Living may seem like an unlikely pairing but Peck says the partnership is the result of a few years of searching for the right land to help get the bighorn sheep population a bit closer to pre-pioneer levels.
Finding the right partner
A few years ago, Peck isn't quite sure exactly when, the division started searching for the perfect landscape for a desert bighorn sheep nursery. It's not easy because it requires the right conditions.
"You need a habitat that can withstand any climatic events, you need persistent water, you need enough growth that their population can grow and be productive," he said. "We looked over the state many times hadn't been able to find the location that works perfectly. ... We were coming up blank."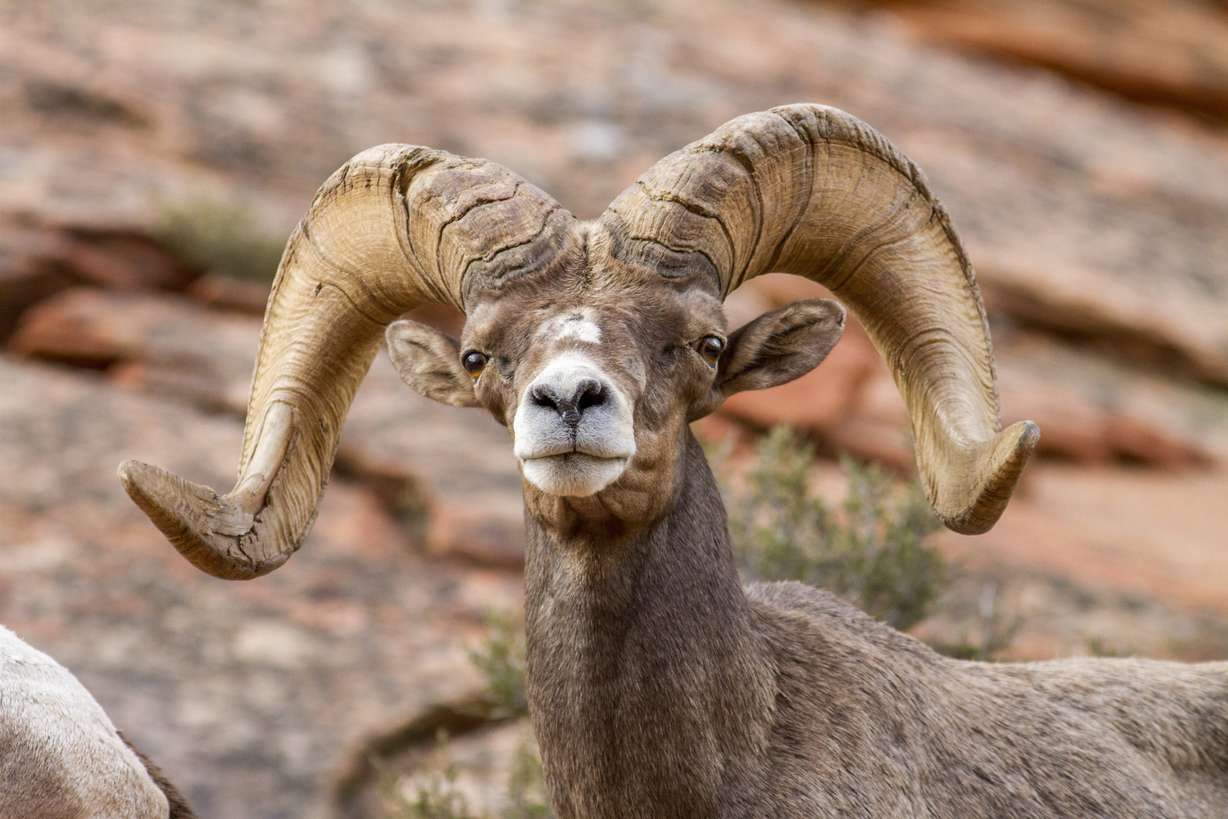 After sifting through usual areas, such as state or federal lands, state wildlife biologists were stumped. That's when they started looking for unorthodox solutions, including private-public partnerships. It was about that time in the brainstorming process that one of the division's biologists based in northeastern Utah mentioned Young Living.
Young Living co-founders D. Gary and Mary Young acquired SkyRider Wilderness Ranch in 2017. On its website, the company says the entire ranch occupies 28 square miles "in one of the largest pinyon pine forests in the world."
It's used for farming but is also home to about 18,000 acres used as elk and bison ranching space that remains from its previous owner, according to the company. There are also close to 11,000 acres of land on the ranch on a conservation easement held by the Nature Conservancy.
While the agency as a whole hadn't had many partnerships with the company, local biologists had a working relationship with Young Living since it purchased the land four years ago.
After a tour of the ranch, Peck said it was a perfect fit for the nursery because it offers all the conditions needed. While the animals will be able to roam freely inside the large nursery, it's also fenced in, making it nearly impossible for bighorn sheep to wander off. It reduces the risk of the nursery herd contracting diseases from domestic sheep, which, again, has historically hindered population sizes.
The two sides agreed on cornering a place of the ranch for a bighorn sheep nursery. The division cited a quote from D. Gary Young, who died in 2018, who once said he always wanted to honor advice his great-grandfather gave him in life, which was to "leave something behind that will make this world a better place for those coming."
The DWR is also working with one of its more traditional partners, the Nevada Department of Wildlife, to get the nursery up and running. The Nevada agency, which has provided Utah with hundreds of bighorn sheep over the years because its population is healthy enough for transfers, will provide the initial desert bighorn sheep herd.
Peck said the first herd is expected to be delivered in the summer of 2022. It's unclear how many bighorn sheep will be provided because it will depend on a few outside factors, such as drought conditions.
Growing back the population
Desert bighorn sheep, unlike Rocky Mountain bighorn sheep, are predominantly found in southern Utah, especially near the Kaiparowits Plateau region within Grand Staircase-Escalante National Monument.
The Utah Division of Wildlife Resources, in 2019, outlined a new management plan that sought to double the population of all bighorn sheep in the state over the next decade. That includes a future objective of 5,000 desert bighorn sheep, which is about 2,200 more than the current population estimate.
---
The benefit of this nursery area cannot be overstated.
–Riley Peck, Once-In-A-Lifetime Species coordinator for the Utah Division of Wildlife Resources
---
The current population has even remained surprisingly steady since that plan was finalized despite the fact that Utah's drought could have harmed population sizes as it has for deer. Peck says tactics like using water guzzlers have helped mitigate the severity drought plays on wildlife habitat. While that's slowed down the goal, the state isn't losing bighorn sheep either.
With a nursery in place now, the division will be able to raise and release desert bighorn sheep in other parts of the state where the species is typically found. This means the Utah Division of Wildlife Resources will be able to start new herds all over Utah and get the population of the species much closer to that goal set two years ago.
"This nursery herd allows us to have long-term viability of desert bighorn sheep in Utah," Peck said. "Whenever we have a need to supplement or create new populations in the state, we will have our own internal bighorn sheep population and can be self-sufficient in maintaining healthy herds. The benefit of this nursery area cannot be overstated."
×
Related Stories