Estimated read time: 6-7 minutes
LOS ANGELES — It took one of the best prep quarterbacks from Utah of the past decade to push BYU's winning streak against the Pac-12 to the brink.
And an all-timer from San Bernardino County came to save it.
Tyler Allgeier ran for 111 yards and two touchdowns, and Jackson McChesney added the go-ahead score with 3:57 left as BYU won 10 games for the second consecutive season with a 35-31 win over Southern California on senior night at the Los Angeles Memorial Coliseum.
Jaren Hall completed 20-of-32 passes for 276 yards with touchdown passes to Puka Nacua and Keanu Hill, but also had two interceptions and took a sack that helped the Trojans back into the game. Hill finished with a team-high 72 yards on four catches, and Nacua added 42 yards on three grabs for the Cougars, who got five catches for 35 yards from Allgeier.
But after leading for most of the game and by as much as 28-13 on Hill's 41-yard touchdown, BYU almost lost its bid for a 10-win season by a quarterback whose first Division I offer came from current offensive coordinator Aaron Roderick.
Corner Canyon product Jaxson Dart threw for 248 yards and a touchdown, and ran for another score for USC (4-7). But the dynamic gunslinger was stopped just short of conversion on a fourth-and-6 play when Kaleb Hayes tackled Gary Bryant Jr. at the 10-yard line to help the Cougars hold on for the win.
"I knew by watching film that they like to hit those slants. I knew it was about time they threw the sticks, so I tried to make it as good as possible," Hayes told BYUtv. "Homie made the catch. But I stopped him."
With the win, BYU improved to 5-0 against the Pac-12, which only matters because Arizona, Arizona State, Washington State, Utah and USC were put on their schedule. But for some players on the team, it matters a little more than others.
"It means a lot, it really does," said Hayes, who quietly transferred to Provo from Oregon State and stepped into a key role when Keenan Ellis went down with a serious injury in the season opener. "Just through my trials in my football career, this is special, not for me but for the whole team. We can play ball any time, anywhere."
Bruised and battered while shuffling a myriad of lineups including freshmen and first-year players all night, the Cougars' defense rose up when they most needed. Led by 13 tackles apiece from Max Tooley and Ben Bywater, BYU's defensive performance was far from flashy — only three tackles for loss, no sacks and without a turnover.
But it never broke, as defined by the final play.
"It was actually a tough one for me," Tooley said of Hayes' stop. "I was taking a beating all game, and coach decided to not put me in. I respect that decision; he did what is best for the team in the end.
"We have guys who stepped in, and there was no doubt in my mind that we were going to get that fourth-down stop to win the game. We just relied on our depth, and it paid off in the end."
Roughly 10 minutes after Dart had found Bryant with a 10-yard strike that put USC up 31-28 after a 2-point conversion, that Trojans couldn't replicate similar magic in a game they desperately needed to have a shot at bowl eligibility. Vavae Malepeai ran for 99 yards and a touchdown for the Trojans.
Dart found his rhythm in the second half, guiding a 12-play, 91-yard drive to open the fourth quarter with a 10-yard touchdown strike to Bryant. The toss and a 2-point conversion to Lake McRee gave the Trojans their first lead since a brief 3-0 advantage with 11:03 remaining.
As BYU tried to rally, Hall found Allgeier for a fourth-down screen pass push toward the end zone. One play later, he took a shot at the end zone.
The deep ball intended for Nacua landed in the open arms of Calen Bullock instead — Hall's second interception of the night, and third were it not for a roughing-the-passer penalty that called another back earlier — to help hold the Trojans' lead with 8:14 to go.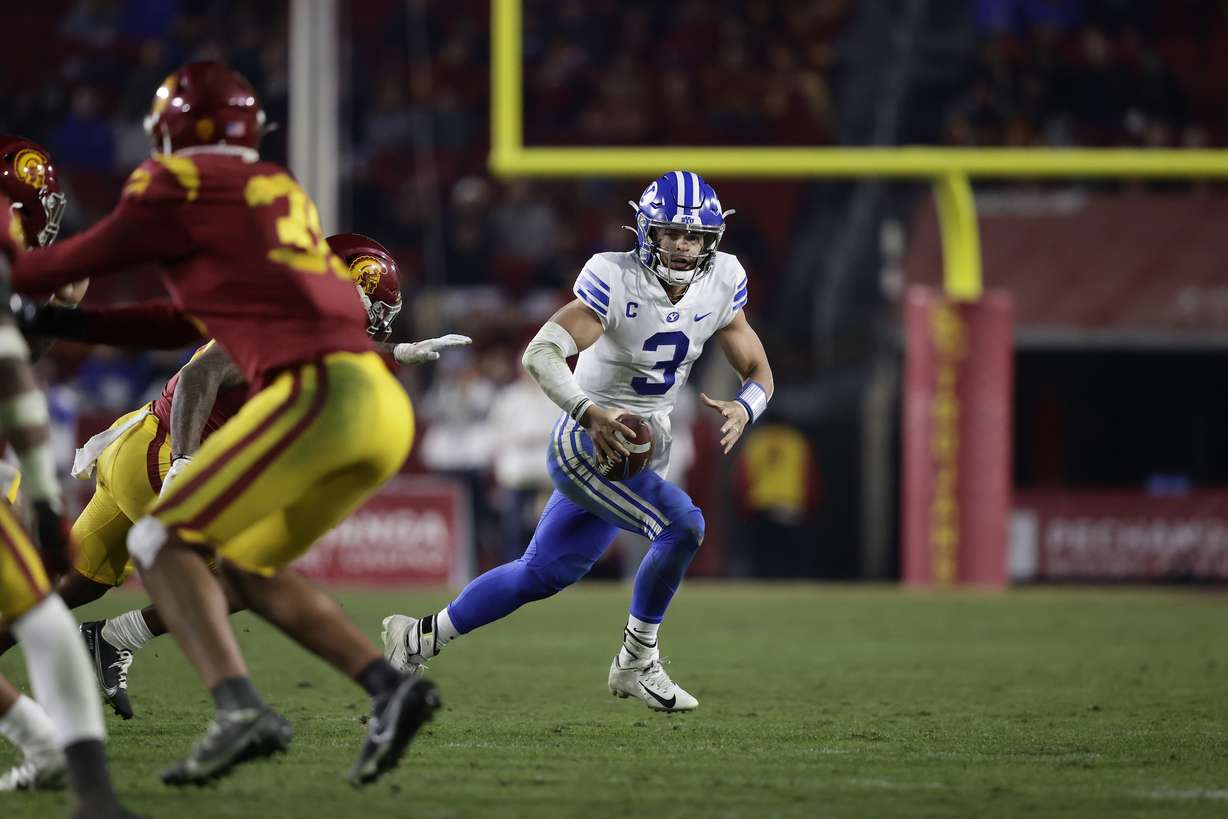 USC didn't often play like a 4-6 team. Littered with four- and five-star talent and stocked by a coach who is no longer with them, the Trojans were fighting for their postseason lives with an interim coach and a flurry of players who did not want their season to end.
"You should not look at these guys' record to base how good for a team they are," Hall said. "They're just as talented as some of the best teams in the country. We felt it tonight; I'm feeling it tonight.
"They're really talented, really athletic, they played hard from beginning to end. They gave us a fight ... and no one should take any credit away from them. They have a lot of guys who will play in the NFL."
USC gave the ball back on a punt, and the Cougars went to work again — this time, on the ground.
BYU ran the ball on six-straight possessions, including a fumble by Allgeier that Dallin Holker scooped up for a 30-yard gain, and McChesney reclaimed the lead with a 7-yard touchdown, his first scoring run of the year and fourth of his career.
With the win, BYU clinched back-to-back 10-win seasons for the first time since 2009 with a 6-1 record against Power Five opponents. And while the Cougars won't be judged as being on par with Pac-12 division champions Utah and Oregon as they contest the conference championship game next week in Las Vegas, they did make it known that last year's success — 11-1 in the middle of a pandemic, the only loss coming on the road on three days' scheduling notice, with the No. 2 overall pick in the NFL draft — wasn't a fluke.
"I think this was a year to prove that we can compete against Power Five teams," Tooley said. "Obviously, we're 5-0 against the Pac-12; that's a successful season in my eyes. But going up against these Power Five teams, that's something we can only dream of."
But don't expect the Cougars to try to claim a league or division title, either.
"We aren't going to get into that. We have too much respect for football and for this conference to make statements like that," Sitake said. "We're going to try to be classy with the way we handle things.
"It was an honor playing those teams. It's not easy making a schedule, and we appreciate all those teams who put us on their schedule and work with our administration. We're not going to talk down to anyone but only show respect to the Pac-12 and everybody who played us. We were an independent; they didn't have to play us. We have a lot of appreciation and gratitude for them, as well."
×
Photos
Related Links
Related Stories