Estimated read time: 5-6 minutes
PROVO — BYU's stay in the College Football Playoff Top 25 didn't end after one week.
Don't expect the Cougars to be hanging on pins and needles of the committees' every call, though.
The Cougars didn't drop after a 59-14 blowout victory over Idaho State and took advantage of some shakeups in the Top 25 before their much-needed bye week to move up one spot to No. 14 in the second week of the CFP committee meetings aired on ESPN.
BYU is ranked just behind No. 13 Baylor, which dropped one spot following last week's 30-28 loss to TCU. But the Bears also own a win over BYU — one of two teams with wins over the Cougars, joining Boise State — and head-to-head results matter, as least as far as they are one criteria for the selection committee, chairman Gary Barta said.
That doesn't mean the Bears can't fall behind BYU, certainly with another loss, or that the Cougars can't jump ahead of Baylor and into the top 12, which would qualify them for an at-large New Years Six bowl bid.
"What the committee does is take every piece of information we have available," Barta said. "Thirteen people watch the games all week long; that's the subjectivity part of it, but that's by design.
"(Head-to-head results are) considered in every case. That doesn't mean in every case head-to-head is going to put one team over another. This is my third year on the committee and there have been numerous cases where head-to-head is overcome by other things."
The University of Utah debuted in this week's rankings at No. 24 after improving to 5-1 in Pac-12 play under quarterback Cam Rising with Friday night's blowout win over Stanford.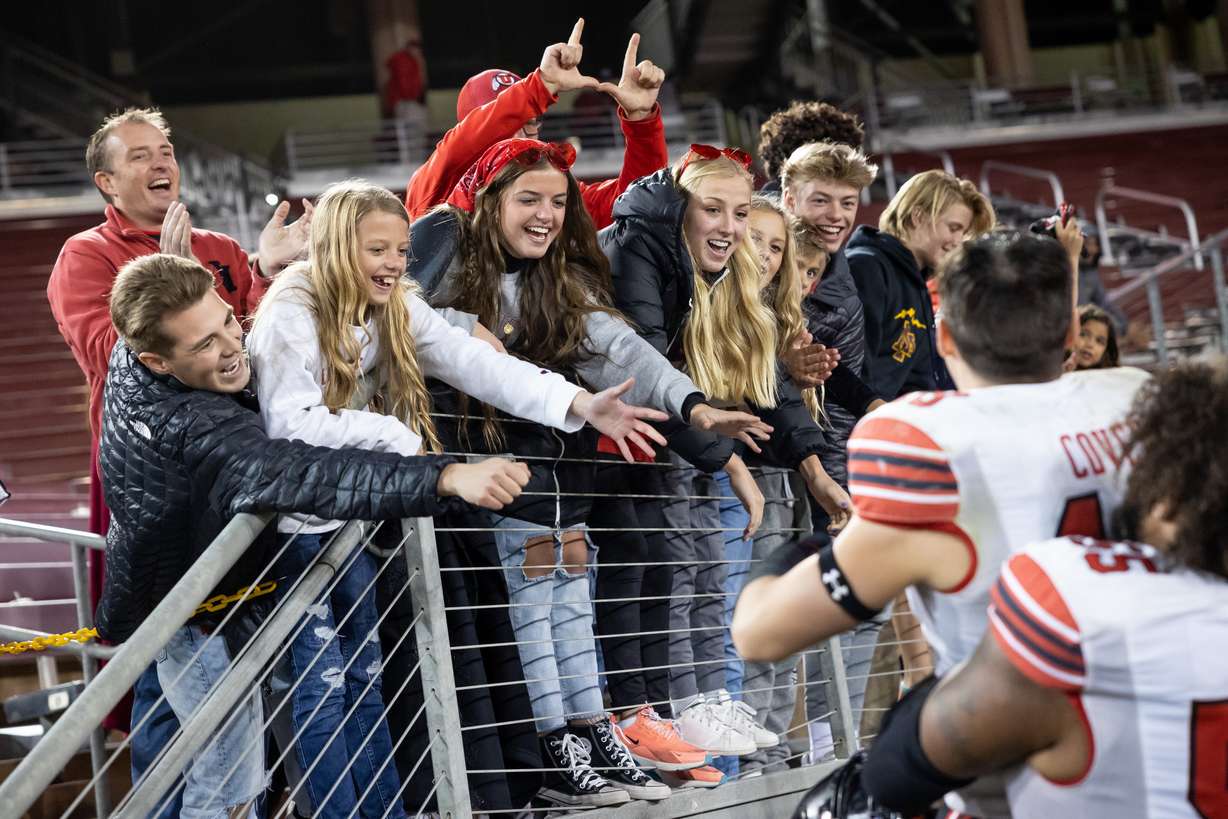 The top eight teams remained unchanged, just in slightly different order after Michigan State's loss. Georgia continues to run away from the pack, followed by Alabama, Oregon and Ohio State. Fellow unbeaten Cincinnati rounds out the top five, followed by Michigan, Michigan State and Oklahoma.
Perhaps the biggest surprise was Michigan overtaking Michigan State, due to the Wolverines' head-to-head loss to the Spartans only two weeks ago.
"Head to head is certainly one of the criteria we look at," Barta said, repeating the line several times during his teleconference. "But so are wins, losses; we look at strength of schedule, common opponents, etc.
"And then there are 13 members watching every game and evaluating. The Michigan-Michigan State discussion really started last week."
And while the televised decision on the Worldwide Leader in Sports has brought in thousands of viewers since its inception, BYU coach Kalani Sitake and his team aren't among them.
The Cougars, who are ranked 14th in the Associated Press Top 25 and 15th in the USA Today Coaches Poll have other things to worry about — like treating a myriad of injuries, practicing during a bye week, and finishing out the season with wins against Georgia Southern and USC that would give BYU its first run of back-to-back 10-win seasons since 2009.
That's not to say they aren't honored by the selection; quite the contrary. But the Cougars know the rankings don't mean anything, at least until the end of the season or until they keep winning. College football is the ultimate "what have you done for me lately" sport.
"It was exciting," offensive coordinator Aaron Roderick said during this week's Coordinators' Corner coaches show on BYUtv. "It's an honor for our players after winning a lot of games. It's nice for our players to be acknowledged. But we know we have to keep winning for it to mean anything."
As far as the actual rankings, BYU's blowout victory over the Bengals probably did little to impress the committee; the Cougars simply did what they were expected to do.
But the win helps them take some advantage of shakeup around them, from the top — including Michigan State's aforementioned 40-29 loss to Purdue that sent the Spartans dropping out of the top four— and Baylor's 30-28 loss to TCU, to name a couple.
Other top teams looked shaky, too, like No. 2 Alabama holding on late for a 20-14 win over a depleted LSU squad playing in a coaching transition, Ohio State's 26-17 win over Nebraska that dropped the Huskers to 3-7, and Cincinnati's way-too-close 28-20 win over 3-6 Tulsa that required two goal-line stands in the final minutes.
All of those results, of course, are better than Wake Forest's 58-55 loss to UNC that keep the Demon Deacons unbeaten in ACC play — the conference rivals played a non conference game — but ended their Playoff bid attempt.
"In the top 25, eight of the teams we had ranked lost this past weekend," Barta said. "Because of that, there was a lot of up-and-down movement throughout the rankings.
"It's November, and it's college football. A lot of great conference matchups every week, including the week ahead."
Every little move means something for a BYU team seeking a top-12 selection.
The Cougars opened the rankings at No. 15, making that a distinct possibility — but also one where they will probably have to rely on other teams' missteps, having played the bulk of its schedule and certainly the most difficult games. Now the Utes join them in the Top 25, with a shot at the program's first-ever Rose Bowl bid in their sights.
The Cougars are 8-2 overall and 6-1 against Power Five teams, including a 4-0 mark against the Pac-12, with wins over Arizona, Arizona State, Washington State and Utah. That's a badge of honor — even if that league has been called weak (or competitive, depending on your spin) for its lack of depth; Oregon and Utah certainly look like the best two teams in the conference, and the committee acknowledged them as such.
×
Related Stories