Estimated read time: 5-6 minutes
PROVO — A win is a win is a win.
And BYU keeps climbing.
The Cougars crept up incrementally to No. 14 in the latest Associated Press Top 25, just ahead of unbeaten UTSA and one spot behind a Wake Forest team that has recently fallen from the ranks of the undefeated in the Week 11 version of the ratings released Sunday afternoon.
Georgia tops the rankings of 63 sportswriters and broadcasters from across the country with all 63 first-place votes, followed by Cincinnati, Alabama and Oklahoma. Oregon, Ohio State and Notre Dame follow, with Michigan State, Michigan and Oklahoma State rounding out the top 10.
Utah is among the nine other teams receiving votes in the poll, garnering 32 votes for an unofficial 29th, after the Utes' late Friday night blowout victory at Stanford.
The Cougars also surged five spots to No. 15 in the USA Today/AFCA Coaches Poll, jumping past undefeated UTSA and overtaking two-loss Baylor despite the Bears' head-to-head win over BYU in Waco, Texas.
BYU re-entered the National Football Foundation's Super 16 at No. 14, with 104 points over UTSA's 80 in the official rankings of the Football Writers Association of America.
It's not that BYU's 59-14 win over an FCS team with a 1-8 record is impressive, by itself — though putting up 59 points or more in back-to-back weeks isn't a bad thing, nor is Jaren Hall's 20-of-25 completion rate for 298 yards and four touchdowns in the first half (he also ran for a score) on a Senior Day that also honored fourth-year sophomore Tyler Allgeier after back-to-back 1,000 yard seasons in Provo.
The win simply showed that the Cougars' offense didn't lose a step, even with Allgeier active for mostly just the first quarter; the Doak Walker Award candidate ran for 35 yards and a touchdown on six carries.
But BYU gave experience to its depth role players in the FCS cruise, with Jackson McChesney posting a season-high 43 yards on 10 carries, and Hinckley Ropati seeing his first significant action of the season with 15 yards on four carries.
Chris Jackson added 12 yards on three touches in the run game, as well as a 15-yard catch, and Keanu Hill caught a touchdown pass and blocked a punt in the end zone in the rout. Ditto for backup reps doled out to Baylor Romney and Jacob Conover at quarterback.
But in addition to the rout of the FCS team that most teams in college football's top subdivision play once a year (including most of the Power Five), BYU also clinched its eighth win of the season on another chaotic weekend in the top 25.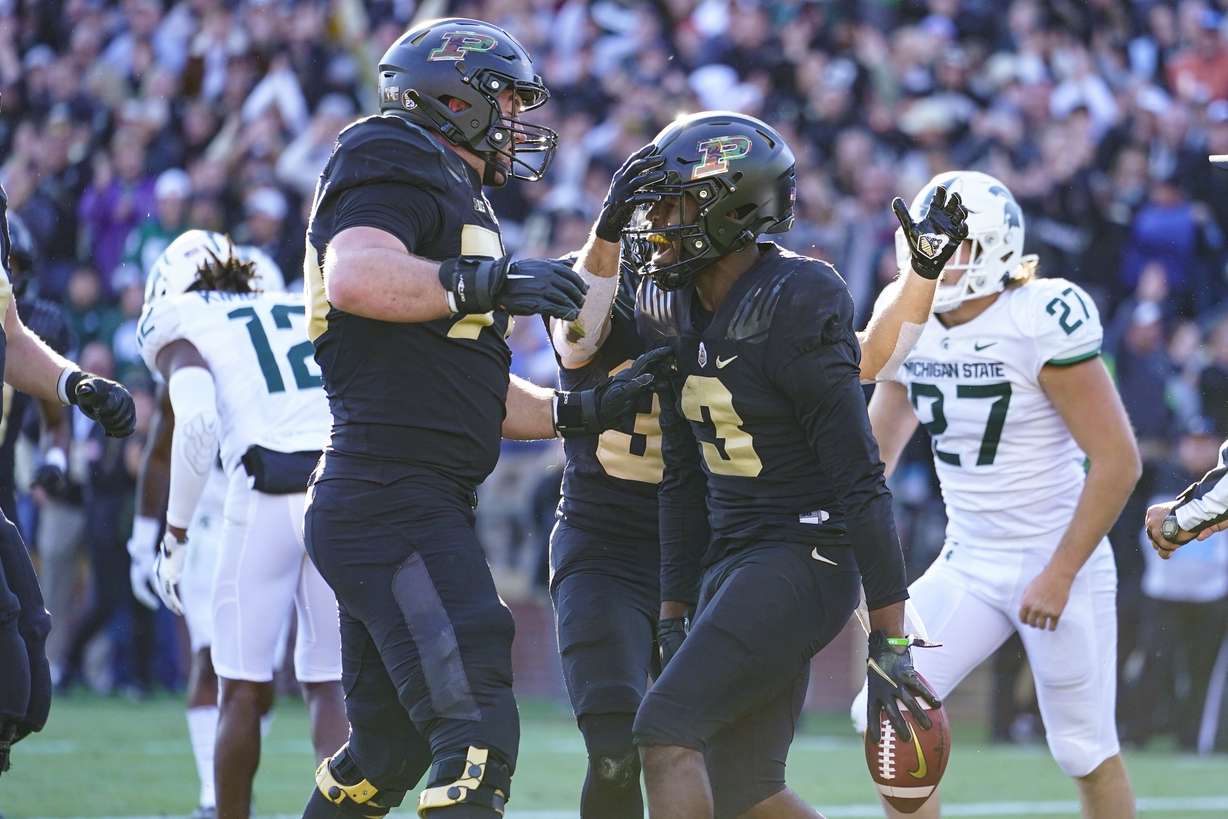 And of course, all eyes are intently on Tuesday's next release of the College Football Playoff rankings, even in Sunday's warmup with the AP voters.
Purdue clinched its second top-five win of the year, handing No. 3 Michigan State its first loss 40-29. The Boilermakers (6-3) previously beat No. 2 Iowa and have created a logjam in the Big Ten West at 4-2.
Michigan State is the fourth top-five team to lose to an unranked team in 2021, a list that includes Alabama, Iowa and Oregon. Only four teams remain unbeaten in college football: Georgia, Cincinnati, Oklahoma and UTSA.
The Spartans probably aren't eliminated from the playoff discussion with one loss. But their remaining schedule still includes a road game at Ohio State as well as Penn State in the regular-season finale — not to mention a potential Big Ten championship game, if they survive without taking another L.
Wake Forest also suffered its first loss of the season, a 58-55 setback to North Carolina that will likely cost the Demon Deacons a shot at the playoffs — even if they remain unbeaten in ACC play with the loss to the ACC foe (Saturday's game was scheduled as a nonconference game).
Arkansas beat Mississippi State to hand Mike Leach's previously ranked No. 17 Bulldogs their fourth loss of the season. Texas A&M's 20-3 win over Auburn should provide some separation to two SEC schools rated 14th and 13th by the playoff committee in their initial rankings.
Minnesota was a head scratcher at No. 20 in those same rankings, but should be no more after a 14-6 loss to unranked Illinois. No. 23 Fresno State took its second loss in Mountain West play with a 40-14 thumping by Boise State — one of only two teams to have beaten the Cougars in 2021.
Speaking of which, Baylor — which entered the CFP rankings at No. 12 — lost its second game of the year 30-28 to a sub-.500 team from TCU playing with an interim coach. How will that affect the Bears, the Big 12's playoff hopes, and BYU?
It should also be noted that several teams struggled with less-than-perfect opponents before avoiding upsets. Washington led No. 4 Oregon 9-3 after one quarter, and trailed only 17-9 after three before the Ducks put the game away, 26-16 against the 4-5 Huskies.
Ditto for Cincinnati, which needed two goal-line stands to fend off pesky Tulsa, 28-20 and drop the Golden Hurricane to 3-6, while 22nd-ranked Iowa (in the CFP) held off Northwestern, 17-12 in Chicagoland.
It all ended with another entertaining week in the Top 25. Winning is becoming a premium in 2021, and BYU did that again — like the Cougars have done eight times this season.
A guarantee for next Saturday: the Cougars won't lose. They have a bye until a road trip Nov. 20 at Georgia Southern.
If you can't see the complete rankings below, click here.
×
Related Stories