Estimated read time: 7-8 minutes
PROVO — Now the rankings mean something.
The College Football Playoff released their initial rankings of the 2021 season — a season that saw nearly half the selection committee turn over from a year ago, with seven new members and five without previous selection committee experience — Tuesday night on ESPN, and the Cougars are once again back in the mix.
Rated No. 17 in the most recent Associated Press Top 25, BYU ranks No. 15 in the initial set of top-25 teams, just behind a group of one- and two-loss teams that includes Baylor and Texas A&M.
The Cougars are the second-highest rated team from outside the Power Five conferences (and Notre Dame, a defacto P5 and part-time member of the Atlantic Coast Conference), behind only No. 6 Cincinnati.
"That's good," BYU defensive coordinator Ilaisa Tuiaki said during a post-practice video conference, admitting he's "still processing" the ranking just moments after practice. "Obviously getting any kind of attention for the program and the kids is a good thing.
"We've got a lot on our mind preparing for this week. But we're obviously happy for the players and the program."
BYU head coach Kalani Sitake echoed his coordinator moments later during his weekly coach's show.
"It's great," he said. "I think rankings are really fun for the fans, but for us, we're just focused on playing Idaho State and learning the lessons we can from the Virginia game.
"I just heard about it off the practice field, but our focus has to be right on Idaho State and playing our best this weekend."
Undefeated Georgia starts the playoff ranking at No. 1, followed by fellow Alabama, Michigan State and Oregon. Ohio State and Cincinnati round out the top six. Michigan, Oklahoma, Wake Forest and Notre Dame also landed among the top 10.
But the most glaring oversight was Cincinnati, which landed four spots lower than their No. 2 ranking in the most recent AP Top 25.
"I would say the committee has great respect for Cincinnati," selection committee chair Gary Barta told ESPN. "The win at Notre Dame is clearly a really impressive win. When you look at their schedule after that, who else did they beat? That was the other question.
"The committee has been watching games all year. ... Very impressive win against Notre Dame, a lot of respect. But looking at the whole picture, we feel six was the right spot for Cincinnati."
Barta elaborated during a conference call with reporters, saying that while the committee was impressed with the Bearcats' win over the Fighting Irish, they were less impressed with the rest of their schedule, including narrow wins over Navy and Tulane in American Athletic Conference play.
"I really can't speak to the polls, but I can tell you that Cincinnati has tremendous respect for the committee," Barta repeated. "They're 8-0, and the win at Notre Dame was a heck of a performance — a great win. But after that win, look at who else they beat and who else they've played.
"Most recently, watching them against a 2-6 Navy team and this past weekend against a 1-7 Tulane team, Tulane was able to run the ball effectively against them. I think the Notre Dame win is realized here and shown here by being sixth in the country. But certainly, Navy, Tulane, and the rest of their schedule was taken under consideration."
Apart from the Bearcats and Cougars, as well as two Mountain West teams near the tail-end of the Top 25 in Fresno State and San Diego State, the Group of Five was held out. Houston, SMU, Coastal Carolina and Louisiana were among the Top 25 by AP voters, but nowhere to be found among the selection committee's initial rankings.
Pac-12 Hotline
UTSA, which ranked 16th by the AP panel, was also left out by the committee, but Barta did acknowledge that the Roadrunners' 8-0 start was something the committee noticed. He also turned around and added that the committee doesn't focus as much on strength of potential schedule, but on games that have been played.
"We don't spend time thinking about who they could've schedule or who they might have scheduled if they had more flexibility," Barta said. "All we do is evaluate the games that end up being played. I know that's oversimplifying, but we don't worry about who teams could have scheduled. We evaluate the games that have been played up to the week we start ranking."
That may help describe BYU's two-spot leap from the AP to the CFP, or one-spot jump for a team with two more losses than last year's initial rankings. At No. 15 and with games against Idaho State, Georgia Southern and USC remaining, the Cougars have an outside shot at a New Year's Six bowl bid that comes with a top-12 ranking at the end of the year.
Plenty has to go their way for that to happen. But it's not impossible — and it starts with winning out.
"Coming in at 15, we're excited about that," BYU defensive back Morgan Pyper said. "But we've still got a lot more to prove, and that starts with this Saturday against Idaho State.
"Our main focus is on Idaho State, and putting the best product on the field this Saturday."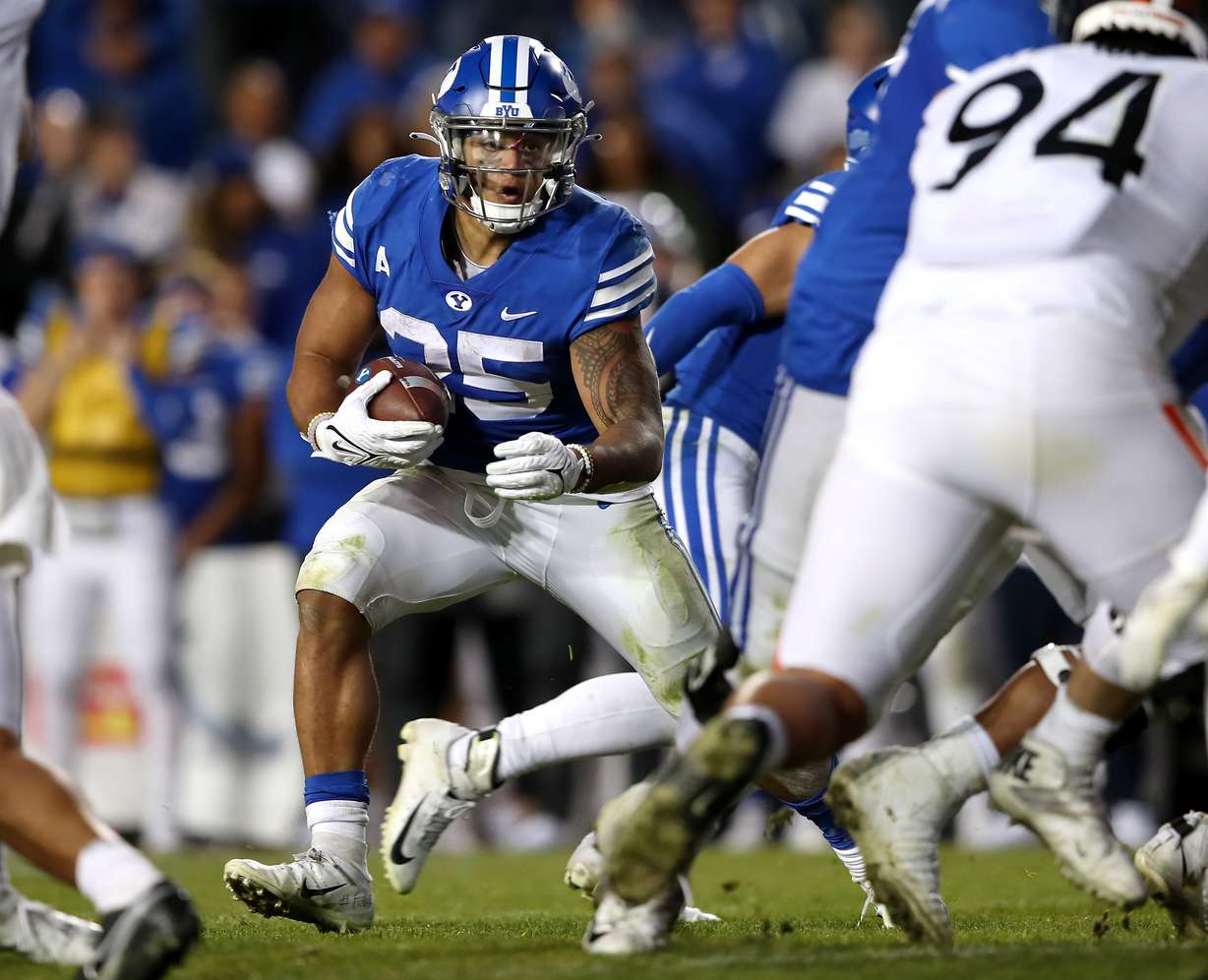 The Cougars are no strangers to the CFP. They entered the rankings last season at No. 14, and became a trendy pick for a non-Power Five playoff selection before those dreams were dashed in a 5-point road loss to Coastal Carolina in a hastily scheduled late-season matchup. BYU finished ranked No. 16 in the CFP's final rankings in December, and finished the season at No. 11 following a Boca Raton Bowl win over UCF that clinched the Cougars' first 11-win season since 2009 and first one-loss season since the historic 14-1 mark set by the 1996 Cotton Bowl champions.
Last year, BYU's biggest complaint was the lack of a schedule, when the committee ranked the then-9-0 Cougars at No. 14 initially. One year (and two losses to Baylor and Boise State) later, that doesn't seem to be the case.
The Cougars (7-2) are 5-1 against Power Five teams after Saturday's 66-49 shootout victory over Virginia — the first time in program history that BYU has won five games against the P5. The list includes a 4-0 mark against the Pac-12, with wins over Utah (5-3), Arizona State (5-3), Arizona (0-8) and Washington State (5-4), and one remaining game at USC on Thanksgiving weekend.
The Cougars are one of just two teams nationally with five wins over FBS teams with winning records, adding 6-2 Utah State and 6-3 Virginia to the aforementioned list of Pac-12 opponents. Georgia is the other FBS program with five wins over FBS teams with winning records, the unanimous top-ranked team in the country by every major poll — including the CFP.
BYU is led by Tyler Allgeier, the Doak Walker Award-contending running back who ranks No. 3 nationally with 1,127 rushing yards and leads the nation with 16 rushing touchdowns. It's the second consecutive 1,000-yard season for Allgeier, one of just five players in BYU history with multiple seasons over the mark — Jamaal Williams, Curtis Brown, Jamal Willis and Allgeier's running backs coach Harvey Unga are the others.
"I think we're just really grateful to be acknowledged by the committee like that. We've all been working hard as players and coaches. That's really nice," BYU linebacker Hayden Livingston said.
"I know right now, though, none of us are looking ahead other than to Idaho State. We just want to correct our mistakes from last week, and execute at a high level on Saturday."
If you can't see the complete CFP Top 25 below, click here.
×
Related Stories