Estimated read time: 5-6 minutes
PROVO — Depth, tailgates and football in the fall.
BYU made a casual November afternoon game against a Football Championship Subdivision feel normal.
Jaren Hall threw for 298 yards and four touchdowns, and ran for another score as the 15th-ranked Cougars (No. 17 in Associated Press Top 25) made quick work of its final home game with a 59-14 win over Idaho State in front of an announced crowd of 63,470 fans Saturday afternoon at LaVell Edwards Stadium.
Hall is the first BYU player with more than four touchdowns in a single half since Luke Ashworth caught four scores in a 49-10 win over Colorado State in 2010, according to the BYU record book.
His mark was surpassed only by his head coach, who became perhaps the first head coach in BYU's modern era to lead the band in the fight song after a victory.
"I was pretty good, huh? I'm not trying to brag, but I thought I could at least keep the beat," BYU coach Kalani Sitake joked after the game. "I had a good moment before the season to talk to the band, and it's been really fun to connect with them. That's a big part of what we do here at BYU, the whole experience of having them. I hope they know how much I appreciate them."
Maestro 🎶 pic.twitter.com/iaOye3KvNG

— BYU FOOTBALL (@BYUfootball) November 7, 2021
He also complimented the sellout crowd that flooded the stadium as the Cougars clinched eight wins in back-to-back seasons for the first time since 2016.
"How awesome was it to see fans packing the stands for this FCS game? It meant a lot to our players, and I hope our fans know how much we love and appreciate them. We're sad we aren't playing at home this season, but it's amazing to have so much fan support."
Tyler Allgeier had 35 yards and a touchdown on six carries in what is likely to be the final home game of his career for the Cougars. Puka Nacua caught six passes for 120 yards and a touchdown, and Samson Nacua, Neil Pau'u, Keanu Hill and Dallin Holker also scored for BYU.
Backup kicker Justen Smith added a 39-yard field goal, and Keanu Hill blocked and recovered a fourth-quarter punt in the end zone for BYU, which improved to 8-2 with the win. It was BYU's first blocked punt for a touchdown since 2004.
After the game, Hill made sure graduate assistant Kyle Griffiths paid off his bet that if the Cougars returned a kick or blocked a punt for touchdown, he would shave his head.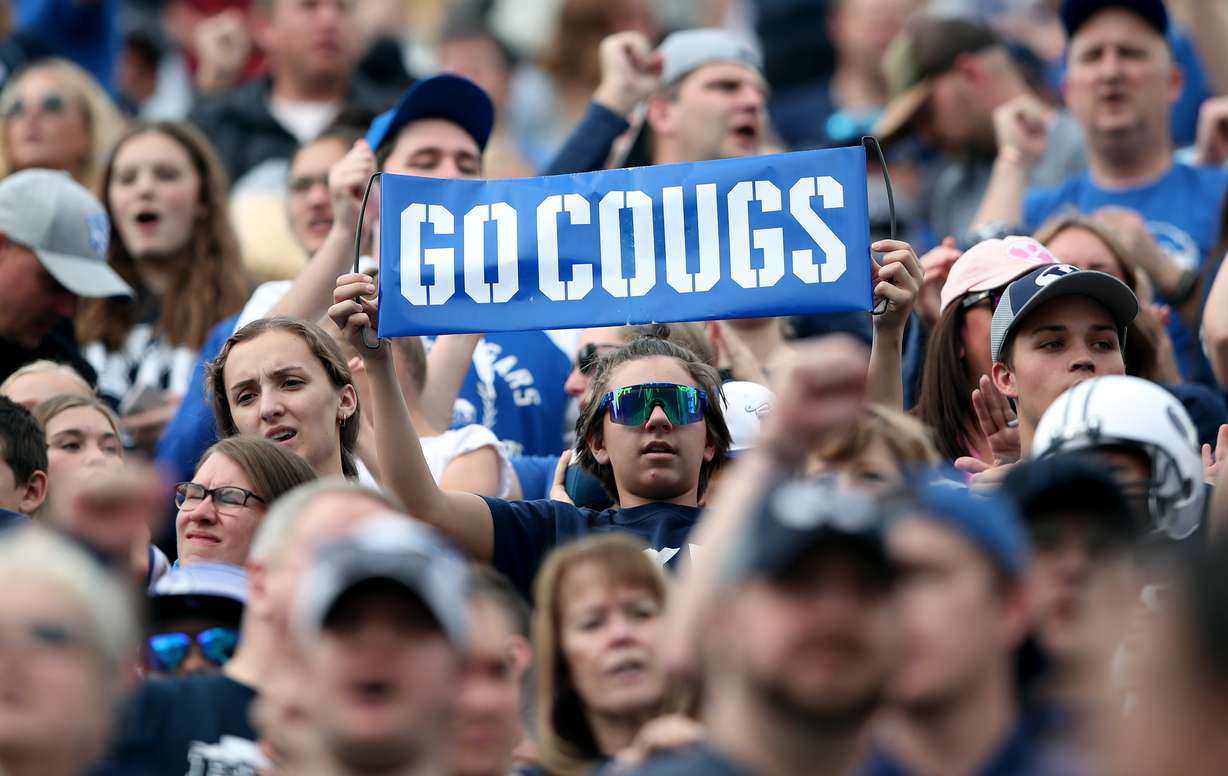 "I was that close to blocking Ryan Rehkow all week," said Hill, who had a career-high four catches for 92 yards. "So I knew when I got to the game, he's a left-footed punter and I was going to get there."
Matthew Criddle had a career-high five tackles, a pass breakup and an interception in the first start of his career for the Cougars, who held the Bengals to 7 points until late in the third quarter. Jackson Kaufusi had six tackles to lead BYU.
For Criddle, the start, the play — the pick — it all fulfilled a lifelong goal for the Lone Peak product who also played at Snow College. At the very least, it was the best moment for a Criddle at BYU since older brother and current Utah County radio personality Ben almost picked off Matt Ryan and No. 23 Boston College in 2006.
"I'll take my victories today," Criddle said with a laugh about his older brother. "I'll take the award for having the best single game as a Criddle in LaVell Edwards Stadium. But I think Ben probably wins that (career) award."
Criddle grabs an interception right out of Idaho State's hands 👋#BYUFOOTBALL | #GoCougspic.twitter.com/9S5cNVdID3

— BYUtv Sports (@byutvsports) November 6, 2021
In a game that was never supposed to be a challenge — no offense to the Bengals, but they did come into Provo off a 40-17 home loss to Weber State that dropped them to 1-7 on the year — BYU made quick work of the actual result, while still playing most starters for most of a half in advance of next week's bye.
From Allgeier's nation-leading 16th rushing touchdown on an 11-yarder to cap off the opening series to Hill's second career touchdown on the first drive of the second quarter to go up 28-0.
Katoa, who also has another season of eligibility but was honored among the seniors Saturday, also had a touchdown — his first receiving touchdown of the year on a 2-yard screen pass from Hall, who also scored on a 1-yard keeper in the opening frame.
Idaho State's Sagan Gronaurer found Jared Scott for a 6-yard touchdown to cap a three-play, 17-yard drive to prevent the shutout with 1:20 left in the half, taking advantage of a dropped handoff for the Bengals' first score of the game.
The Cougars out-paced Idaho State with 200 yards to 2 in the first quarter and had 397 yards of offense in the first half, when BYU led 42-7 after Pau'u dragged three Bengals defenders into the end zone for Hall's fourth passing TD of the game before making way for Baylor Romney and the backups.
KEEP THOSE FEET PUMPIN'@pauuneil fights 2 Idaho St defenders and brings both of them with him as he pushes into the endzone 💪#BYUFOOTBALL | #GoCougspic.twitter.com/yTj8RSZuYx

— BYUtv Sports (@byutvsports) November 6, 2021
Pau'u left the game after the touchdown and was spotted on the sidelines wearing a matching walking boot with center James Empey, who celebrated Senior Day by walking onto the field with his foot scooter.
Romney connected with Holker for his first touchdown of the game, a 17-yarder to go up 49-7 with just under four minutes left in the third quarter. It was Holker's first touchdown since Oct. 13, 2018, prior to his two-year mission for The Church of Jesus Christ of Latter-day Saints.
The Bengals responded with Benjamin Omayebu's 89-yard kickoff return, which Tyevin Ford converted into a 7-yard touchdown just three seconds later, but the outcome was well past as the Cougars turned their attention to a much-needed bye week.
"I loved seeing all the younger guys get reps in today," said senior Uriah Leiataua, one of three natural seniors who had one tackle on the reserve-heavy afternoon. "We rotated our D-line a lot today. Normally in warmups, we have a circle for D-linemen — and our circle was huge today. It was pretty dope."
BYU next plays Saturday, Nov. 20 at Georgia Southern.
×
Photos
Related Links
Related Stories