Estimated read time: 6-7 minutes
PROVO — Jared Kapisi has seen a lot in his six years with the BYU football program, from tryout practice squad member whose biggest impact was as a human tackling dummy to the backup kicker to his current role as a veteran defensive back.
He's seen schemes come and go, players cycle in and out of the program, and teammates move on to professional careers — a few in football, but most in other professions.
The biggest change, though, has come in the locker room: When the Cougars brought in a fully equipped barbers chair to allow him to give the post-practice fades and pregame cut-ups to each of his teammates.
"That was a game changer," Kapisi said with a laugh. "It makes everything faster, and I can get more cuts in. It's nice."
Kapisi is one of three seniors who will play his final game at LaVell Edwards Stadium on Saturday (1:30 p.m. MT, BYUtv), a group that would be the smallest senior class in the modern era at BYU if it stayed that way.
Of course, it likely won't. The COVID-19 pandemic and the extra season of eligibility offered by the NCAA made this year's seniors into juniors, and allowed players like Kapisi to come back for a rare sixth season of eligibility.
And even though the backup free safety's role hasn't been everything he thought it would be, he doesn't regret the decision to return for one final season after the Cougars' historic 11-1 campaign a year ago.
"I honestly felt like there might be more opportunities for me. But I also feel like I've brought a lot of seniority to the team, and to our position group," Kapisi said. "I might not have the role that I wish I would've had or was working for, but I relish any role I get and any opportunity I get to make a difference on the team."
In his extra season, Kapisi has seen losing streaks to in-state rivals fall, perfect starts against the Pac-12 South, and a season with five wins over Football Bowl Subdivision teams with a winning record — one of just two teams nationally with such a mark (top-ranked Georgia is the other).
So what's to motivate the Cougars (7-2) in their final game before the season's lone off week, a regular-season home finale against an Idaho State team with a 1-7 record in FCS?
Maybe Saturday is where BYU's focus comes down. Or maybe it's just where the Cougars get creative to find their focus in what is expected to be a near sold-out stadium with fewer than 300 tickets remaining by Thursday night.
"It's Senior Day, so we want to send them out with a win," BYU coach Kalani Sitake said. "We're looking forward to the game, but also to improving and building off what we did last week."
So the final home game of the season for BYU's three-man senior class of Kapisi, Uriah Leiataua and Utah transfer Samson Nacua is one of motivation — and a strong one, at that.
It could also be the final home game for a number of other players on the roster, though that may not be known until kickoff, or even until after the season.
BYU, like most teams coming off the pandemic-ravaged 2020 season, has a number of "COVID juniors" on the roster — players who have been a part of the program for four years but are appointed juniors because last year didn't count against their eligibility.
In BYU's case, that's 21 players — a list that ranges from Pau'u to running back Lopini Katoa, from injured safety Keenan Ellis to starting defensive backs D'Angelo Mandell and Malik Moore. Gunner Romney has hinted that the 2021 season may be his last, but he hasn't made that determination yet.
Same with Tyler Allgeier, though as the running back with back-to-back 1,000-yard seasons and an eye on BYU's season rushing record gets closer to the end of the year, his NFL draft stock is as high as it's ever been — and possibly as high as it can be — as a redshirt sophomore.
Pepe Tanuvasa. Joe Tukuafu. All of them are listed as juniors on the roster but have played four years.
Many of them will come back next year. Some probably won't. Most of them — to use the words of Katoa — "haven't made my decision yet. I still have time, but I'm not sure yet."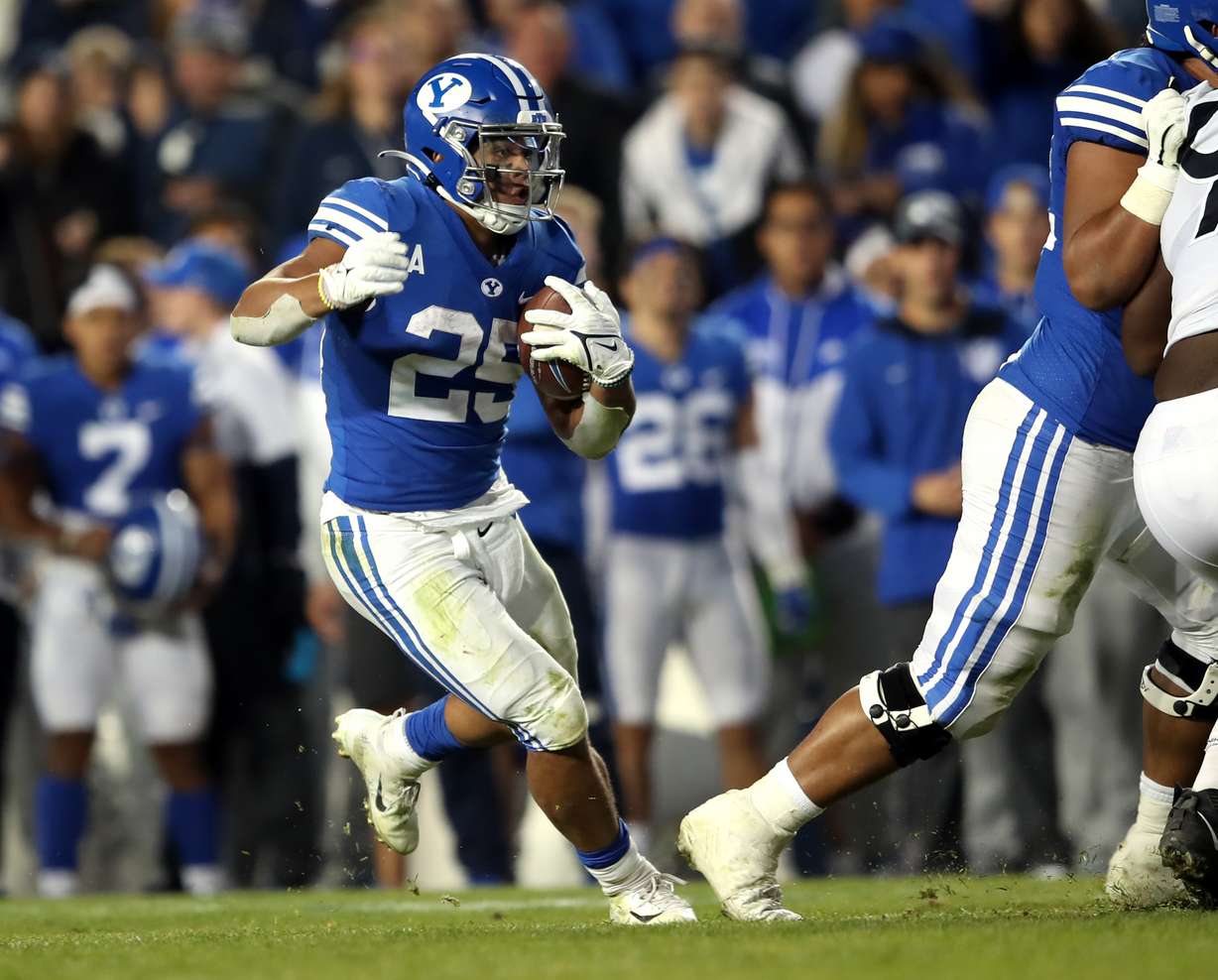 Not knowing is both exciting, and also a reason to take advantage of every rep — whether against a Power Five program, in practice or in Saturday's annual FCS contest that figures to feature plenty of first-time debutants.
"We have a young team, and they're getting a lot of valuable experience playing all these P5 teams we've played this year. We're growing, and getting better every week," offensive coordinator Aaron Roderick said. "The future is bright; there are a lot of good players who will be back.
"We're not super focused on that. We just want to play well this Saturday against Idaho State. But it's nice that we've done it with a lot of young players."
Sitake said the Cougars will honor as many seniors and COVID juniors as the program can on Saturday, just to make sure they get the sendoff they deserve from a program that has meant so much to them.
Many of those juniors came along at a time when Sitake was new as an offensive coordinator, when defensive coordinator Ilaisa Tuiaki was brand new on the job, and Roderick was an offensive analyst before being promoted to passing game coordinator prior to his current role in the wake of Jeff Grimes' departure to Baylor.
They've seen it all in Sitake's six seasons on the job: the ups, the downs. From losing seasons to historic campaigns like 2020, to the Cougars' most recent inclusion in the College Football Playoff rankings at No. 15 — the only team from the state of Utah to be included in each CFP rankings of the past two years.
They saw losing streaks fall — is 10 still coming? — and winning streaks rise. They saw a program built on a bend-don't-break defense turn into a culture of love-and-learn, emulating the example of their head coach.
Most importantly, they saw the building of a new culture.
"The lasting impact is that we set not just a trend, but a culture," said Leiataua, who was recruited by former coach Bronco Mendenhall. "It's been a blessing for me in so much time here to see how much the team culture has changed.
"I feel like Kalani has caught his stride in the past few years, and I hope it builds on the next few years. I really do hope that BYU continues this success. I feel like I played a part of that, and I want the freshmen that come in to understand that this is a place where we want to be successful. That's something I wish is the legacy we'd leave."
How to watch, listen and stream
Idaho State (1-7) at No. 15 BYU (7-2)
LaVell Edwards Stadium, Provo
Kickoff: 1:30 p.m. MT
TV: BYUtv (Dave McCann, Blaine Fowler, Jarom Jordan)
Streaming: BYUtv App and BYUtv.org
Radio: BYU Radio, KSL 1160 AM/102.7 FM (Greg Wrubell, Riley Nelson, Mitchell Juergens)
Series: BYU leads, 6-0
Average margin: 38.3 to 7.7
Senior Surprise. BYU will honor its seniors playing in their final home game at LaVell Edwards Stadium prior to kickoff against the Bengals. The three seniors in the 2021 class are:
Samson Nacua, WR
Jared Kapisi, DB
Uriah Leiataua, DL
Several juniors playing in their fourth season due to COVID-19 replacement year policies could also choose to be honored if they do not pursue the additional year oof eligibility granted by the NCAA.
Back in the Playoff Poll. BYU is the only team from the state of Utah ranked in the College Football Playoff's top 25 each week of the past two seasons. The Cougars, who debuted at No. 15, are the second-highest ranked team from outside the Power Five conferences, trailing only No. 6 Cincinnati. Following a 66-49 home win over Virginia, BYU also rose up to No. 17 in the Associated Press Top 25 and re-entered the USA Today/AFCA Coaches Poll at No. 20. The Cougars are 15-4 under Kalani Sitake when playing as a ranked team.
Allgeier for Heisman. After a career-high 266-yard night with a school record-tying five rushing touchdowns, Tyler Allgeier ranks No. 3 nationally in rushing yards, No. 3 in rush yards per game, and leads the nation with 16 rushing touchdowns. The Doak Walker Award candidate has 1,127 yards on the season, his second-straight with over 1,000 rushing yards, and is one of just five BYU running backs all-time with multiple 1,000-yard seasons (Harvey Unga, Jamaal Williams, Curtis Brown and Jamal Willis are the others).
×
Related Stories