Estimated read time: 5-6 minutes
PROVO — With a 7-2 record and FCS Idaho State on the horizon, the BYU football program turns its attention to who it will be playing for an eighth win of the season.
Perhaps just as important is who will not be playing in Saturday's regular-season home finale (1:30 p.m. MT, BYUtv).
One player that won't be available is James Empey. The junior center was not listed on the depth chart Monday after watching Saturday night's 66-49 win over Virginia with his leg braced atop a foot scooter.
Offensive coordinator Aaron Roderick insinuated Monday morning during his Coordinators Corner coach's show on BYUtv that Empey's season is over. That may not quite be the case, head coach Kalani Sitake clarified.
But don't expect to see the American Fork product and team captain on the field for Senior Day.
"There's still a bowl game in line," Sitake said. "I've seen some comebacks, and he's in that window where there might be something down the line later in the year — or not at all. I don't think we can say he's done for the year yet."
Still, he won't be available before the Cougars' off week following Saturday's FCS tilt. Former Lone Peak standout Connor Pay has performed admirably in Empey's absence, and the 6-foot-5, 312-pound freshman sits atop the depth chart at center in this week's game notes. Starting right guard Joe Tukuafu is listed as his backup.
Other injured players that seem unlikely to make an appearance Saturday include Gunner Romney, the junior wide receiver whose absence against Virginia led to Samson Nacua's BYU career-high 107-yard performance. The two are listed as co-starters on this week's roster.
"He warmed up, tried to go, wanted to go; probably could've gone," Roderick said of Romney. "But I wasn't directly involved in the decision, and I think ultimately we have to do what is best for his health.
"We'll see when we can get him back."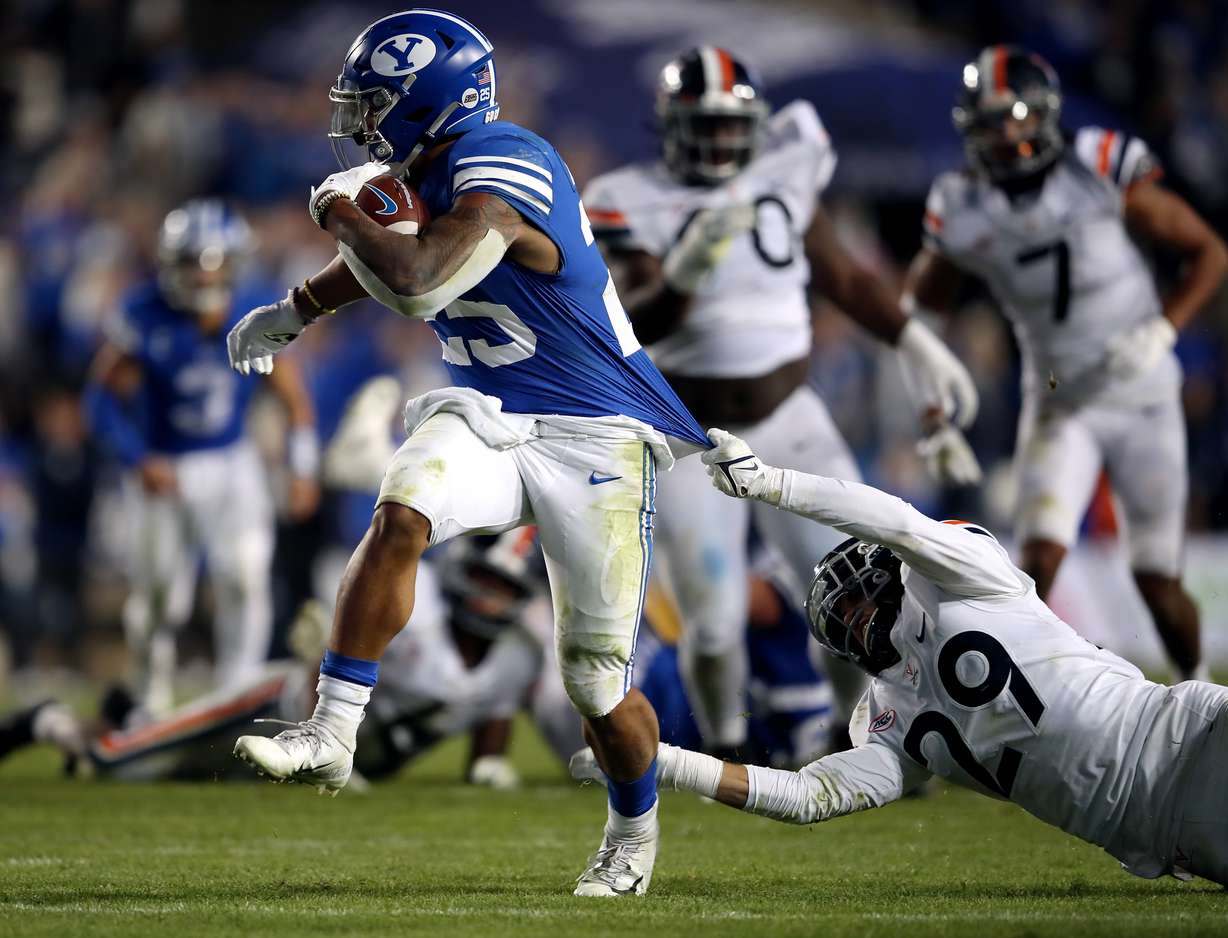 Tyler Allgeier has been "banged up" for a few weeks, and after 197 carries for 1,127 yards — the third-best mark in the nation — and 16 touchdowns, that's understandable. But the redshirt sophomore from Fontana, California, is showing no signs of slowing down, either — and that may extend to Saturday's contest.
If they're healthy, they'll play, Sitake said as a blanket statement for each of his players.
"I think you play your best, and then we'll see what we do as the game goes on," Sitake told KSL.com during his weekly videoconference Monday. "Our style isn't to try to run up the score on people; we try to secure the win first and then be respectful of what is going on the field. That's every week … and some weeks, it works better than others. But the focus this week is to play our best guys for 60 minutes.
"I'm expecting these guys to go in and empty the tank because we have a bye week next week."
Of course, if the game and trends allow, there's nothing wrong with giving players an extra quarter or two off, especially with an open date on the other side of Saturday's game.
"That is actually a plan that is discussed by the coaching staff, and several players that maybe haven't gotten their shot," BYU assistant head coach Ed Lamb said during his coachesshow. "We discuss that every week — whether we are playing the top-rated team on our schedule, or not.
"Kickoff tends to be a time when young guys can get in. So I have a group of guys who I talk to every week who I want to see get in. It doesn't matter the opponent; we're always looking for those opportunities."
The Cougars, who moved up to No. 17 in the latest Associated Press Top 25, will also honor the program's seniors prior to kickoff on BYUtv. That includes the three "natural" seniors — defensive lineman Uriah Leiataua, defensive back Jared Kapisi and wide receiver Samson Nacua.
"I honestly felt like there might be more opportunities for me," said Kapisi, one of just two players from the 2020 squad who took advantage of the NCAA's free season of eligibility. "But I also feel like I've brought a lot of seniority to the team, and to our position group. I might not have the rule that I wish I would've had or was working for, but I relish any role I get and any opportunity I get to make a difference on the team."
The group of Senior Day honorees could also include several "COVID-19 juniors" who could still take advantage of a free year of eligibility provided by the NCAA.
BYU has 21 juniors listed on its roster, including Empey and Romney. Allgeier is a redshirt sophomore, but many expect the two-time 1,000-yard rusher to opt for the NFL draft in April after back-to-back breakout seasons that have him in contention for the Doak Walker Award, given annually to the top running back in the nation.
Wide receiver Neil Pau'u, running back Lopini Katoa, cornerbacks D'Angelo Mandell and Malik Moore, and safety Chaz Ah You are also among the "juniors" who have played at least four years.
"A lot of guys are graduating this December, and may want to move on. Then there are some that are still deciding what to do," Sitake said. "I think for us, we'll give them all a goodbye, just in case. And then hopefully they come back. There will be more than three guys recognized.
"What we don't want to do is have them make a decision after Week 11 that they are done, and we never gave them the proper sendoff. We'll probably give them a good sendoff, just in case — and then try to recruit them to come back."
Cougars on the air
No. 17 BYU (7-2) vs. Idaho State (1-7)
Kickoff: 1:30 p.m. MT
TV: BYUtv (Dave McCann, Blaine Fowler, Jarom Jordan)
Streaming: BYUtv.org
Radio: BYU Radio, KSL 1160 AM/102.7 FM (Greg Wrubell, Riley Nelson, Mitchell Juergens)
Series: BYU leads, 6-0
×
Related Stories