Estimated read time: 5-6 minutes
SANDY — Barely more than a week ago, Real Salt Lake was flying high, coming off a thrilling come-from-behind 2-1 road win over FC Dallas — the club's second-ever in Frisco, Texas — that saved RSL's playoff chances and inserted a jolt of energy into a club seeking a spot in the MLS Cup playoffs.
By Wednesday night, all of that momentum — whatever it's worth — was gone.
RSL (13-14-6, 45 points) took the vibes and energy of that win in North Texas and turned it into back-to-back home losses, a 7-4 aggregate loss to San Jose and Portland at Rio Tinto Stadium that has officially put the club's postseason aspirations on life support.
Mathematically, Real Salt Lake isn't eliminated from the playoff chase. But the club needs a road win at Sporting Kansas City and a little help — most notably from Minnesota United in a road finale at the LA Galaxy — to earn the final berth out of the Western Conference.
A straightforward "win, and you're in" has become, to quote team captain Albert Rusnak, "the hardest way possible" to earn a playoff berth.
"Right now we have no momentum," Rusnak said after RSL's 3-1 loss to Portland in the club's regular-season home finale. "We are all surprised by what we've done in our last few games. We had momentum going into the last game against San Jose after winning on the road against Dallas and that momentum didn't help us.
"I don't think momentum is what is on our mind right now as players. Sunday is going to be a game that starts at zeros and lasts 90 minutes just like any other game. We have won tough games on the road before. The toughest thing for us now is to forget about the last two games at home. We have to go into Sunday's game without any second thoughts and focus on Kansas City."
Real Salt Lake did everything it could to channel the spirit of Kyle Beckerman, the long-time team captain, six-time MLS All-Star, 2009 MLS Cup champion and head coach of the college program located 26 miles to the south for Wednesday night's home finale at Rio Tinto Stadium.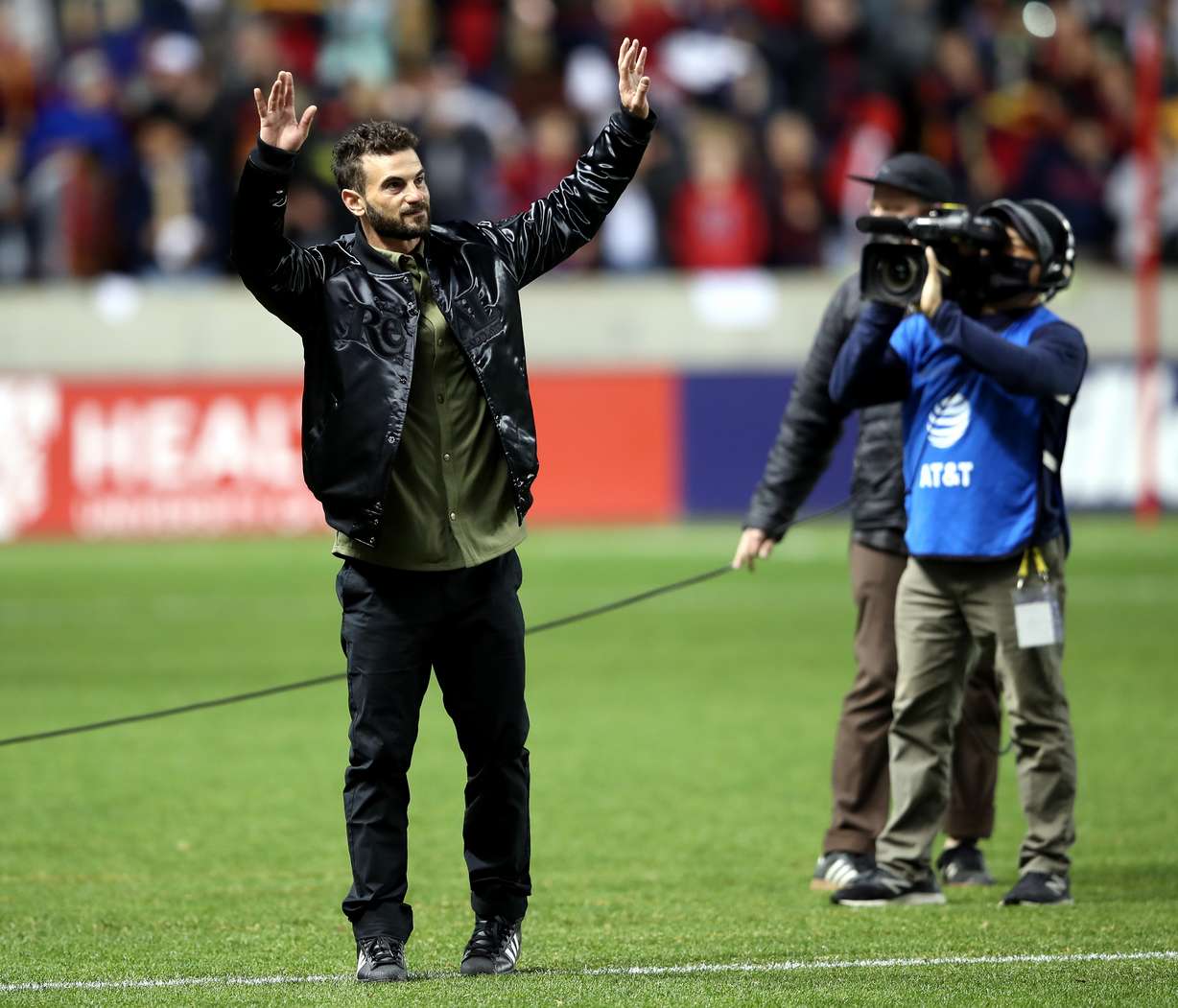 The club brought the Utah Valley men's soccer coach up I-15 for an evening to sign autographs, shake hands with guests, and unveil "Beckerman's Block" in the old Section 5 in the stadium with the defensive midfielder's name on the wall.
While not explicitly said, the hope was that Beckerman's spirit could push RSL over the finish line and into the playoffs. Maybe just having Beckerman around, in the building, with the fans who loved him so much (and he often reciprocated) would be enough.
Spoiler alert: it wasn't.
"Everything's so surreal right now," Beckerman said at halftime of the national broadcast on ESPN2. "Growing up, you're just looking at national team, at guys that are pros, saying 'that's what I want to be.' I was happy just playing professional.
"I'm extremely honored. It was a touching tribute, and I'm happy."
Any hopes that Beckerman, who is in his first season as a college head coach at nearby UVU, might have any interest in making the jump to Major League Soccer? His old club is hiring right now, after all.
"I'm happy where I'm at right now," Beckerman said. "We're going to continue to learn, and see if we can make some noise down at Utah Valley.
"It's been a blast. The guys give me total effort; it's incredible," added Beckerman, whose Wolverines are 8-5-2 with a 5-4 record in Western Athletic Conference play before Friday night's regular-season finale at California Baptist. "They're working their tail off, we're changing the system. It's really challenging, and I'm learning a ton. But it's one day at a time."
6x MLS All Star
2009 MLS Cup Champ
58 #USMNT caps

Thank you for everything you've done for @realsaltlake and MLS, @KyleBeckerman. 👏 pic.twitter.com/84iVHCzVJK

— Major League Soccer (@MLS) November 4, 2021
Whether Beckerman was a serious contender for the RSL job is irrelevant; he's got a good gig in Orem, where he commutes to work every day and plans to enjoy the offseason making use of Utah's outdoor scenery — the thing that kept the Maryland native in the Beehive State when he retired following the 2020 season (his wife Kate, a Utah native, helped too).
Sure, he has to recruit to the only Division I men's soccer program on the Wasatch Front now, and summers are filled with as much offseason conditioning sessions as flyfishing trips on the Provo River. But he's content with that life.
RSL continues its search for a new manager, though former U.S. men's national team star Landon Donovan has reportedly pulled his name from consideration, and former FC Dallas coach Luchi Gonzalez — another reported candidate — now has his eyes on the United States' U-20 job.
The head coaching search will continue once RSL is formally eliminated from the playoffs, or finds a way to scrape into the postseason. Which one depends on the players' response to back-to-back gut-punches, and interim manager Pablo Mastroeni, who has performed admirably at times following the sudden resignation of Freddy Juarez to take an assistant job in Seattle.
The club had a chance to clinch a playoff berth at home — even twice, with the way other results have fallen. A lot of questions will be answered Sunday — for better or worse.
"The most important thing is looking at Kansas City and getting the three points," Mastroeni said. "We have everything to play for. It's important the guys recover and have the right mindset. We need to put this one behind us and really attack it the right way."
×
Related Stories