Estimated read time: 8-9 minutes
This archived news story is available only for your personal, non-commercial use. Information in the story may be outdated or superseded by additional information. Reading or replaying the story in its archived form does not constitute a republication of the story.
OREM — Kyle Beckerman stood in front of a computer screen with a green scarf, a freshly minted suit, and a Wolverine-shaped pin on his lapel.
The signature dreadlocks were gone — long a casualty of the former Real Salt Lake star midfielder's evolution as a player and a man — but everything else was the same.
As the longtime Real Salt Lake central midfielder who earned a reputation across Major League Soccer as a hard-tackling, strong-biting defensive specialist, the signature smirk that spread across his face was the same. The vocal inflection was the same as he tried to explain his style of play as it was when he talked about an RSL win or a crushing defeat in the postgame locker room.
Coach Beckerman — the guy in the suit, not the one who would dive in on a two-footed tackle en route to being one of the most dominant defensive midfielders in the game — was content as he opened up the next chapter of his professional soccer career, this one from the bench, as the new head coach at Utah Valley University.
The program's second-ever head coach, Beckerman follows in the footsteps of Greg Maas, who built the program from scratch and raised it to the level where it caught the Crofton, Maryland, native's attention after a half-dozen years of Western Athletic Conference titles and NCAA Tournament bids.
And that the program was a 40-minute drive from his home, nestled at the base of the Wasatch Mountain range and in the middle of his usual route to some of his favorite fly fishing stops along the Provo River and near the Heber Valley? That felt right for Beckerman's next chapter, too.
As much as Beckerman became a part of the Utah landscape in his 14 seasons with Real Salt Lake, leading the franchise to the 2009 MLS Cup title and a berth in the CONCACAF Champions League final a year later — some of the greatest days of the organization — Utah has also become a part of him. His wife, Kate, grew up in Salt Lake City, and the couple — who were married at a local Greek Orthodox church downtown — have one son, Constantine, who was born in Utah, as well.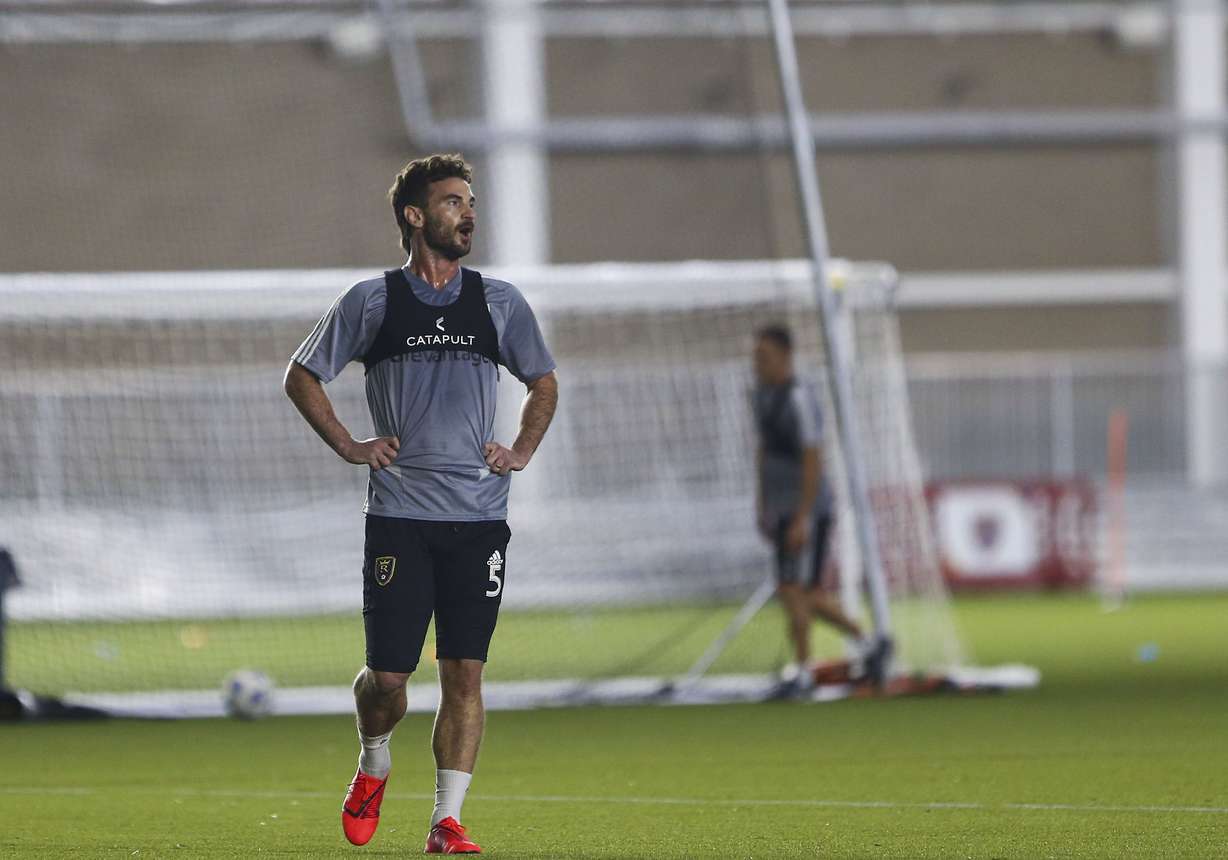 "I love Utah," Beckerman said. "My family calls it our home. I learned about the university when they started the program, and heard a lot of buzz about the program down here, getting an at-large bid in its second year.
"I knew about it, and until I really looked into it, it just felt like a natural fit. Given the opportunity, it got me more and more excited. It was a no-brainer."
The move was swift. A month ago, Beckerman was enjoying retirement, and the thought of leading a program — especially a Division I men's soccer program — was foreign to his mind.
"If you had told me four weeks ago I would be doing this, I would've told you that you were nuts," said Beckerman, who first reached out to UVU athletic director Jared Sumsion just over three weeks ago. "It moved really quickly."
Beckerman's hiring at UVU injected some immediate buzz around the program, the university and the community. While some past coaching hirings sent waves across the nation — the hiring of enthusiastic men's basketball coach Mark Pope, and his successor in former Lakers big man Mark "Mad Dog" Madsen a few years later come to mind — there was something different about Beckerman. Even the Men in Blazers, NBC's popular British pseudo-commentary on all things American soccer, were on board.
Maybe it didn't reverberate nationally in quite the same way as Madsen — soccer, after all, isn't basketball in its role in the United States, and MLS has a long way to go to catch the NBA in terms of popularity (and RSL an even longer way to be the Los Angeles Lakers, to be blunt).
But unlike previous hires, Beckerman was a Utah product. Sure, he wasn't born in the Beehive State, but the former Maryland state champion wrestler has fully embraced his new home. When hen he retired from RSL and professional soccer in December, there was never a hesitation about where he and Kate wanted to raise their family.
Ditto for his next step. Both of Beckerman's parents were educators in the Maryland state system, and his brother Todd is an accomplished college wrestling coach, a former All-American at Nebraska who is in his ninth season at Brown and has coached seven NCAA qualifiers and 15 all-Ivy League performers in his tenure.
So teaching, coaching, mentoring? That's as much in Beckerman's blood as soccer.
"I felt like it was a natural fit," he said. "I've been training players and seeing young guys grow. It seemed like a natural extension of playing, to get into coaching.
"It's something I enjoy. … I also saw the university as a place where we can win, and win right away."
Until in-state WAC rival Dixie State's transition from Division II, the Wolverines were the only Division I program in the state of Utah. Maas built on that foundation in creating a local power in the state in a short time. He won 67 games at Utah Valley before resigning last month to return to his childhood home in the Pacific Northwest, accumulating a 67-44-10 all-time record, a .595 winning percentage, and an eye-popping 29 wins in just his second and third seasons — including an NCAA Tournament at-large berth in Year 2.
That year even caught the attention of Beckerman, who has followed the Wolverines since 2014, when he paid a visit to the women's program shortly after returning from World Cup duty with the U.S. men's national team.
Of course, the same program recently fell on hard times — in part because of the challenges presented by the COVID-19 pandemic. The Wolverines were just 3-4 during the 2021 spring season, which had five games canceled and ended in a 4-1 loss to California Baptist. But that came after 12-6-3 campaign in 2019 that included a run to the WAC Tournament final (UVU fell to top-seeded Settle U. via penalty kick shootout to narrowly miss out on the NCAA Tournament).
Beckerman also inherits a program that includes three All-WAC honorees, including second-teamer Jojea Kwizera and leading scorer Alejandro Silva, a freshman from RSL Academy who had two goals and three assists in seven matches during the truncated spring season.
There are plenty of challenges that the new job presents to Beckerman, too. First, he's never played college soccer. A product of the U.S. soccer developmental IMG Academy and the "Project 40" program that eventually morphed into MLS's current Generation Adidas youth project, a teenage Beckerman signed with the now-defunct Miami Fusion in Major League Soccer in 2000 and has been in the league ever since, with stops at Colorado through 2007 and Salt Lake through 2020.
All of that is great experience — the best, from a soccer perspective — but it also leaves Beckerman with little experience in things like grade-point averages, NCAA compliance, recruiting (and recruiting violations), and athletic departments. Throw in the modern game, the transfer portal and cost-of-attendance stipends, and Beckerman faces a steep learning curve off the pitch before he settles in on it.
"Right now, it's changing," Beckerman said. "Soccer in America is constantly changing, speeding up with academies and younger players joining the professional ranks. I think we're finding out that college is another place to develop and to make your soccer dreams come true.
"There are a lot of things I'm going to have to learn, and a lot I don't know right now. But I'm going to put all the work I did as a soccer player into coaching, and try to get better every single day, just as I did as a player."
For that, Beckerman's staff of assistants will be vital to his introduction and development to the college game. His staff hasn't been finalized — Beckerman hopes to have that "in the coming days" — but sources indicate UVU women's assistant Seth Trembly is leaning toward joining the men's team as an assistant.
An RSL original who joined the MLS expansion side in 2005, Trembly was a Generation Adidas signee out of the Bradenton Academy who has experience coaching at UC San Diego and youth clubs in Los Angeles, San Diego and his native Colorado, in addition to the past four years working under UVU women's coach Chris Lemay and clinching the WAC's regular-season co-championship this spring.
Also at UVU, Beckerman has the time and space to figure out some of the nuances of the college game. Only four reporters attended his introductory press conference — one in person and three via Zoom video conference — and his post-match interviews in the WAC are unlikely to attract much more media attention than the UVU student press and an occasional local writer.
But Beckerman doesn't plan on changing much of who he is — or what he wants out of his teams — from his playing days. Yes, he wants to play soccer the right way, the "beautiful game" as it was intended, but he isn't afraid to muck it up, either; to dig in, to roll up his sleeves and grind out results with that same two-footed tackle or a defensive slugfest. It's how Beckerman played, and it's how he'll coach, too, suit and all.
"If we're not passing well, we probably shouldn't keep passing or we're going to be in trouble," Beckerman said in a moment of candor. "We're going to be a versatile team, with different styles — but one who knows who we are."
×
Photos
Related stories