Estimated read time: 5-6 minutes
PROVO — BYU football did something Saturday that has become so commonplace that it wasn't celebrated, so usual that was barely acknowledged, but something that is vital for the health of its football program.
No, we're not talking about improving to 4-0 against the Pac-12.
Saturday's 21-19 win over Washington State propelled the Cougars into the Associated Press Top 25 with little more than a shrug and 44 points in the poll of national media. But it also clinched bowl eligibility for the 16th time in 17 seasons for the Cougars (6-2).
Recruiting is often said to be the lifeblood of any college football program. But development has been the key to head coach Kalani Sitake's program since the former BYU fullback took his first head coaching job six years ago.
And with bowl games come bowl practices, around a dozen of them to scatter over the month-long postseason that leads to little more than exhibition games for any team outside the four-team College Football Playoff.
So why are these postseason bowl bids — many of which struggle to break even financially and are housed in far-flung locales ranging from Boise to Shreveport to the Bahamas — so important to programs, including BYU?
"We talk about development and getting our players more experience. First thing, the bowl game gives you an extra game to do that," Sitake said. "Those extra practices make a difference. It's a great springboard going into the off season"
BYU is 16-21-1 all-time in bowl games dating back to the 1974 Fiesta Bowl against Oklahoma State. The most-visited bowl is the Holiday Bowl, with 11 appearances, followed by six in Las Vegas — two bowl games that relied on the Cougars' previous conference affiliations with the Western Athletic and Mountain West conferences to stock a steady stream of fans and television viewership for the postseason.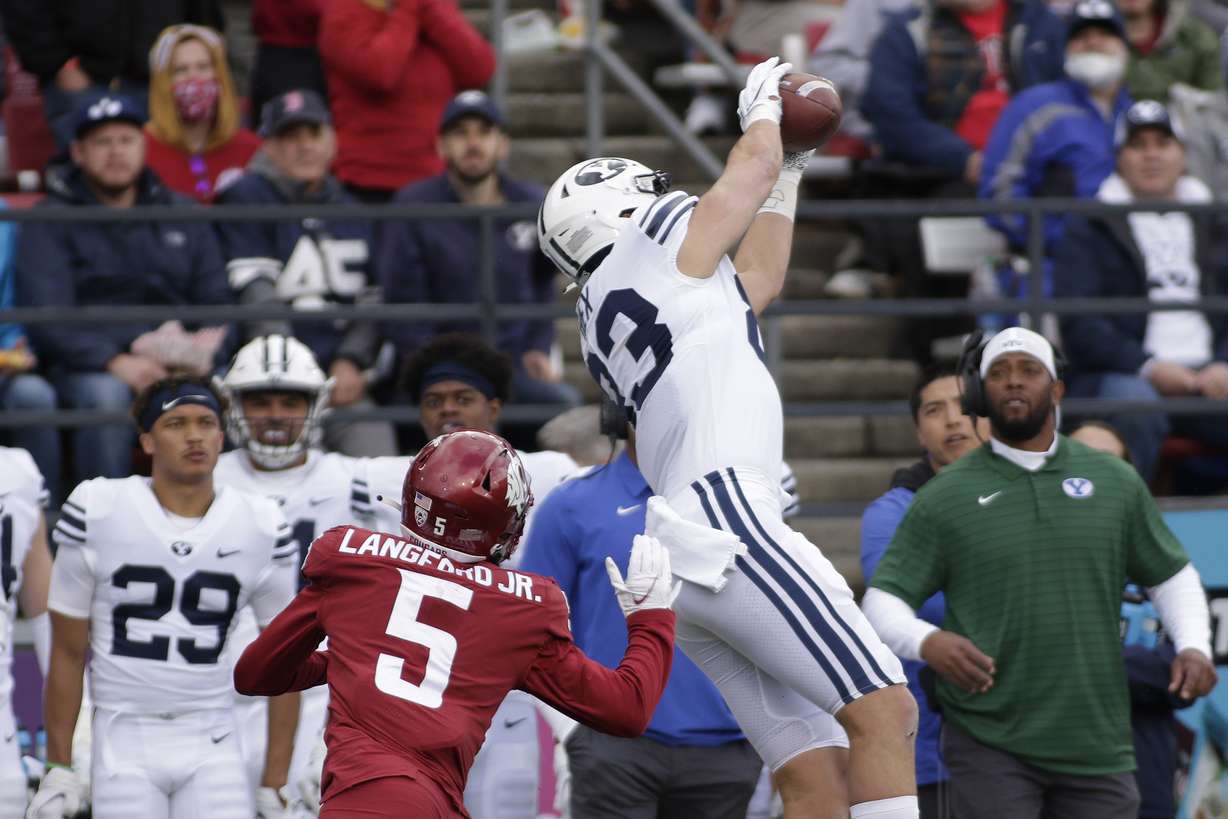 Since going independent, BYU's bowl menu has been more eclectic, ranging from two trips to the Poinsettia Bowl in San Diego to the Miami Beach Bowl against Memphis. The Cougars have played in Hawaii as many times as they've played in Boise, pointing to the assorted nature of bowl environments, and are coming off a 49-23 win over UCF in the Boca Raton Bowl that handed BYU its third postseason win in four games under Sitake.
The Cougars are currently contracted to play in the Independence Bowl against an opponent from Conference USA in 2023, if another larger bowl game (read: one with an increased payout, such as the now-unlikely College Football Playoff or New Year's Six bowl games) doesn't select them first.
There are also contracted stipulations to potentially receive a berth in the Cheez-It Bowl in Orlando or another ESPN-owned bowl game, if all of the bowl slots with other conferences aren't filled, in lieu of the Shreveport, Louisiana-based bid.
No matter the locale, though, the biggest difference is the extra practice time.
"It's really important for us to get those practices, and to continue to develop," BYU defensive coordinator Ilaisa Tuiaki said. "We've taken an approach in recruiting and development that's our deal. Any practice where you can get young bucks scrimmaging each other is going to be huge for their development, leading into the eight-week training program before you start spring ball."
As important as those extra practices are for current players, including starters like quarterback Jaren Hall and running back Tyler Allgeier, they may be even more important for underclassmen, many of whom are reserves or rising stars like freshman Jacob Conover and linebackers Drew Jensen and Jackson Kaufusi, to name a few.
Most of those players see the variety of their reps in the spring and preseason training camp each August. Bowl games add another similar-sized camp, increasing practice time to more than a few workouts or weight training sessions per week.
"Believe it or not, guys can develop from August to December," Sitake said. "When you get them in December, it's like another fall camp. It gives time to do some scrimmaging and helps with development."
The bowl experience is often seen as a reward, and for players like Allgeier, can serve as an extra sendoff for a future professional career.
The fourth-year redshirt sophomore hasn't decided if 2021 will be his final season with the Cougars. But if the program's fastest rusher to 2,000 career yards with 861 and 11 touchdowns this season decides to enter the NFL draft in April, few would blame him.
A bowl game — no matter where it is, because of the proclivity of ESPN, which owns and operates most of the bowl season — would no doubt springboard Allgeier into the draft. Likewise for Gunner Romney, Samson Nacua, James Empey or any other fourth-year player on the Cougars' current roster who may decide to leave after the season whether their eligibility is exhausted or not.
The most important date on BYU's calendar — for at least six days — is the Cougars' Saturday showdown with former coach Bronco Mendenhall and Virginia (8:15 p.m. MT, ESPN2). But the December bowl game is important for the long-term health of the program.
"BYU does a really great job of developing the younger guys," linebacker Pepe Tanuvasa said. "It's great to see their development halfway through the season.
"One thing I loved about being on the scout team was getting to see the look of the offense. We're super deep, and these guys will get their chance to shine — whether that's the bowl game, or — shoot — maybe even next week."
But the game also serves as a springboard for the future for an even bigger reason at BYU: the forthcoming Big 12 invitation.
BYU needs as much work to be prepared for its new, Power Five conference home where it is set to play in 2023 as it can get. That was clearly evident by the Cougars' 38-24 loss at Baylor two weeks ago.
Any extra work, extra session or extra practice for the players who will be joining that conference — a list that may include Conover, Puka Nacua, Isaac Rex, Connor Pay and dozens of other players — would be welcome.
Bigger. Faster. Stronger.
The only way to get better is through practice and hard work.
Bowl games, no matter the competition or date, bring that.
×
Related Stories