Estimated read time: 7-8 minutes
PROVO — For the first time since he was a defensive coordinator at Mountain West foe New Mexico around the turn of the century, Bronco Mendenhall will enter LaVell Edwards Stadium in visiting team colors when the Virginia head coach travels to play BYU.
Absence sometimes makes the heart grow fonder, but six years' worth of absences led to the 11-year BYU coach on a return trip back to Provo — no matter how emotional it may be.
"I can't say that I'm at ease, but once it was clear that the game was going to be played, it was going to be played," Mendenhall said Monday during an extended media briefing with Cavaliers' media, joined by several BYU reporters from his time in Provo. "It's six years, and time adds perspective — and sometimes allows separation. Sometimes it just takes time."
The Cavaliers (6-2) will travel to BYU (6-2) in the Mendenhall Classic at 8:15 p.m. MT Saturday (ESPN2) in a game with two of the few active Latter-day Saint head coaches in the Football Bowl Subdivision.
The Cougars are bowl eligible for the 16th time in 17 seasons — a run started under Mendenhall — and coming off their fourth win over a Power Five team in a single season for the first time in program history, while the Cavaliers boast a 4-2 record in ACC play, with their only losses to then-No. 21 North Carolina and No. 13 Wake Forest — one of just two undefeated teams in the ACC.
Saturday will also be a chance for Mendenhall to see up close what his successor Kalani Sitake has done with the program he led to a 99-43 record in an era that bridged the end of the Cougars' affiliation with the Mountain West Conference — which they co-founded — and the first half of the FBS independent era.
And it will be a chance for BYU fans — even many of whom that weren't around when Mendenhall was leading the Cougars to bowl games — to show their appreciation for the Mendenhall era.
"Hopefully, it's just love and respect. I think that's the steeple of BYU football," said BYU quarterback Jaren Hall, one of a handful of players recruited under the prior regime. "Coach Mendenhall spent a lot of time in this program and did a lot of good things for this school."
"I'll always be thankful for the opportunities I was given, for the institution — I'm talking about BYU — and for the unique set of values that align with my faith and the development of young people," - @UVAFootball coach Bronco Mendenhall.

» https://t.co/xBwMKOq7sgpic.twitter.com/o2dOUiIu5X

— KSL.com Sports (@KSLcomSports) October 25, 2021
Mendenhall doesn't watch a lot of BYU football these days — being a Power Five head coach in the Atlantic Coast Conference, and one with a 36-34 record with three bowl appearances at that, takes up plenty of his time. And it doesn't help that Mendenhall and his wife Holly usually go to bed around 9:30 p.m. local time, well before many of the 10:30 p.m. east coast kickoffs under BYU's ESPN contract.
But that doesn't mean he isn't fond of his decade-plus in Provo, the first head coaching job for the American Fork High graduate of 1984 who played at Snow College and Oregon State before making his way to his father and brother's alma mater as Gary Crowton's defensive coordinator in 2003. And what a legacy he left at a school where he won nearly 100 games and bridged the gap between the Mountain West and FBS independence — for as much as he called the move "unsustainable" in the long term.
"BYU is near and dear to my heart," Mendenhall said. "They gave me an opportunity to be a head coach. For 13 years, I was at Brigham Young University; my father played there, my brother played there. I lived close by. It's an amazing experience to now be able to return, but it's been six years. I'm the coach at the University of Virginia, and so thankful to be here.
"I'll always be thankful for the opportunities I was given, for the institution and for the unique set of values that align with my faith and the development of young people. My faith is really important to me, and to be able to coach at a place where that is paramount, that's meaningful."
It was BYU that offered Mendenhall a chance to be a Power Five head coach — and nearly triple his annual salary — at Virginia, where he led the Cavs to an ACC Coastal division title and Orange Bowl berth just four years into his tenure in 2019.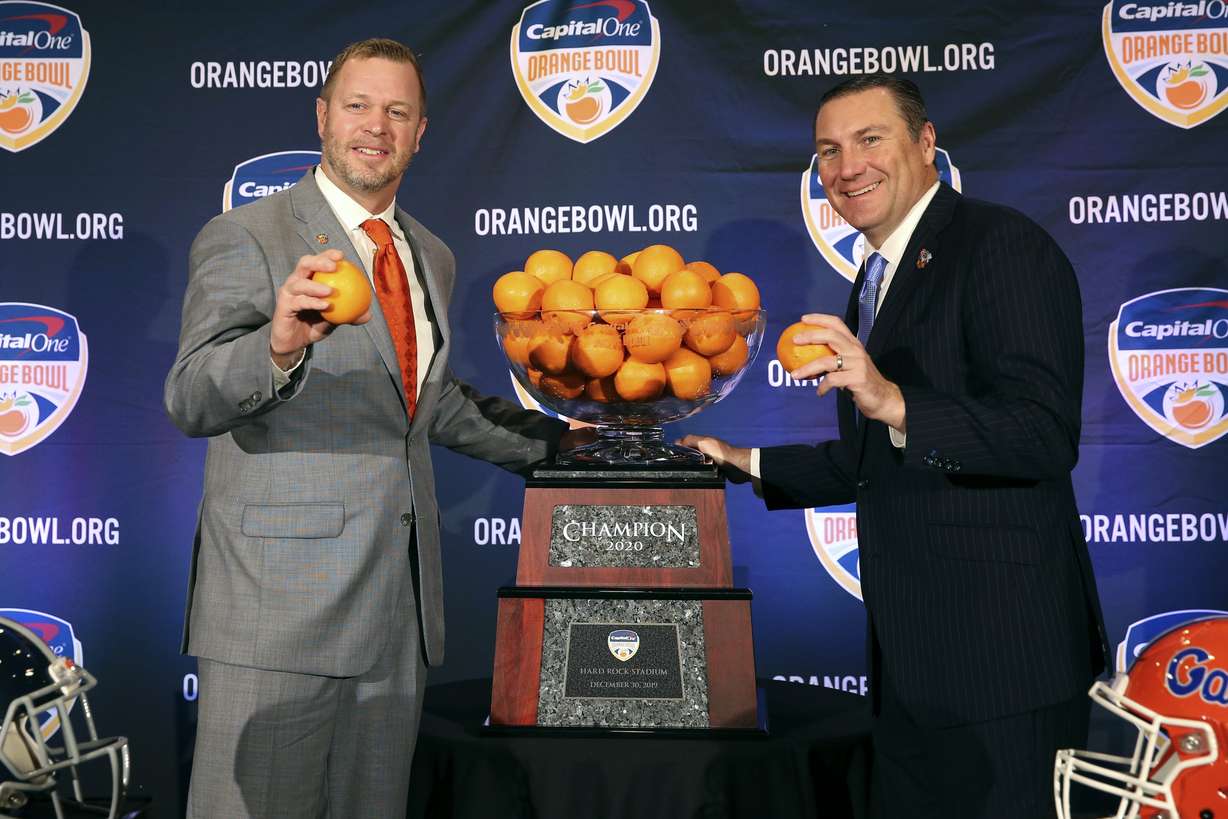 The Cougars, meanwhile, hired another first-time head coach and sitting defensive coordinator to take over for Mendenhall — and Sitake has done well enough in his role, including last year's 11-1 season that finished No. 11 nationally and was no doubt a driving force behind an invitation to join the Big 12 in 2023.
"It's fun to see Kalani as a first-time head coach and defensive coordinator; there's a similar path there," Mendenhall said. "It's been fun to watch — even though I can't say that I watch closely. I didn't see another BYU game until this week.
"That's what the job requires. But BYU has earned its way into a Power Five conference. I remember Utah leaving for the Pac-12 and TCU leaving for the Big 12, we chose to go independent, and I remember saying at the time 'this is not sustainable.' I was doing my own personal lobbying behind the scenes for the Big 12."
Even as Mendenhall moved past BYU and into his new challenge on the Atlantic seaboard, BYU was never far from his mind. He took most of his coaching staff with him to Charlotesville, including offensive coordinator Robert Anae and defensive coordinator Nick Howell, as well as linebackers coach Kelly Poppinga — who has since been promoted to co-defensive coordinator at UVA.
"We still consider all those guys BYU guys," said Sitake. "We support Virginia, and we want to see them win (every game but Saturday). Whenever we have success, it's a given that we're given a lot of praise from back east and a lot of the guys on that staff. It's a classy organization, and it's because of their head coach and what he does as a leader."
Running backs coach Mark Atuaia, quarterbacks coach Jason Beck and offensive line coach Garett Tujague also joined the 14-member caravan east — all 14 people that Mendenhall invited from BYU, the coach said — and one that included Matt Edwards, a former BYU tight end and the grandson of legendary BYU coach LaVell Edwards who now works as Virginia's director of football analytics.
"It was the giant reverse Lewis and Clark migration," said Mendenhall, who attends the same Latter-day Saint ward in Charlottesville as all but one of his staff members of the same faith. "There were some hard transitions; young moms with little kids, and mom's mom was still back in Provo. That's tough; that's the babysitter. That's a huge thing. There hasn't been anything easy.
"But has it galvanized our relationship. Myself and my staff were close before, but not like this."
The group could never quite leave BYU — or more specifically, Utah — behind, either. Something kept pulling members of their part back toward the Beehive State.
Mendenhall's oldest son Raider served a two-year mission for The Church of Jesus Christ of Latter-day Saints in Layton, and his next son Breaker, who appeared in three games at Utah State as a true-freshman safety in 2020, recently received his call to Pocatello, Idaho. He'll depart for the mission field Jan. 3.
Atuaia's son Ty also served in the Salt Lake City North mission.
"We come this way," Mendenhall said, illustrating directions with his hands on a Zoom call, "and the church sent all of our kids back to where we came from. It's pretty cool."
But when the Cavaliers kick off in their latest game of the season — and one of the latest games in program history — Saturday night, it will be all business.
Mendenhall doesn't know this team. He briefly recruited Hall when the son of former BYU running back Kalin Hall was at nearby Maple Mountain, but that's one of a select few players with a prior relationship.
The emotions will no doubt be there when Mendenhall steps into the stadium he called his own before Saturday night's kickoff and shakes hands with Sitake, athletic director Tom Holmoe, and BYU personnel who remain from his tenure.
But once the ball kicks off, it will be like any other game.
"I've had six years to go through the emotions," he said. "My job is to do the very best I can for my team, and hopefully to be an example and teach principles and guidelines that will help these kids in their lives.
"I really can't control what kind of welcome I do or don't receive, but what I can express is gratitude."
×
Photos
Related Stories