Estimated read time: 11-12 minutes
SALT LAKE CITY — The next stage of the state's redistricting process is nearing now that the Utah Independent Redistricting Commission has selected 12 recommended voting maps and the Utah Legislative Redistricting Committee has completed its public comment period.
The two sides are set to meet Monday to go over the designs. Everything remains on schedule for the committee to recommend their proposals within a week after that, and the Utah Legislature is on track to vote on the maps Nov. 9.
But leaders of both the commission and committee, as well as outside experts, say they know wherever the boundaries are in 2022 and through the next decade, they won't be perfect. In fact, they know some congressional, legislative and school board districts already outnumber others. That means some representatives elected in 2022 may already have far more constituents than others — and there's essentially nothing that can be done about it.
It's all because the voting maps must be completed using the data presented from the 2020 census with consideration of communities of interest. So if there are flaws in the data or if those creating the boundaries already know there's growth in some Utah cities, that knowledge is tossed out in the redistricting process.
How the census turns into representation
Utah residents were asked to fill out the decennial census beginning in April 2020. It asked questions about an individual's household as of April 1, 2020. The U.S. Census Bureau compiled all of that information, leading to two major pieces of information regarding representation.
The bureau's broad data release, which happened in April this year, involves state populations. It dictates the number of representatives the state holds in the U.S. House of Representatives. That number also matters in the Electoral College for every presidential election.
The more detailed information, which was delayed until August this year, helps explain changes within a state's population. The bureau took all those completed census forms and grouped households together to create blocks and block groups, which Rex Facer, the chairman of the Utah Independent Redistricting Commission, refers to as "basic building pieces" in creating voting districts.
"A block could literally have zero houses in it or it could have a hundred houses in it. It could be an apartment complex that has 500 people," Facer said.
The commission and committee take the block data and create lines to evenly divide up the blocks in terms of population as much as possible. Utah's 3,271,616 residents, as reported on April 1, 2020, are divided into four congressional, 29 state Senate, 75 state House of Representatives and 15 education districts.
This can be tricky because blocks can't be split. For instance, if one voting district needs 200 more people to even out the district but the next nearest block holds 400 people, they could add that block but they'd need to cut a block with 200 people in it to make it work.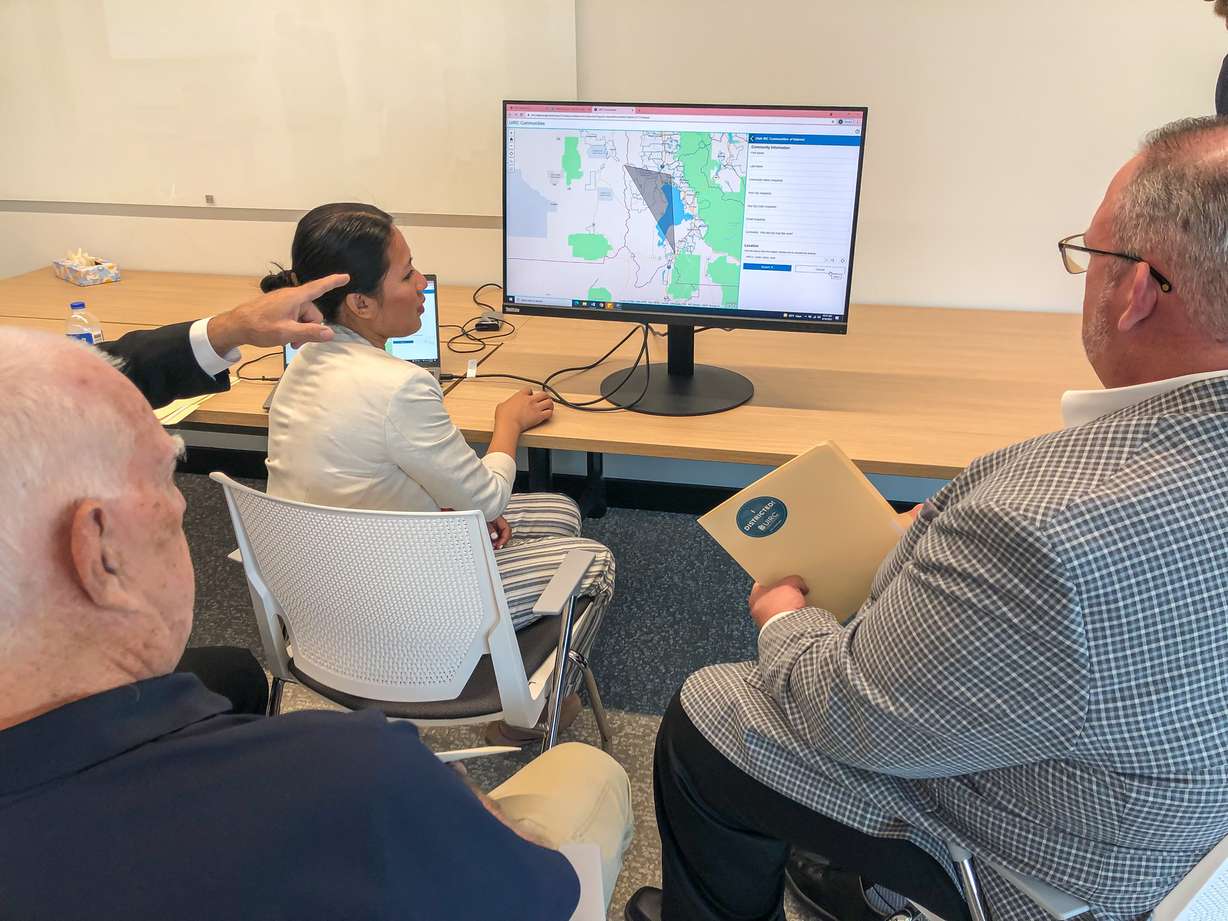 This process every decade allows the state to ensure the political boundaries adhere to where people are. Sen. Scott Sandall, R-Tremonton, and co-chairman of the Utah Legislative Redistricting Committee, says the growth in Washington County, southwest Salt Lake, northwest Utah counties led in "proportional growth" rates that were a bit surprising to the committee, he said. It was also surprised that Provo's growth fell shy of the statewide growth percentage.
All of these changes over the decade factor into the division of the districts. But what if the blocks have already changed because the data is from 1 1/2 years ago and Utah is still growing at a rapid rate? It doesn't matter.
"Even though we're aware of some of those dynamics, we simply have to craft districts that make sense using the data today and watch how it plays out over the next 10 years," Facer says.
What's not considered in the process
Members of both the independent commission and legislative committee are well aware that Utah's ongoing growth has no end in sight. Given the U.S.-leading growth over the past decade, they are also aware some districts — especially legislative and school board districts — that will have many more constituents in them than others, even with an attempt to split the 2020 census evenly.
Experts know this because it happened in the past 10 years. The independent redistricting commission, for example, published a map with the 2020 census data within current congressional boundaries, showing that District 4 — the smallest in land size — ended up with over 80,000 more residents in it than any other district.
"When we get to the end of a decade, it's always interesting. There will be state legislators who sometimes are representing twice as many people as their colleagues because there's been so much growth in their district," said Morgan Lyon Cotti, associate director of the Hinckley Institute of Politics at the University of Utah.
There are signs this is already happening even as the new boundaries are being formed. Facer said he was told there were already an additional 7,000 residents in Eagle Mountain since April 2020. Other fast-growing cities like Herriman, Lehi, South Jordan, as well as are other areas such as Cache, Wasatch and Washington counties, are likely to have this issue over the next decade.
---
Even though we're aware of some of those dynamics, we simply have to craft districts that make sense using the data today and watch out how it plays out over the next 10 years.
–Rex Facer, chairman of the Utah Independent Redistricting Commission
---
Yet what's been reported over the past 18 months doesn't matter in the current redistricting process. Lyon Cotti points out the Constitution stipulates redistricting must follow the census.
"April 1, 2020, is the snapshot we have to use," Sandall said. "I'll talk to people all over the place who will say, 'In this last 18 months we've added 4,000 people or we've done this and that. We should be able to account for that.' Well, we can't — legally, we can't guess and say, 'Well we know you're wrong, Census Bureau.' We take what the Census Bureau says."
So if your town or city has a big subdivision project underway, it won't show up in the redistricting this year.
Here are a few specific items to consider over the next decade that can't be addressed in the upcoming redistricting maps:
The U. Kem C. Gardner Policy Institute projects Utah's population will climb to more than 600,000 over the next decade. Despite expected growth, redistricting cannot factor in what's anticipated in the future.
The Utah State Prison is set to move to Salt Lake City in 2022. The current prison capacity of over 4,000 inmates is counted in Draper's population in the 2020 census and reflects that in redistricting data. Again, all maps are designed off 2020 data so this move won't be acknowledged until after the 2030 census.
A few college town leaders, including Provo Mayor Michelle Kaufusi and Vineyard Mayor Julie Fullmer, have said they believe their cities were undercounted as a result of the census being conducted after students left campus as a result of COVID-19. Undercounting may result in underrepresentation and fewer funds. However, barring any decision by courts, all that matters is what's in the 2020 census.
Facer contends that Utah's growth means "it's incumbent" for candidates of state or federal positions in areas of growth — or that may have been undercounted — to pay attention to new issues that may emerge or groups that may not have shown up in the data, like college students. It's something he expects will happen.
"We're going to have districts that have a much higher portion of the growth than others," he said. "There's nothing we can do about it other than be aware of it."
The urban-rural debate
There is one possible exception when it comes to the population forecast: urban-rural connections. In redistricting past, the state has used a process that ties urban and rural communities together within the congressional boundaries.
Advocates of this process argue it forces representatives to consider both urban and rural interests; opponents argue it dilutes the power of urban communities that hold the vast majority of the state's population and political diversity. When Sandall spoke with KSL.com on Oct. 22, Sandall said the legislative committee had not yet determined if urban-rural districts will be used.
The debate this year was ultimately brought to a head after that interview. Rob Bishop, a former Utah congressman, abruptly quit the Utah Independent Redistricting Commission during a meeting Monday, over, among a list of reasons, the group not considering urban-rural maps. Facer said that wasn't true; the commission chose to approve three different concepts to consider, including one urban-rural congressional map to bring to the legislative committee.
Related:
The state's urban areas accounted for most of the population growth over the past decade while populations shrank in rural places, according to the 2020 census. The Gardner Policy Institute estimates population trends of the past decade will continue over the next 10 years and likely beyond.
That outlook can be considered in the division of congressional districts — in theory. During the redistricting public comment period, some residents argued that it's possible to lump the Wasatch Front and non-Wasatch Front communities separately and still end up with equal populations in the districts. This would ensure rural communities have at least one U.S. representative throughout the decade.
Facer said the commission did consider those options but the commission's three proposed designs don't include any like that concept. There is some mix of urban and rural communities in all three designs just because of the population calibration.
He said it's difficult to have "exclusively rural districts" because the population growth in Cache and Washington counties' urban areas, like Logan and St. George, means that Utah's urban areas aren't just the Wasatch Front like was the case many decades ago.
The other major hurdle is the size a rural (plus Logan and St. George) boundary would look like. Facer said it would essentially make a "giant ring" around the Wasatch Front.
"One of the problems we had was how a representative could logistically manage and engage with constituents all across that entire swatch of the state," Facer said.
Since urban-rural boundaries are likely to balance out the state's more than 3.2 million residents into four districts, the expected population trends for the next decade will likely mean the percentage of rural community residents in one district will shrink over the next 10 years if it hasn't already from growth over the past 18 months; one independent redistricting member said it means it's the rural vote that's diluted over the next decade.
"Looking forward, if lawmakers continue to like the idea of the pizza slice congressional district where they're representing urban and rural issues, if we continue to see so much growth along the Wasatch Front and back, it makes that idea more difficult as more of the concentration is in Davis, Salt Lake and Utah counties," Lyon Cotti explained.
However, Facer, who resides in Utah County, contends urban residents care about rural issues despite those saying otherwise. Many urban residents recreate on public lands in rural areas, Utah's food supply is strongly aided by rural farmers and ranchers, and most of the state's water supply comes from reservoirs mostly found in rural areas.
The issue is a bit more personal for Sandall, who represents a mostly rural area. To that end, he spoke to KSL.com on the phone while he and his son were in the process of moving cattle. For him, it makes sense that all congressional representatives have ties to Utah's urban and rural sides.
But he said it's a decision that will be made as a group and not individually.
Nearing an end
COVID-19 and the Census Bureau data delays meant delays in the compiling redistricting, but it appears Utah will have its voting maps just in time for candidates in 2022 elections to begin filing at the start of the year.
Both the commission and committee ended up going to the same number of Utah places in the same number of days to collect public feedback in redistricting, Sandall said. This was done by conducting those meetings over the span of weeks instead of months.
There are still plenty of discussions left and the process isn't quite over yet. After Monday's meeting, the legislative committee will meet again on Nov. 8. Utah's special session is scheduled for Nov. 9, where it's possible maps will be finalized. Once the Legislature votes, they will also be subject to gubernatorial veto.
But looking back at all the chaos and seeing where the process is at the moment, Sandall said he's happy with how everything has turned out so far.
"It probably would have made my job a little bit easier if we had a little more time; COVID threw a wrench in almost everybody's plans for the last 18-20 months," he said. "But we have been able to and I have been very pleased with our committee and the willingness to compress this timeline."
×
Related Stories