Estimated read time: 3-4 minutes
SALT LAKE CITY — A 3,500-pound steel beam, signed by hundreds of workers and accompanied by a small tree, was hoisted to the top of the future east portion of concourse A at the Salt Lake City International Airport on Wednesday, representing the "topping out" of the airport project's current phase of construction.
Workers lifted the beam 55 feet to the top of the structure, which will house 22 gates for Delta Airlines. So far on the project, crews have used 17,000 cubic yards of concrete, 4,500 tons of structural steel, 1,300 tons of rebar and 32.6 miles of steel piles, according to Bill Wyatt, executive director of the Salt Lake City Department of Airports.
"This is my favorite part of any construction activity," Wyatt said. "All of a sudden something that's been lines on a piece of paper becomes three-dimensional and you can see what it looks like."
Four of the new gates are scheduled to open in the spring of 2023, and the other 18 gates are scheduled to open later that year, Wyatt said. The next phase of the project will go quickly, seeing crews move inside to install pipes, wiring, plumbing and other interior features, he added.
About 500 skilled trade workers have lent their labor to phase two of the massive airport renovation project, which has been dubbed "The New SLC," Wyatt said.
Construction on the $4 billion project began in 2014, and is scheduled to continue in phases through 2024, according to the airport. Some new features of the airport opened just over a year ago. About 1,950 workers were part of the first phase of the redevelopment, Wyatt added.
Wyatt and several others, including Salt Lake City Mayor Erin Mendenhall, thanked the workers during Wednesday's ceremony.
"It really is a combination of celebrating a moment in time in the construction of The New SLC, and frankly it's an appreciation for all of you out there who have had a hand in building this remarkable project," Wyatt said.
Airport officials opened the doors to about 30,000 passengers Wednesday in what Wyatt predicted would be a top 10 day in terms of passenger volumes at the airport. This week, the airport also sent out a request for proposals for restaurants and shops in the next phase of the project, Wyatt said. Passengers can expect more restaurants and shops, and more flights to more destinations in the new airport's future, he added.
"This is an incredibly impressive team that we have in place today, great momentum which is really terrific," he said.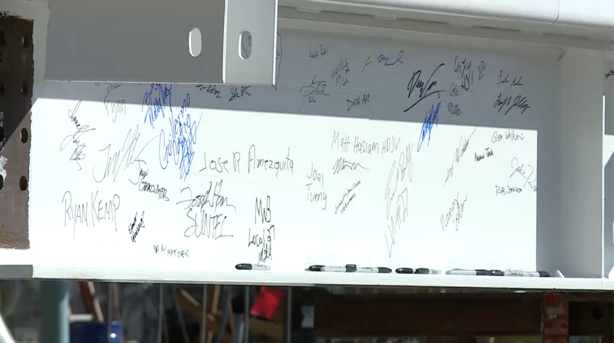 Topping out ceremonies date back to Scandinavian religious rites when a tree was placed at the top of a new building to appease tree-dwelling spirits that were displaced during construction, Mendenhall explained. Workers adorned the steel beam with a small evergreen tree Wednesday as it was hoisted to the top of the structure in a modern version of the Scandinavian tradition.
The mayor also thanked the workers for their efforts on the project.
"To all of the carpenters and electricians and welders, engineers, crane operators, I hope you can go home tonight and tell your families and your friends that your work is recognized, that we are grateful for you," she said.
She added that the people of Salt Lake City and Utah will be proud of the work crew members have done on the airport for generations to come.
"And we'll live it out through the activity in our airport for a long time to come," Mendenhall said, "so thank you."
×
Photos
Related Stories