Estimated read time: 5-6 minutes
SALT LAKE CITY — Shawn Pittman admits to feeling a bit out of his element Tuesday morning, standing on Capitol Hill waiting for an audience with Utah Gov. Spencer Cox, who was awarding the Utah Warriors with a special commendation celebrating the success of their 2021 season while exchanging gifts that included a Warriors hat and scarf, and a rugby ball signed by members of the team.
But feeling out of place has been something of the norm since January for the former USA Eagles prop, after he was thrust into the role of interim manager of Utah's Major League Rugby outfit upon the sudden resignation of former coach and Australian international Chris Latham a few short weeks before the start of the outfit's fourth season.
"I think we just kind of roll with the punches," Pittman told KSL.com while admiring the architecture and artwork of Utah's state capitol.
And they did.
With Pittman as the interim head coach who leaned heavily on his backs coach Shaun Davies, the Warriors started on a tear. They won six of their first seven games by seven points or less, earning a cardiac cats-like nickname "Cardiac Warriors" that serendipitously coincided with the introduction of mascot Koa the Panther, as they marched to a 10-6 record and the second-best mark in the league's Western Conference.
It was the Warriors' best season since their inaugural year, earning the fourth-year outfit's first berth in the Championship Series since 2018 and returning respect to a franchise that had fallen on hard times with three coaches in two seasons. And it also provided a foundation for the future of the club that is currently based in Herriman but is currently eyeing relocation closer to Salt Lake City with its own potential stadium.
"We're in a really good spot with the foundation that we've built, and what the Warriors built over the last four years," Pittman said. "There are a lot of guys on the team still from that original group. This fifth season is going to be really important for those guys.
"But we have a foundation now. We don't have to start from ground zero like we did last year. Now we just need to change a few things, get better at some areas of the game, and I think we'll be in a really good spot."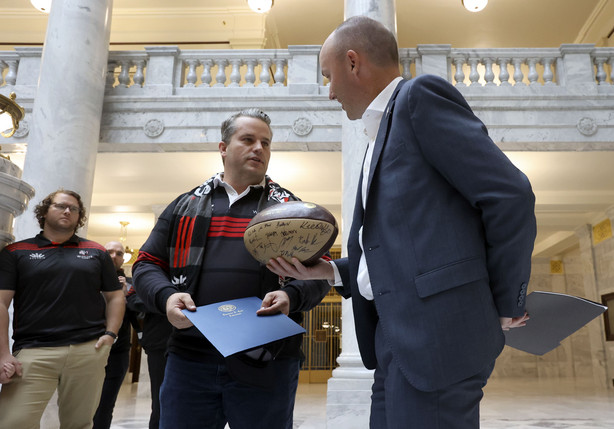 After building the foundation, selling out their home field of Zions Bank Stadium, and engaging the community, Pittman was a runaway contender for Major League Rugby's Coach of the Year, a move that was announced on the same day the Warriors formally stripped the interim tag from his title (though that felt like a mere formality based on the rest of the season).
He also got some help, like the addition of fullback Mikey Te'o. The Long Beach, California-born fullback with USA Eagles international experience had nine tries with nine assists in his first season in Herriman, playing 1,223 minutes in 16 games and finishing with 10 line breaks and a team-high 50 broken tackles.
"I feel like what we did here was nothing short of a miracle," said Te'o, who was named MLR's Player of the Year. "Hopefully we can build on that next year."
A miracle, but also not a surprise for the bruising 5-foot-9 fullback.
"It was a big ask for an assistant coach to be interim head coach," Te'o said, thinking back to January. "Most of the boys, me included, were recruited by the previous head coach who didn't re-sign. It was a big shock for me, but I was just happy to have a season.
"I worked with Shawn when he worked for Team USA … but he had some big shoes to fill," Te'o added. "I think he did a great job, especially making the semifinals before the last game of the regular season. Him and Davies grinded through film sessions, and then he let me and other players run what we could run. It was really nice to have the freedom to run what we ran throughout the season."
That trust went both ways, as Pittman established a player-first locker room, one with guys willing to come to him for developmental improvements as well as tactical ones. As a first-time head coach, he wasn't afraid to ask for help — and his players weren't afraid to give it, even if they accepted the 33-year-old native of Bellingham, Washington as the man in charge.
"The thing that we tried to do was empower a lot of the guys to control themselves, control their own development, and control their own destiny," Pittman said. "We valued a lot of people's input, and gave them control of the team. That's something that a lot of coaches don't do, even in the MLR.
"Our leadership team had representation of everybody that was a part of our team, culturally, contractually, everything. We had a lot of input from that core group of guys that made us successful throughout the year."
That doesn't mean Pittman didn't struggle, at times, in his new role. He admits that he ran into "a bunch of" moments where he thought "oh crap," or "what am I getting into?" For the first time in his MLR career, he was sitting on conference calls with the league's competition committee, or sitting down to discuss behavioral issues with his players.
As an assistant, he could always push those things to the periphery, focusing purely on coaching. As the head coach, that wasn't possible. It was definitely a learning curve, Pittman admits.
"It's very different," he said. "But there's always the little thing where you realize you have to own it — but I think that's the biggest thing: just owning stuff. It's been a bit eye-opening for me."
Still, he kept at it, not just building a team or a squad but a culture — a foundation of things to come.
The Warriors have an identity now, and much of it is thanks to Pittman.
"Every team that we played, all of those guys were going off on a stretcher or bandaged; we're a hard-hitting team," Te'o said. "I think we built off that, and it got us to the semis. Hopefully we can take our physicality, and take that to the field next year and win some hardware.
"Ask any team in the league who is the hardest hitting in the league, and it will be my teammates."
×
Photos
Related Stories