Estimated read time: 6-7 minutes
HERRIMAN — On paper, Saturday's regular-season finale didn't mean much to the Utah Warriors and LA Giltinis.
Both sides had already locked up a playoff berth, a spot in the Western Conference finals, and — for Los Angeles, at least — had already clinched as much as it could in the race for the league title that will also feature Rugby ATL and Rugby United New York from the East.
The Giltinis read the paper.
Utah, not so much.
Against a predominantly "B" side with eight starters and regular rotation players out of the Giltinis' lineup, Mikey Te'o scored the match-winning try with three minutes left in regulation to help the Warriors shock top-seeded Los Angeles 34-29 Saturday night at Zions Bank Stadium.
"This game was all about momentum," Te'o told KSL.com after the match. "We're going into the semifinals, and we're trying to get everyone riding some momentum. Now we'll take it one game at a time.
"If someone had told us at the beginning of the season, you have to win two games and you'll be champions, no one would have believed us. But now we have two more games to win, and we can be champions. That's all we can focus on: one game at a time."
Sama Malolo scored two tries for the Warriors (10-6, 57 points), who vaulted one point ahead of Rugby ATL to second place in the final standings ahead of Atlanta's finale Sunday against New England. Utah locked up a playoff bid with last week's bonus point earned in a loss to Rugby ATL.
After that, it's all eyes on the postseason. And that means a rematch with those same Giltinis next Sunday, July 25 in the LA Memorial Coliseum (4 p.m. MT, CBS Sports Network).
Tonight Sama Malolo of @utwarriorsrugby earned the title of @GuaranteedRate Man of the Match for his impressive showing against LA, scoring two tries and making three tackle breaks 🔥

🏉 #MLR2021#UTAHvLApic.twitter.com/VlH361zfLI

— Major League Rugby (@usmlr) July 18, 2021
"It was almost like a wedding rehearsal or a bridal shower," said Malolo, who scored multiple tries for the second straight week. "We knew what kind of an attacking team LA is, and it was a good chance to exercise our defensive structure. Obviously we've got stuff to work on for next week, because we know they're really going to bring it next time."
The Warriors brought back their international players from oversea test matches, including vice captain Te'o, starting scrum half Michael Baska, former BYU All-American center Calvin Whiting and Irish-American prop Paul Mullen.
It was the first time the Warriors' entire cadre had been together in over a month. So to that extent, of course Saturday's match meant something. And on top of that, it was the final regular-season game of the year, the final guaranteed chance to face off at Zions Bank Stadium.
"One of the stripes on our jersey is community, and having nearly 4,500 people come out to join us in this environment is a blessing," said Te'o, one of the United States' breakout stars in the Eagles' 43-29 loss to England two weeks ago. "It's something we want to take advantage of. This is all for them — they get to see someone who is paid to play a sport they love, and we're enjoying it, too.
"Maybe we can inspire them to chase their dreams. If I can do it, maybe they can do it. You've just got to believe and work hard."
The win also wraps up a remarkable turnaround for the Warriors, who qualified for the league's four-team playoffs in their inaugural season in 2018 and dipped for two years after. Utah won just two games in 2019, finishing 2-2-12, before finishing with a 2-1-2 record in the COVID-19 shortened 2020 season.
The club made coaching changes following both seasons, moving on from inaugural head coach Alf Daniels in 2019 before most recent hire Chris Latham stepped down for personal reasons just two months before the start of the 2021 campaign. Assistant coaches Shawn Pittman and Shaun Davies have led the side on an interim basis through the 10-6 campaign.
The Giltinis, who are named after a cocktail created by owner Adam Gilchrist, didn't just decline to start eight of their top players and starters; they didn't even travel them from Los Angeles to Utah for the regular-season finale. So the start of the match was less than ideal.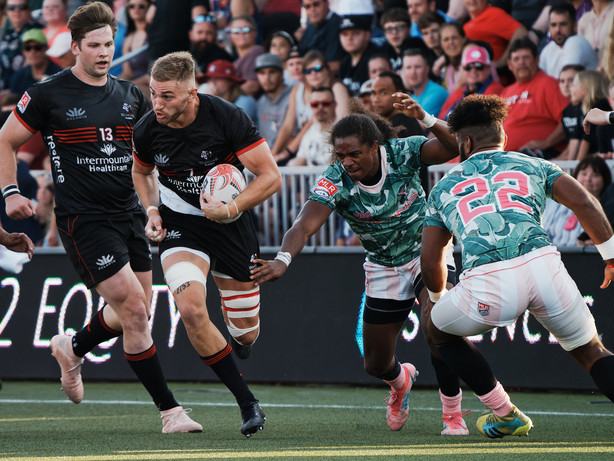 The Giltinis struck first less than two minutes into the match. But the Warriors responded with back-to-back tries through Austin Fortuin and Jurie Van Vuuren to take a 12-5 lead in the 23rd minute.
"Look, this game meant a lot to us: it was the last home game of the regular season," Warriors captain Bailey Wilson said. "By all means, we set out to win this game. It was a close game — probably closer than we would've liked — but that's how games go against a really great team.
"I'm proud of the way the boys stuck in there and fought to the final whistle, like we have been all season."
Josh Whippy found recently returned U.S. international Michael Baska in the corner for a third try just two minutes later, and never trailed again in the first half.
Malolo scored his first of two tries on the day — and four in two weeks — to put Utah up 22-12 at the break. More impressively, the Warriors held an LA squad with a 245-point positive point differential to just 12 points in the first half.
With such a large differential, even the B-side was bound to show up in Utah. Maybe there wasn't anything on the line — a reason to play for either team.
But don't tell that to the Warriors.
The Giltinis came back, of course. The top-ranked expansion club isn't 12-4 for nothing.
Christian Rodriguez pulled LA within four, and the Giltinis led by as much as 29-27 until the final moments of the match. That's when Te'o picked the ball up off a maul that pushed the scrum well past the five-meter line and near the try zone and barreled into touch for the match-winning score.
Utah has taken down LA! In the preview of the Western Conference Final, Utah has come out victorious.

Next Sunday they'll travel to LA's home pitch to attempt a repeat....#QuestForTheShield | @utwarriorsrugby | @Giltinispic.twitter.com/WsU3GOTD5q

— Major League Rugby (@usmlr) July 18, 2021
The Warriors celebrated the win, from player to coach to team administrator, on the hot turf with temperatures soaring over 90 degrees at 8 p.m. MT. So, too, did their fans, many of whom likely saw Utah play in person for the final time this season.
Next week sets the real challenge. The rehearsal dinner is over.
So what did Utah learn from beating a version of the top team in the league?
"I think the main message we wanted to get across was to ourselves," Te'o said. "We had a game plan; we just wanted to stick with it. Our game plan wasn't to contest rucks, and what happened? The first three rucks cost us a penalty and then 14 points.
"We have a lot to work on this week to stick to the game plan, and execute the game plan."
×
Photos
Related Stories