Estimated read time: 5-6 minutes
SALT LAKE CITY — As some communities across Utah clean up from a storm that dumped many inches of snow across parts of the state Tuesday morning, federal meteorologists are advising residents to prepare for a very chilly Tuesday night and Wednesday morning.
The National Weather Service office in Salt Lake City issued a hard freeze warning for a large swath of Utah — from northern Utah to parts of central, eastern and southern Utah. The alert covers several communities like Bountiful, Brigham City, Cedar City, Lehi, Ogden, Nephi, Payson, Provo, Salina and Tooele.
The warning goes into effect at 9 p.m. and remained in effect until 9 a.m. Wednesday. The weather service's Grand Junction office also issued a freeze warning across eastern and southeastern Utah, including the communities of Ballard, Blanding and Vernal. The warning goes into effect at 8 a.m. and remains in effect through 10 a.m. Wednesday.
Overnight temperatures are expected to drop to or below the freezing point for most parts of Utah, which prompted the warning. Overnight lows will also be chilly in areas not covered by the warnings; the weather service forecast calls for lows in the mid-30s in Salt Lake City and low-40s in St. George.
The agency's alert stated that the cold can kill crops and even damage unprotected outdoor plumbing.
"Take steps now to protect tender plants from the cold. To prevent freezing and possible bursting of outdoor water pipes, they should be wrapped, drained, or allowed to drip slowly," the alert states. "Those that have in-ground sprinkler systems should drain them and cover above-ground pipes to protect them from freezing."
The warnings were issued after a wintry storm that arrived in Utah Monday evening dumped snow across the state, resulting in many power outages and even some school closures Tuesday. A winter storm warning issued for many parts across eastern, central and southern Utah is set to expire Tuesday evening.
Cold overnight lows are likely this evening and into Wednesday morning. A Hard Freeze Warning has been issued (purple shade). Protect those sensitive plants and wrap those exposed pipes. Stay warm!#utwxpic.twitter.com/qvobdgvRYJ

— NWS Salt Lake City (@NWSSaltLakeCity) October 12, 2021
Storm produces heavy snow across Utah
Nearly a foot of snow fell in Logan overnight, according to National Weather Service data. The agency also reported nearby communities of Providence and Hyrum each received over 8 inches of snow by 7 a.m. Tuesday.
Most of the snow, however, was located in the mountains. For instance, Park City Mountain received 15 inches of snow by 8 a.m. Tuesday and Solitude Resort received nearly a foot, as well, by 7 a.m., according to the data.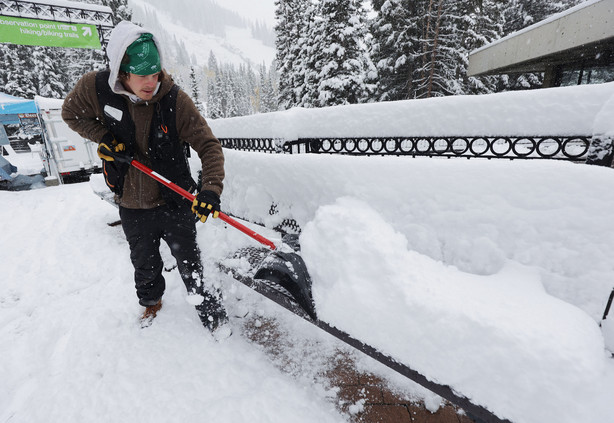 In southern Utah, Cedar City and New Harmony each received 10 inches by 8 a.m. Tuesday.
While more snow is expected to fall Tuesday night, most of the weather service's alerts are set to expire early Tuesday evening.
School closures
All schools in Logan City School District and four schools in Cache County were canceled Tuesday due to snow and power outages, district officials said.
"We continue to have power outages at several district schools. Due to those outages school will be cancelled at all Logan City School District schools for today. A makeup day will be scheduled, and we will notify you when that is finalized. Please stay safe and warm," the Logan City School District posted on Facebook.
The Cache County School District listed the following schools as closed for the day:
Spring Creek Middle School in Providence
Ridgeline High School in Millville
Mountainside Elementary School in Mendon
Wellsville Elementary School in Wellsville
Cache County schools that weren't closed were delayed by two hours Tuesday morning.
Utah State University delayed school until 9 a.m. The 7:30 a.m. classes were canceled, the university said.
Road conditions also caused a school delay for one Tooele school. Dugway High School started two hours late Tuesday, but it was scheduled to end the school day on time.
Now: The snow is really coming down in Cache County right now, RMP reporting more than 5700 customers are now without power. Here's a look to Logan and the outage map. #utah@KSL5TV#utwx#utsnow#breakingnewspic.twitter.com/YWm5vA5q1H

— Shara Park (@KSLSharaPark) October 12, 2021
Power outages
Thousands of Utahns were without power after a night of wind and snow, according to Rocky Mountain Power. At its height, the company said about 8,300 Logan-area homes were still affected by the power outage. Logan police say there were blown transformers and trees down.
"We're aware of scattered outages throughout the state of Utah. The cause of the outages is weather-related with multiple reports of trees on lines and lines down," the agency tweeted late Tuesday morning. "Our crews are working as safely as possible to restore power quickly."
As of 9:30 p.m., there were still about 100 households without power in Cache County, according to Rocky Mountain Power.
More than a thousand homes in Sevier County were also without power Tuesday morning, according to Rocky Mountain Power. Power was restored to all but about 300 customers by 10:45 a.m.
A pole fire also knocked out power for 1,743 customers in the West Point area, Rocky Mountain Power added. Power has since been restored to most customers in that area as well.
In all, there were 65 outages affecting 175 customers scattered across Utah — with most of the outages in Cache County, according to RMP.
Slick roads
The Utah Department of Transportation Traffic Center reported dozens of crashes affected Utah roadways Tuesday. Most were minor and cleared quickly.
#RoadUpdate 👋 Current status of #GuardsmanPass: CLOSED UNTIL FURTHER NOTICE. Watch for a behind the gates look 👀 at road conditions up there this AM. ❄️🤙 #SR190#SR224@UDOTTRAFFIC @UDOTRegion2 pic.twitter.com/j8gD72OORB

— UDOT Cottonwood Canyons (@UDOTcottonwoods) October 12, 2021
The agency advises drivers to use a high and moderate level of caution while on roadways in higher elevations across eastern, central and southern Utah through late Tuesday evening.
Contributing: Matt Brooks
×
Photos