Estimated read time: 5-6 minutes
PROVO — Fair and square, mano a mano, man to man.
Boise State didn't just beat BYU on Saturday afternoon; the Broncos punished the previously unbeaten No. 10 Cougars.
Boise State's first road win over an Associated Press top 10 team since 2001 was roundly reported and soundly felt, not the least of which inside the home locker room at LaVell Edwards Stadium. BYU wasn't happy, from coach to player to administrator of the program.
But as the day shifted to night and into Sunday before rising again Monday morning with another game week: the mood shifted, too.
The next challenge is clear: Don't let the Broncos beat you twice.
Whether you agree or not, the No. 19 Cougars can still play for a great season. A 5-1 record, three wins over Power Five opponents, and four more opportunities to compare themselves against the top tier of college football all lay in front of BYU.
And it starts Saturday at Baylor (1:30 p.m. MT, ESPN), a place the Cougars haven't traveled since a 40-36 loss in 1983. Saturday's loss can serve as a wake-up call for another very good season for BYU, though one more likely to end in the Independence Bowl than the New Year's Six.
If BYU doesn't let the Broncos beat them twice.
"I think that happens naturally," BYU coach Kalani Sitake said of the team's wake-up call, "and humility is a good thing; it's a good teacher. That goes for all of us. There are a lot of things we can learn from that — and I can, too, as the head coach. We made some mistakes, but it's about how you respond to them.
"We made too many against a good team who was driven to beat us."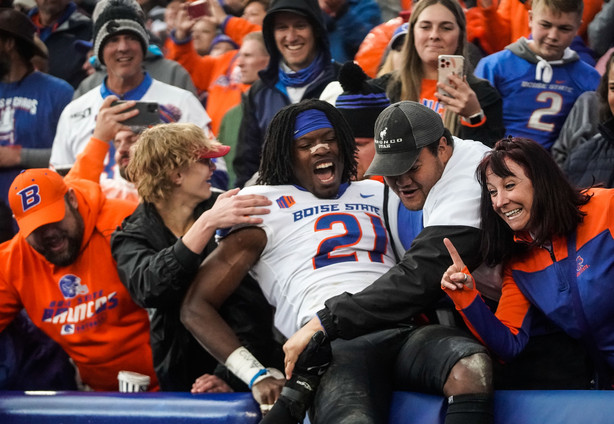 Boise State (3-3) was feisty and inspired as it made the 380-mile trip to Provo, content to show that last year's 51-17 loss in Boise was only a fluke. The Broncos showed much better of their then-sub .500 record, exhibiting a team that was truly better than its record showed — even one that included a late road loss to UCF and another marred by absurdly bad officiating against Oklahoma State.
Give the Broncos credit; Sitake sure did, both immediately following Boise State's celebration with traveling supporters in the northwest corner of LaVell Edwards Stadium, and also Monday when he met with the media. But it's time to move on from a game where the Cougars committed a season-high nine penalties, lost four turnovers, and cashed in a season-low 17 points.
Jaren Hall had a career-high 302 passing yards and a touchdown, but finished the day with only two rushing attempts, including a sack, against a defense that constantly kept his movement in check. Tyler Allgeier added 75 yards and a touchdown on the ground — low by his standards, but a bounce-back performance despite three lost fumbles that included nearly back-to-back giveaways by Allgeier and Lopini Katoa.
The Cougars will continue to preach ball security — that's something they always do, Sitake said. But they also can't throw out the offensive system because of a handful of miscues.
"We need to remind our players of how we got to 5-0," offensive coordinator Aaron Roderick said during his Coordinators' Corner coaches show Monday morning. "We still had a great chance to win the game, but we have no one to blame but ourselves. We just didn't get it done."
There's no time to panic, though — no matter how disappointed any coach, player, fan or administrator may be.
"This is a really tough one to swallow," Roderick added. "We didn't play well as a team, and we feel like we missed some plays. We have to learn from it, and move on."
No one is alone in the blame for the loss. And no one is alone in the need to improve.
"In a team game, everybody is responsible for their own job," said wide receiver Gunner Romney, who had four catches for 102 yards, including a career-long 59 yarder against Boise. "We see it if one of our boys makes a mistake, it's our job to step up and help cover that mistake.
"We win as a team, we lose as a team. We aren't pointing fingers at anybody."
BYU hasn't lost back-to-back games since the final two of the 2019 season, the regular-season finale at San Diego State followed by a "neutral-site" loss to Hawaii in Aloha Stadium for the bowl game.
That streak will be tested this week against a Baylor team that finds itself just outside the AP Top 25 at the midway mark of the season, a fellow 5-1 squad featuring quarterback Gerry Bohanon, who has yet to throw an interception among his 1,337 yards and 11 touchdowns this season.
The Bears also face two familiar faces in former BYU offensive coordinator Jeff Grimes and offensive line coach Eric Mateos.
"It's definitely an interesting situation that you don't come across very often," defensive end Tyler Batty said of the Cougars' former coaches. "But I think it's beneficial in a way, and not in others. We do know him and his coaching style, and some of what they might do. But he also knows how we run things defensively.
"I just think it will be a fun matchup."
A fun match that could also curtail a preview of the Big 12 Conference, at least when the Cougars join the Bears (et al.) in two years.
But that's not at the front of BYU's preparation for this game. Getting better is.
"Win or lose, we're always trying to improve," Batty said. "Things didn't go the way we wanted them to go this past weekend, but I don't see it being a major hiccup for us. We're going to take what we can learn from Boise State, and move on from Baylor. Come this weekend in Waco, we're going to be 100% ready to go, and clean up the mistakes from the past week."
×
Related Stories