Estimated read time: 5-6 minutes
PROVO — For the first five games of the 2021 season, BYU's football team did nearly everything right.
For most of three quarters against Boise State, the No. 10-ranked Cougars did nearly everything wrong.
Cyrus Habibi-Likio ran for 75 yards and a touchdown, and Andrew Van Buren added 60 yards and a score as Boise State upended BYU 26-17 to hand the Cougars their first loss of the season Saturday afternoon in front of a sellout crowd of 63,470 fans at LaVell Edwards Stadium.
Hank Bachmeier completed 18-of-29 passes for 172 yards for the Broncos (3-3), who earned revenge after last year's rivalry loss in Boise with their first win over an opponent ranked in the Associated Press top 10 since 2001.
Jaren Hall started at quarterback for the first time in nearly three weeks, throwing for a career-high 302 yards and a touchdown to lead the Cougars (5-1). Tyler Allgeier ran for 73 yards and a touchdown for BYU, which out-gained the Broncos 413 yards to 312, with just 111 yards on the ground.
Gunner Romney caught four passes for 102 yards, his third game with 95 yards or more this season for an offense that launched over 300 yards through the air.
But turnovers spilt the game — namely three lost fumbles in an uncharacteristic day of ball security on a balmy, rainy day in Provo where the clouds didn't let up until well into the second half.
By then, the Cougars trailed 26-10. And while that isn't an excuse — nor was it one that BYU coaches and players even considered making after the game — it is a reality. The rain didn't wash away BYU's undefeated season, turnovers did — three fumbles and an interception to stave off a late comeback attempt.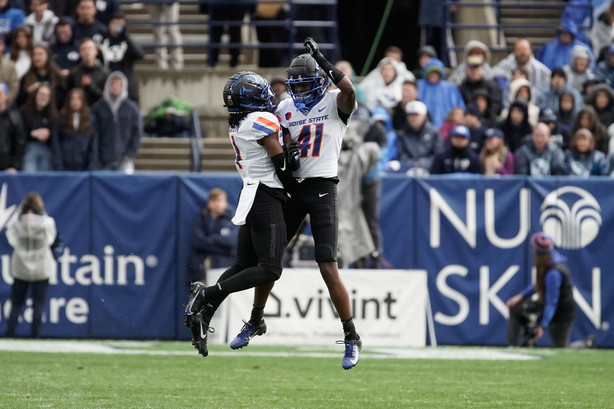 "I saw a lot of mistakes, and against a good team it's hard to overcome those mistakes," BYU coach Kalani Sitake said. "It's not just on one side; I think there were a lot of mistakes that went around. I have to do a better job as a coach of getting rid of those mistakes and minimizing our mistakes.
"A lot of credit to Boise State and Andy Avalos for getting their guys ready. They weren't playing with some of their starters, but they stuck to their game plan."
Caleb Biggers had a team-high nine tackles for Boise State, which only had two tackles for loss and three quarterback hurries but forced three fumbles and the game-sealing interception by Kaniho Kaonohi in the fourth quarter.
With each ball that flailed to the turf, the collective BYU fans that braved the rain and storm clouds held their breath.
Oh no. Oh no. Oh no.
A team that had won the turnover battle and did everything right prior to Saturday afternoon ... simply didn't.
"Those are not situations that you want," said wide receiver Puka Nacua, who had 75 yards on four catches. "We're not planning on turning the ball over. Those are things you have to rally back and bounce back from.
"Obviously, those aren't situations you want. We'll clean it up. I'm proud of the way we fought with the boys, and we'll bounce back."
The Nacua brothers went wild early, including Samson Nacua's 14-yard touchdown where he out-Moss'd a defender to put the Cougars up 10-0 midway through the first quarter.
But Boise State flipped the script with a pair of turnovers in the second quarter.
Habibi-Likio cashed in Algeier's first lost fumble in close to 130 carries for an 11-yard touchdown, evening the game at 10-10 with 6:29 left in the half.
Moments later, the Cougars fumbled again — this time through Lopini Katoa, and JL Skinner set up the Broncos' go-ahead score from 24 yards out.
Five plays later, Andrew Van Buren barreled into the end zone with a 1-yard dive to hand BYU its first deficit of the season, down 17-10 with 3:34 to go in the half.
"Nobody feels worse than those running backs right now," Sitake said. "We emphasize it, and we explain to these guys how important ball security is. It's something that I can never get enough of as a coach … It's something we can always improve and get better."
Boise State, which ranked 105th nationally allowing 191.2 yards per game, held BYU — which has the nation's No. 8 rusher Tyler Allgeier — to 58 rushing yards. Allgeier had 49 yards on 11 carries, and the Broncos scored 10 points on two turnovers to take a 20-10 lead at the break.
Boise State averaged just 2.1 yards per rush in its first four games of the season. In the first half, the Broncos doubled that average at 4.1 yards per carry, then quickly stretched their lead to 23-10 with a 13-play, 54-yard drive to open the second half.
Ben Bywater had 14 tackles, a tackle for loss and a quarterback hurry to lead BYU.
After the Cougars' historic win a year ago — their first on the famed Blue Turf — players and coaches stood around following a post-game prayer to take a team photo with the scoreboard emblazoned with their 51-17 conquest.
The Broncos didn't return the favor Saturday afternoon. But they did dominate the line of scrimmage, and then celebrated with the small horde of traveling Bronco supporters that made the 382-mile drive to Provo to sit in the northwest corner of the stadium.
"I just think, for what we've been through this season, it is such an incredible win for us," Bachmeier said. "I'm so happy for the guys, for Coach Avalos, Coach Plough and Coach D as well. We have had tough losses and it [this win] means a lot to me."
BYU hits the road next week to play at Baylor. Kickoff is scheduled for 1:30 p.m. MT on ESPN or ESPN2.
×
Photos
Related Links
Related Stories