Estimated read time: 6-7 minutes
PROVO — For five weeks of the 2021 college football season, BYU prided itself on being the tough, physical team as it built up five-straight wins, including three-straight over the Pac-12.
The Cougars won their battles at the line of scrimmage, relied on a bend-don't-break defense that exercised the pass-rush at seemingly perfect times, and leaned heavily on the run — including a tailback who was proving to be among the nation's elite at his position.
And in three quarters, Boise State flipped that paradigm on its head.
The Broncos' 26-17 win in front of a sellout crowd at LaVell Edwards Stadium wasn't just stunning in its result, though it certainly was that. BYU was a 5-point favorite, paced by running back Tyler Allgeier's 5.53 yards per carry, an offense that entered the day +8 in turnover margin with 10 takeaways to just two giveaways, and welcoming back the dual-threat abilities of starting quarterback Jaren Hall after sitting out the previous two games with a rib injury.
Boise State didn't care, though.
Burdened by the sting of a 51-17 home loss on the Blue Turf a year earlier, the Broncos turned BYU's perceived strengths into weaknesses. They held Allgeier to 75 yards on 19 carries, kept his reliable backup Lopini Katoa off the field with just 23 yards on four touches, and forced a pair of fumbles that changed the game.
Rated the No. 105 run defense in the country prior to Saturday, the Broncos were on a mission to shut down the Cougars' once-dynamic ground game — by turnover or by other means.
Mission accomplished.
"Nobody feels worse than those running backs right now," said BYU coach Kalani Sitake, whose team trailed at halftime for the first time since rallying by Houston a year ago. "Ball security is something that we're always preaching. It's something we can always improve and always get better. Mistakes happen; it just seems like we made way too many today to battle back from.
"Even with all of those mistakes that were made, I felt like the guys still battled and played hard and gave us their effort every time."
The Broncos (3-3) also limited Hall's strongest ability, the one that makes him the most dangerous: his ability to scramble. While the redshirt sophomore threw for a career-high 302 yards and a touchdown, he also finished with just two rushes — including a sack — and forced him to do his damage through the air.
Some of it worked. A lot of it didn't.
"I feel like we moved the ball well, except for a couple of drives," said Hall, one of three players asked to speak to the media after the game to explain the loss. "We just didn't take care of the ball. We made a lot of uncharacteristic mistakes and put our defense in a tough spot a few times."
The most uncharacteristic mistakes, though, were the turnovers — four of them in all, including three lost fumbles that turned into 7 points on the other end.
Two giveaways by BYU running backs gave Boise State's offense a short field, and the Broncos turned two drives of 24 yards or less into touchdowns to hand BYU its first deficit of a game and force a defense unaccustomed to playing from behind to change up its game plan.
"It's hard because you feel the pressure to get a stop on third down," said linebacker Ben Bywater, who had a team-high 14 tackles and a quarterback hurry. "That was our whole goal. Unfortunately, if not for that offsides penalty, we could've had a turnover right there. (Linebackers coach Kevin Clune) has taught us to be assignment sound, don't worry about being a super star, just beat the man across from you and go make a play."
After opening the game with Jake Oldroyd's field goal and Samson Nacua's Randy Moss-like touchdown grab to go up 10-0, the Cougars' offense went dormant. BYU ended the next five drives with a punt, two fumbles and two fourth-down turnovers.
After Allgeier's quick-striking 1-yard touchdown pulled BYU within 23-17 with 7:27 to go, the Broncos salted away a four-minute drive with Jonah Dalmas' fourth field goal of the game — all from 28 yards or less — before Kaonohi Kaniho's interception at 1:59 remaining to effectively slam the door on any comeback effort.
"Coach Sitake always talks about the small and simple things and ball security was obviously a big problem for us," said wide receiver Puka Nacua, who caught four passes for 75 yards, second only to teammate Gunner Romney's 102. "We didn't handle the ball the way we wanted to and Boise State capitalized on that. It was just the small and simple things. We missed some simple blocks. We missed some small and simple things and those start to add up as the game goes on. I thought we fought back, but having four turnovers makes it harder to come back."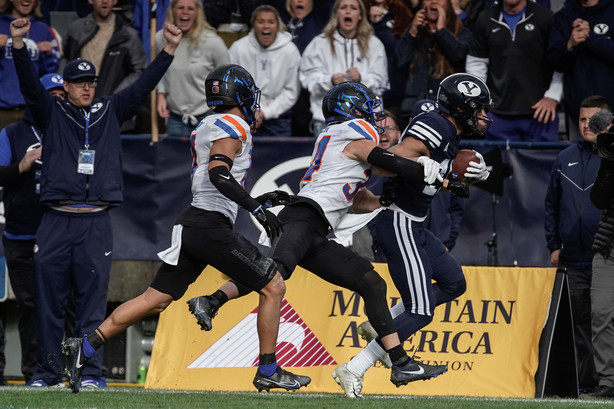 The loss upended BYU's bid at an undefeated season — no matter how likely that seemed to outsiders of the program prior to Saturday's 1:30 p.m. MT kickoff. The Cougars were becoming a trendy dark horse College Football Playoff contender, having already beaten nearly half of the seven Power Five opponents on their schedule and putting themselves back in position for a New Year's Six bowl bid, at least.
With one game, that seems lost. The Cougars plummeted nine spots to No. 19 in the Associated Press Top 25, and in much the same way that their loss at Coastal Carolina ended their bid for anything but an end-of-season sendoff of Zach Wilson and Co. in the Boca Raton Bowl, Saturday's loss had a similar feeling.
From dreaming of Fiestas to settling for Shreveport, such is the life of college football's Group of Five conference teams — a group that BYU still finds for itself, despite its independent schedule.
Next on the schedule is a road trip to Baylor, a chance to meet — and beat — the offensive mind that helped turn around BYU's fortunes from 2017 to 2020 in Jeff Grimes, as well as former offensive line coach Eric Mateos.
A win there can only do so much to salvage the Cougars' season. But perhaps more importantly, it can salvage BYU's once-unbeaten psyche.
At 5-1, it feels like a must-win game for reasons beyond records, bowl eligibility and postseason plans.
"We've won games and lost games and then focus on trying to learn as much as we can from this game," Sitake said. "We're going to do it with a positive attitude; I believe in the culture, I believe in the young men and we're all going to rally together and try to get better. I really believe we can play better football as a team, and that's what we're going to try to accomplish in the next week."
×
Photos
Related Stories