Estimated read time: 5-6 minutes
SALT LAKE CITY — Isiah Cambridge leaned closer to the easel displaying a photograph of Native American women with a mountain range looming in the background.
This photograph was his favorite among the gallery stroll celebrating Indigenous People's Day at the University of Utah's A. Ray Olpin Union Monday.
His bracelets clinked mimicking a sound the dresses he pointed to in the photograph would likely make. He explained that the women were wearing jingle dresses, a traditional garment filled with bright colors adorned with metal cones.
A red bandana was tied at each woman's waist and likely signified the Missing and Murdered Indigenous Women, Cambridge added. Jingle dresses are sometimes worn during Indian celebrations, some of Cambridge's fondest memories. He said he remembered waking up early in the morning with his family and wrapping themselves in Pendleton blankets.
"I'd say the root of it all really is the traditions, the culture, the everything," he said. "Those memories of, wake up, go listen to the music; the idea of: there's not a lot of us but when we come together, we are together — it's in those moments like that where you're like, 'We exist. We are still here. We're happy. Our heart is beating and we can be seen.'"
The 21-year-old University of Utah student is a member of the Northern Ute Tribe and grew up on the reservation. To him, Indigenous People's Day is a day of celebration, recognition and a reckoning of what his ancestors endured.
Attending this event, in particular, was important for Cambridge. He said it can be difficult attending a university with a predominantly white student population in a predominantly white community.
"What I wanted to see today was representation of any kind, which I feel is something that doesn't happen a lot for Native Americans. I really want to come and show out, actually show that we are still here, we exist," he said.
"We exist but we don't feel seen," he added. "If you talk to any of the other native students — when I go to class there's one native and 100 other individuals, and so like when people see you they don't assume you're native."
---
What I wanted to see today was representation of any kind, which I feel is something that doesn't happen a lot for Native Americans. I really want to come and show out, actually show that we are still here, we exist.
–Isiah Cambridge, Northern Ute Tribe citizen and University of Utah student
---
He believes there's an erasure of his identity that can be seen in different ways. There is no checkbox identifying his race as Native American, there's a lack of indigenous faculty in places like the campus counseling center, and he said there's often an incorrect assumption of his race based on his outwards appearance.
But when he's with other indigenous students in places like the university's American Indian Resource Center Cambridge, he doesn't feel the pressure of assimilation or code-switching, defined as the process of shifting from one linguistic code to another, depending on the social context or conversational setting. When he's with other indigenous students, Cambridge can speak his native language or with what he calls his "rez accent." They can speak in their native language about food, culture and what it means to be indigenous.
"You see someone that's you. You see that shared history, that shared connection that you both grew up with," he said. "The food, the dances, the history that you have obtained, with another person it becomes more. It means something. In Western society, we are pretty invisible most of the time.
"That's why I think these events are so important we can show out. We show that we are still here that we, we do have a voice, that we still exist, that we have a life," he continued. "The students at the University of Utah are the pinnacles of what we are going to go forward. We're trying to build something from what our history has been given to us, or history that has happened throughout the past 200 years, and we're trying to give back to our communities in what ways we can."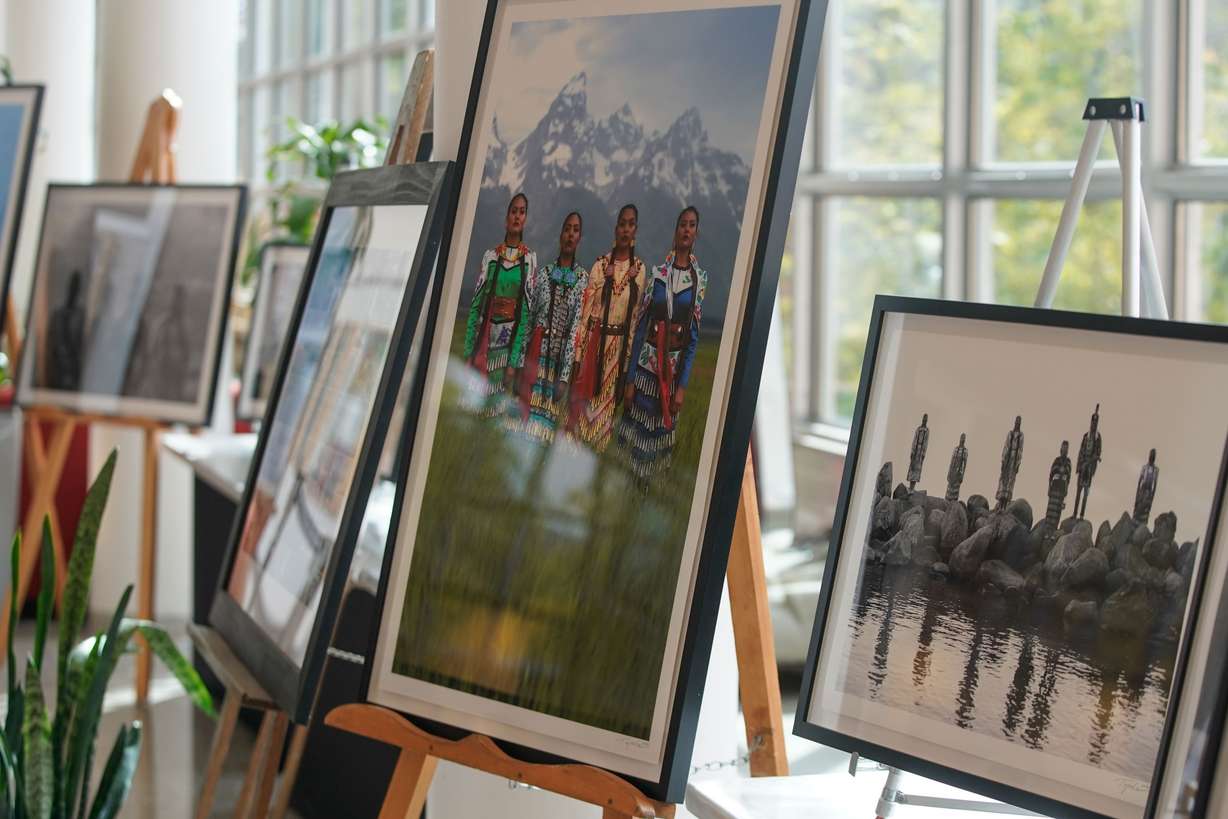 Cambridge is a film major and plans on producing documentaries that highlight Native American life and issues the community faces. He advised other Native American students to embrace their culture in a similar way.
"Learn about your culture. Be proud of your culture, don't shy away from anything. I've learned to hold my own, to represent where I can, to be where I can, to be proud of my image and not be scared to be at the front of things," he said. "Being able to educate people is then only contributing to a positive identity for Native Americans to Western society, and it comes in time."
For those who are not indigenous but want to celebrate Indigenous People's Day, Cambridge has some suggestions.
"Be supportive of the indigenous community and just understand more and more where we are now, what tribes would have belonged here, what tribes do belong here, what land is this," he said. "Be respectful."
Opportunities to do that were available throughout the day. Salt Lake City held a celebration Monday that included an opening prayer, a candlelight vigil, an honor song and a film screening of "Skindigenous."
The Salt Lake City Council will approve a joint resolution recognizing the day as Indigenous People's Day after the series of events. The joint resolution comes several days after the Biden Administration announced a proclamation recognizing the day nationally.
"On Indigenous Peoples' Day, we honor America's first inhabitants and the Tribal Nations that continue to thrive today," the federal proclamation reads in part. "I encourage everyone to celebrate and recognize the many Indigenous communities and cultures that make up our great country."
×
Photos