Estimated read time: 4-5 minutes
AROUND THE WASATCH — Weather wreaked havoc across the Wasatch Front on Friday, with heavy rains and a snow advisory coming to some corners of the state.
It also caused damage on the football field, from Salt Lake City to rural Utah.
Beaver took a perfect 7-0 record and a 34-game winning streak into Friday night's regular-season home finale in Beaver County. But San Juan didn't care, and Mother Nature's assist was just enough to wash it away.
Jace Palmer hit Bronson Snyder with a 25-yard pass with 2:15 left in the half for the only offensive points of the game, and the Broncos snapped the Beavers' 34-game streak with an 8-0 road victory.
"Such a great effort by our kids to come in to Beaver and get a win against such a great team," San Juan coach Barkley Christensen told the Deseret News. "The field was wet and it was a defensive battle. Our offense found a way to score and defense took care of the rest, shutting out a good offense."
Beaver, which hadn't lost since a 10-0 shutout to Grand County to end a four-loss season in 2018, couldn't find its footing the rest of the way. The Beavers averaged 32.86 points per game through their first seven games, but couldn't find the end zone against San Juan's defense, which added a safety with 4:39 left in the third quarter.
Just 24 hours after the longest winning streak in Utah High School Activities Association History (or a tie for it) ended at 48 games by Lone Peak, the state's second-longest active streak also came to a halt.
Beaver wraps up the regular season next Friday at South Sevier. The Broncos can finish the regular season with a nine-game winning streak with a home win over Grand County.
Here are five other Primetime Performers from Week 9 of the Utah high school football season.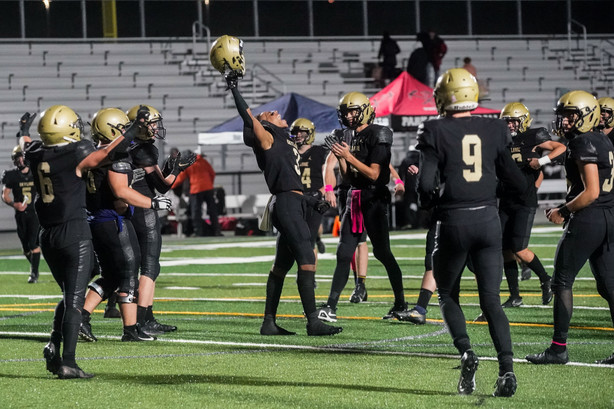 Kenyon Brown, RB, Farmington
Brown ran for two touchdowns, including a 50-yard sprint in relief of injured running back Boston Reinholdt, to lift the Phoenix to a 21-7 win over Fremont to extend their five-game winning streak.
Farmington (6-3, 4-1) was just 3 points away against region champs Weber from a title in their first season in 6A.
A win over Syracuse on senior night next Wednesday would give the Phoenix an incredible amount of momentum heading into the 6A playoffs.
Amine Amone, RB, East
Amone ran for three touchdowns to power the Leopards' triple-option offense to six rushing scores in a blowout win over the Spartans.
Amone scored his third touchdown on a 55-yard run with 43 seconds left in the half, lifting East to its second win of the year with the 14th score in his sixth multi-touchdown game of the year.
Petelo Tafisi, Kevyn Little and Omar Shah each added a rushing score for the Leopards (2-6).
Austin Okerwa, WR/FS, Skyline
Okerwa escaped behind the Park City defense to haul in a 60-yard scoring heave from Alexander Emery with 3:10 left in the fourth quarter to help the Eagles hold off the Miners for their third-straight win.
Ryan Wiscomb had a 32-yard field goal to open the game for Skyline (6-3), which ends the season against rival Olympus next Friday.
Sesi Vailahi, WR/RB, West
Vailahi caught two touchdown passes from Karson Lopati and ran for two more scores as the Panthers built up a 35-7 lead before holding off the Cougars.
Vailahi hauled in a pair of touchdown passes, including a 71-yarder from Lopati, in the second quarter as West jumped out to a 21-7 halftime lead. After Kearns responded with 23 unanswered points to pull within one score on Naki Leha's second touchdown, Lopati found Viliata Tua'one with a 30-yard strike and Vailahi put the game away for good with a 48-yard scoring run with 2:52 remaining.
Jace Evans, RB, Jr.
Evans ran for 154 yards and three touchdowns as the Utes jumped out to leads of 23-0 after one quarter and 37-3 at halftime in a rout of the Huskies.
Evans opened the scoring with a 30-yard run less than four minutes into the game, added a 3-yard scoring run with just under three minutes left in the half, and concluded the hat trick with a 33-yard touchdown with 8:38 left in the third quarter of the regular-season finale for Uintah (4-5).
×
Related Stories