FARMINGTON — After a blowout 72-17 loss to top-ranked Corner Canyon and an edgier 21-17 defeat to Bountiful where the Phoenix shut out the Redhawks in the second half, Farmington needed an offensive boost as much as it needed a win Thursday night.
When defense and special teams spot you an 18-point lead, the offense comes along rather well.
Kenyon Brown scored two touchdowns, including a game-opening 35-yard pick six, to help Farmington pull away from the visiting Maple Mountain 42-14 en route to the Phoenix's first win of the season to open the third week of the high school football season.
"Just watching the entire offense, their shoulders, everything drop and relax," said Farmington coach Daniel Coats, the former BYU tight end now in his fourth year with the Phoenix. "Then they went after it. Any offense can take advantage after something like that."
Brown capped Maple Mountain's first offensive drive with an interception, then stepped down into a wide-open field and sprinted 35 yards for pay dirt before the Phoenix's 2-point conversion gave them an 8-0 lead.
After Gavin Jensen's 30-yard field goal, the Phoenix stretched their lead to 18-0 on Charlie Holbrook's scoop-and-score fumble recovery near the goal line. And the offense did the rest.
Cannon Toone had a sack on the play to set up Holbrook's touchdown, a common theme on the night as Farmington (1-2) had three sacks in the first half and added another through Connor Mcfarland's takedown in the fourth after the Golden Eagles rallied to pull within 32-14.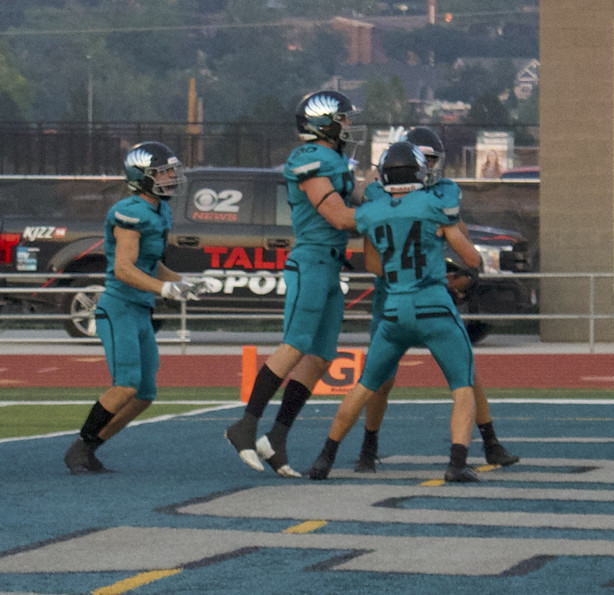 "That gives us so much confidence. It makes us feel like there's nothing to lose," said Farmington running back Boston Reinhold, who scored two touchdowns. "We have great athletes everywhere on the field, great receivers, a great line, great set of running backs. We're a very good team overall, very deep."
In between, the Phoenix offense started to hum. Reinhold scored his first touchdown on a 1-yard run to push Farmington's lead to 25-0 before Maple Mountain pulled one back through Brogan Miles' 8-yard touchdown strike to Bennie Killpack with 27 seconds left in the first half.
Prior to that scoring drive, the Phoenix held the Golden Eagles to six yards of offense.
Reinhold, a close friend of former Roy and Corner Canyon star (and current USC backup quarterback) Jaxson Dart, added a 4-yard scoring run on Farmington's first drive of the third quarter with 8:15 left on the clock. Miles pulled Maple Mountain (1-2) within 32-14 with an 11-yard strike to Jaxson Denton with 10:32 left in the game.
.@boston_reinhold runs in for a 1 yard score. Farmington 25-0 Maple Mountain, 1:31 2Q pic.twitter.com/Qp9U7TvDgb

— Patrick Carr (@patrickcarr_) August 27, 2021
But Brown put the game away for good with a 20-yard run to ice the game with 4:28 to go, and Jensen added a 32-yard field goal to finish the scoring with about 90 seconds left.
Farmington opens Region 1 play Sept. 3 at Weber. Maple Mountain is on the road at Alta before Region 9 play begins a week later against Provo.
"It's tough to open against a team like Corner Canyon. It's that double-edged sword," Coats said. "But our guys have worked for this, and they've earned every piece of this win. It didn't happen by accident.
"We've got a big week coming up, and to have this win and momentum behind us makes me feel a ton better."
×
Photos
Related Links
Related Stories