Estimated read time: 9-10 minutes
PROVO — Officially, the BYU football team has played three home games en route to a 4-0 start.
In reality, the Cougars have had four home games — with close to three out of every four fans of the 54,541 that walked through the gates at Allegiant Stadium wearing Cougar Blue instead of Wildcat Red ahead of the 24-16 "neutral-site" win over Arizona in the season opener in Las Vegas.
The Cougars' first true road tilt comes Friday night in one of the most hostile environments the program faces on a consistent basis: Utah State (7 p.m. MT, CBS Sports Network).
Lopini Katoa knows first-hand the hostility of The Hurd, the Aggies student section that stands directly behind the visitors' bench at Maverik Stadium.
"They get into it. They do their job as fans and try to get in your head," said Katoa, who had a breakout game of 129 receiving yards and a rushing touchdown in BYU's 41-14 win in Logan in 2019. "I remember in warmups, a receiver dropped the ball and they were on his back for that all game.
"It's fun. They cheer hard; but a couple of years back, they didn't have a ton to cheer about. We're hoping to do the same thing (on Friday night)."
Hostility, thy name is Utah State.
As much as college football is about players, coaches and schemes, it's also about fans, crowds and roaring decibels. It's something all teams missed during the COVID-19-impacted 2020 season, and one thing that the Cougars specifically pointed to show gratuity during the start of the 2021 season, the first time in program history that BYU has started 4-0 in back-to-back years.
Regardless of the overall number, the home crowd has done well for BYU, too. It helped turn aside the Wildcats' late game-tying drive in the second half of their opener with a swell of "B-Y-U" cheers that completely overwhelmed the Wildcats' section of supporters.
It helped turn the tide in a nine-game losing streak to rival Utah with a 26-17 win that ended with most of the capacity crowd of 63,470 flooding the field at LaVell Edwards Stadium.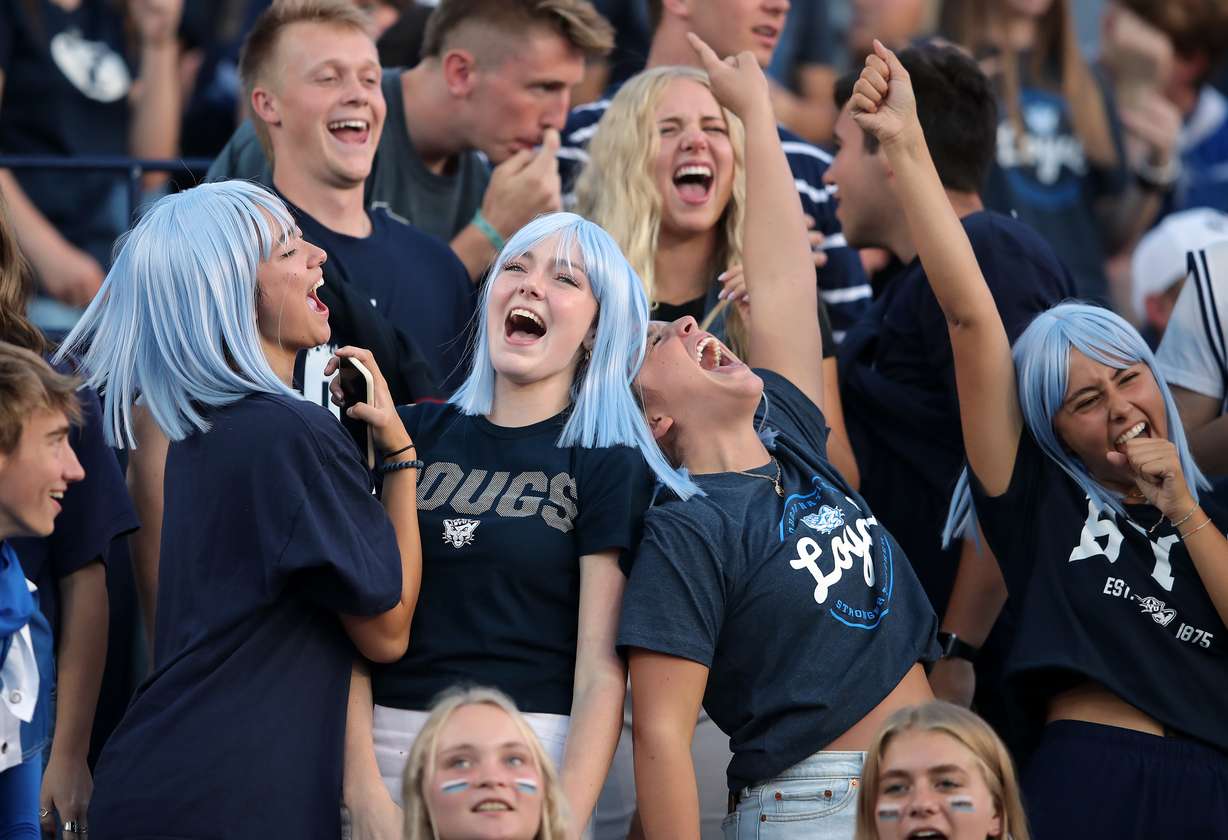 It brought a spike in decibels as then-No. 19 Arizona State tried to rally against the Cougars, a wave of noise so loud that it caused the Sun Devils to false start four times in a six-play drive while backed up to the ROC en route to BYU's 27-17 win.
And the 60,217 fans in attendance helped secure a 28-6 halftime lead over South Florida for a 35-27 win, even if the most noteworthy fan performance was the misidentification of a BYU recruit for quarterback Jaren Hall on ESPN's pregame broadcast.
"I don't think we'll play anywhere this year that will be that loud," said USF coach Jeff Scott, who spent more than a decade at Clemson. "I give them a lot of credit; their students were in their seats 2 hours and 15 minutes before the game. It sounded like a concert for two straight hours while we were in the locker room.
"It was definitely as loud as advertised — one of the loudest environments that I've ever coached in, and I've been in a bunch of them."
BYU has never trailed in four games in 2021. Coincidentally, each of those games have been played in front of highly-partisan, pro-Provo crowds.
The axiom will be tested ahead of the near-annual series held before general conference weekend of The Church of Jesus Christ of Latter-day Saints.
On Friday night, they won't be able to rely on that same energy of a home crowd, even if head coach Kalani Sitake believes the Cougars will definitely have their share of supporters in the 25,513-seat stadium originally named for legendary Utah State coach and athletic director Dick Romney in 1969.
But a year after the COVID-19 pandemic sterilized college football with empty stadiums and limited attendance, the thought of playing in front of a rabid, packed house — no matter the allegiance — is exciting.
"It will be a really cool experience for all of those guys, even for all of our coaches," Sitake said. "We have a lot of respect for Utah State and their fan base. The student section is right in front of our bench. We like to feed off the energy in every arena we play in, even if it's negative energy. We're going to do our best to play in it and appreciate the fact that we get to play college football with fans at all.
"We'll have representation there, too; I guarantee it."
BYU fans travel as well as any in the country, and many will certainly show up in Logan. But Utah State is a different beast, especially in the local community, and there's little doubt the Cougars will face their most hostile crowd of their season (so far) Friday night.
With that in mind, BYU coaches plan to make changes in practice for the forthcoming contest, mostly to combat the crowd noise and hyped atmosphere they are sure to find in Cache Valley.
Offensive coordinator Aaron Roderick said during his weekly Coordinators' Corner coaches show appearance that the offense has been practicing in the indoor practice facility, with speakers blasting music or white noise "as loud as it can get" to simulate the crowd.
"It's an hour and a half of miserable noise," he said, "but that's what you've got to do. I think we've got a good plan."
Utah State (3-1) has been one of the longest rivalry series on BYU's schedule, with 90 meetings dating back to 1922. The Cougars own the all-time series 49-37-3, but the Aggies took it back in back-to-back seasons in 2017 and 2018 before BYU wrestled it back to Provo with the most recent 41-14 win in 2019 in Logan.
Utah State coach Blake Anderson called BYU "again, the best team on our schedule to date" with "one of the best O-lines maybe in the country" a week after the Aggies took their first loss to Boise State. The former Arkansas State head coach was complimentary of the 13th-ranked Cougars during his weekly press conference Monday.
But he also knows the value of the in-state rivalry.
"Everybody that I've met since I moved to town has made it really clear to me how much this rivalry means to them," Anderson said. "I love college ball for rivalry's sake … and I'll learn more and more about this one. Not to say that it's not a huge one; but to me right now, the most important thing is the attitude and mindset of our football team moving forward, and making sure we're in the right spot.
"I want to beat BYU as bad as anybody in the Cache Valley, but probably for different reasons. This just happens to be the next opportunity for our team to show what we're capable of and we didn't do that Saturday. Hopefully Friday night we will look like the team we are really capable of being."
The Aggies rank 10th nationally in total offense, averaging 533.2 yards per game, including 319.8 yards through the air for No. 13 in the country. Wide receiver Deven Thompkins is a Biletnikoff Award candidate with 128.5 yards per game for the third-best mark in the country.
But Utah State's defense moves the motor, too, especially with a secondary aided by linebacker Justin Rice whose three interceptions ranks third nationally and 10.0 tackles per game 14th.
The front seven work like they do because of a back end of depth and experience, led by senior safety Shaq Bond, the 5-foot-11 defensive back who passed on the NFL draft to come back for one more graduate senior season in Anderson's first year with Utah State.
"They return two starting corners, and their safeties all have experience," BYU passing game coordinator Fesi Sitake said. "That's definitely a unit that we feel is strong. It's a unit that can do a lot against an offense.
"We know we have a challenge, and we are excited for an opportunity to face a really solid defense."
It's not the rivalry — that is, the main one, the one with the University of Utah — but Sitake recently had a sign made inside the Cougars' football offices that says, "Win the rivalry games," and it includes Utah, Utah State and Boise State.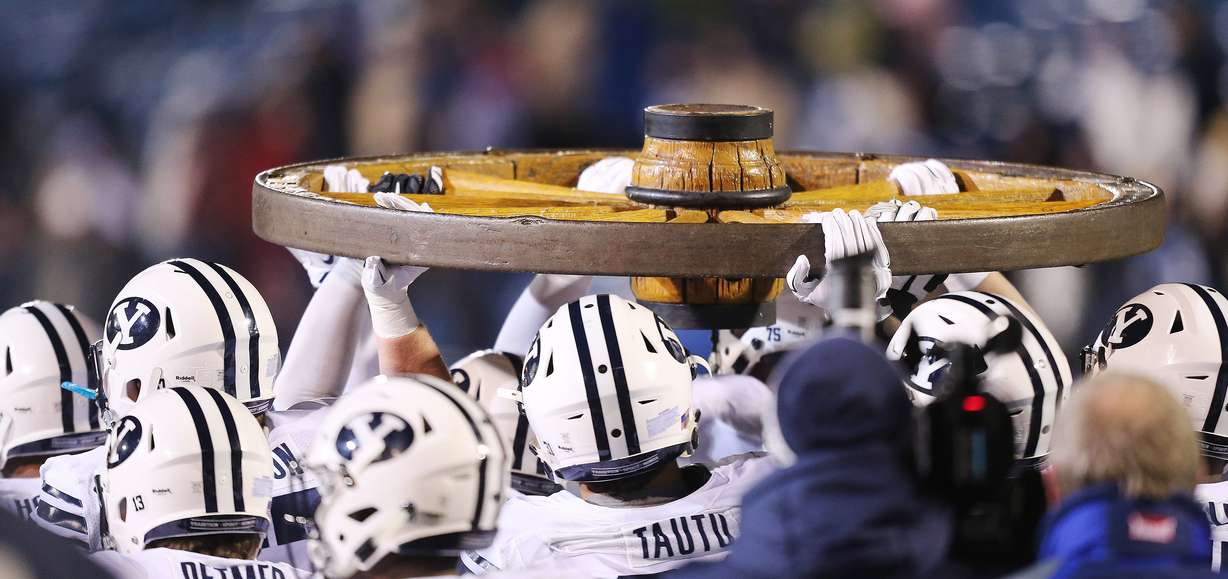 So, not the rivalry — but a rivalry.
"It's going to be called a rivalry," BYU safety Chaz Ah You said. "We're trying to win all of our in-state games, as well as Boise State. But for us, it's also another game. It's another chance to prove ourselves, and another game to improve.
"I think our team has a very future-set mindset. Rivalry games aren't the only thing important to us. We're striving for something bigger than just winning the rivalry games."
Of course, the rivalry is fueled by two local fan bases that live as close together as the Cougars and Aggies. With two campuses separated by 126 miles, alumni and fans often co-mingle in the same spaces — anywhere from Provo to Salt Lake City to Ogden to Logan, and every city in between — and bragging rights are always at stake.
Wide receiver Neil Pau'u, who grew up in Southern California, said he never really considered Utah State to be a rival before he enrolled at BYU. But Gabe Summers, the defensive lineman who prepped at Westlake, held the opposite take.
"I do consider them a rival; but I think more than anything, Utah State is another good team to play," he said. "Oftentimes, there are people who really dislike us, and to us it's just another team. Utah State has been a good example.
"Of course, we're going to play to win. But to us, we're just ready to play another game."
The two teams were scheduled to face each other last year in Provo, but the COVID-19 pandemic canceled the game when the Mountain West shifted to conference-only play.
More often than not, it's taken extraordinary circumstances like a global pandemic to interrupt the series, which previously played every year since 2007 and only missed five years since 1996.
And every time the game is played — whether in Provo or Logan — the rivalry characteristics come out.
But especially in Logan. There's always a little extra juice when BYU travels to Logan.
"I love it. The more hostile the environment, the better for me," said Ah You, a Utahn who prepped at Westlake and Timpview. "That brings out a different, more competitive side of me. I remember back in 2019 in pregame when they were doing all these different chants, and the team was talking, too.
"It got pretty heated."
How to watch, stream, and listen to the game
No. 15 BYU (4-0) at Utah State (3-1)
Maverik Stadium, Logan
Kickoff: Oct. 1 at 7 p.m. MT
TV: CBS Sports Network (Rich Waltz, Aaron Taylor, Jenny Dell)
Radio: BYU Radio XM 143, KSL Radio 1160 AM/102.7 FM (Greg Wrubell, Riley Nelson, Mitchell Juergens)
Series: BYU leads, 49-37-3
Wagon Wheel: The Old Wagon Wheel became part of the BYU-Utah State rivalry in 1948, when the Aggies took home the trophy with a 20-7 win. Since then, BYU has owned a 41-24 record in its only rivalry game that currently has a trophy attached to it.
Friday Night Lights: BYU is playing its first game of the season on Friday night, where it holds a 7-2 record under Kalani Sitake that include the last four consecutive pre-weekend appearances. Utah State is 1-0 this season on Friday after a 48-24 home win over North Dakota on Sept. 10. The Aggies are 23-31-1 all-time in Friday night games.
×
Related Stories