Estimated read time: 5-6 minutes
PROVO — It was always going to be hard for BYU fans to beat the moment in the season opener when their cheers completely drowned out the other team, a neutral-site game at Allegiant Stadium in Las Vegas when Arizona's attempts at a "UofA" chant were swiftly dwarfed by the overwhelming crowd of Cougar cheers inside the NFL's newest dome.
Two weeks later, though, Cougars supporters may have done just that.
And it came at the most necessary time.
Saturday night's 27-17 win over No. 19 Arizona State needed a lot of things for BYU to pull off the 3.5-point upset, a win that gave the 23rd-ranked Cougars consecutive 3-0 starts for the first time since the 1951 and 1952 seasons.
Combined with the victory over then-No. 23 Utah, the win over the Sun Devils also marked the first time in school history BYU has taken down AP Top 25 opponents in consecutive weeks.
It needed Tyler Allgeier to run for 69 yards and a touchdown, but more importantly to secure a game-changing fumble in tracking down an interception in the second half with a one-possession lead.
It needed Jaren Hall to throw for 214 yards and two scores, and to make up for two interceptions with a fumble recovery on Allgeier's otherworldly play while also making an impact with his legs in running for 5.4 yards per carry.
It needed Max Tooley to rally a defense with a career-high 10 tackles and his third career interception. It needed Baylor Romney's lone completion on a 3-yard touchdown pass to seal the win after a five-minute long drive.
It needed a stronger presence from the tight ends, like Isaac Rex's two touchdowns or Dallin Holker's critical 31-yard snag for a first down in the second quarter.
But also — and maybe as much as anything else — it needed the fans.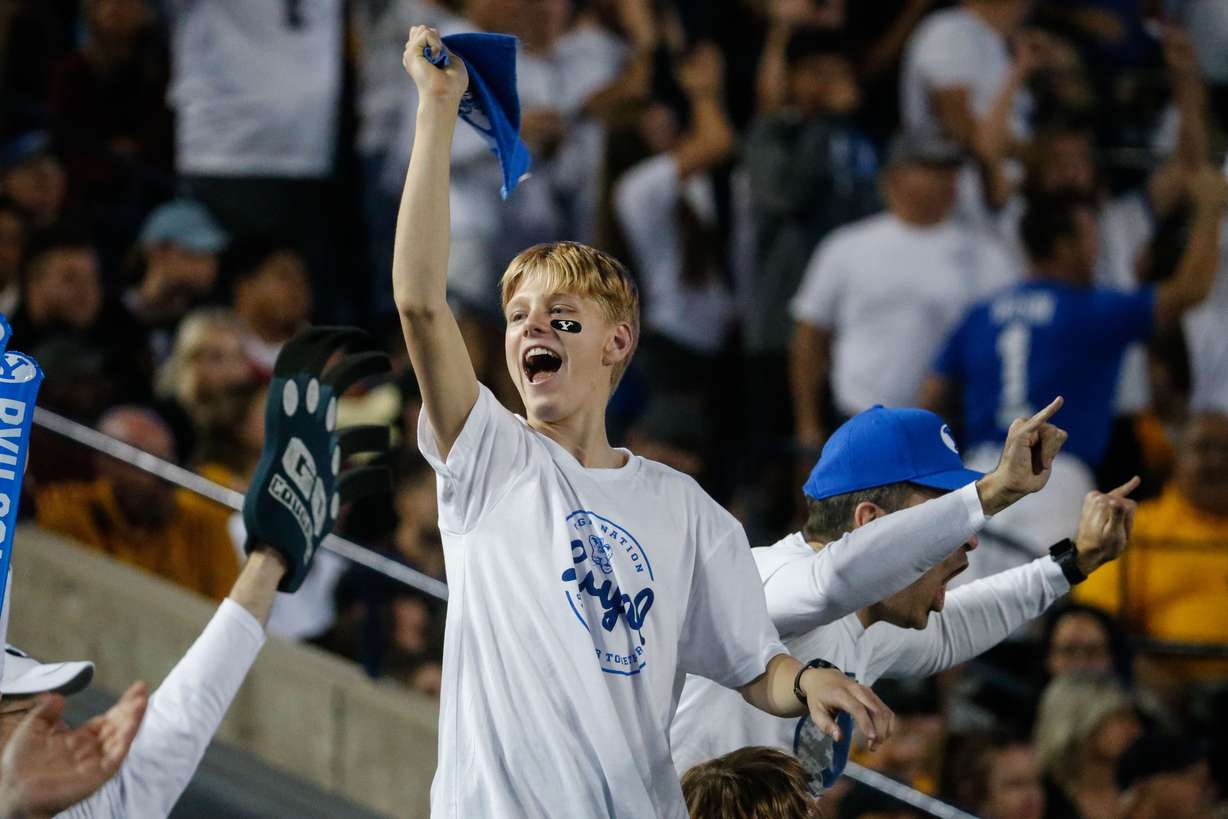 When BYU had its backs against the wall — or more accurately, when the Sun Devils were backed against the ROC — the fans showed out with a wave of decibels, a moment that one BYU employee said was as loud as anything he's heard since he started working for the university in 1996.
"The fans were amazing. They were so loud tonight," BYU coach Kalani Sitake said. "Everybody was yelling. I looked up at the stands and it seemed like everyone was yelling and making noise. It was a huge advantage for us."
The Sun Devils had 16 penalties for 121 yards, severely limiting a team that out-gained BYU 426 yards to 361 on the night.
And while not all of those penalties came because of loud stadiums and fan noise, some of them did. Even some of the most important ones.
"I think the noise played a little bit of a factor when we were backed up obviously, but it's just too many penalties," ASU coach Herm Edwards said. "We had some momentum coming into the third quarter. I thought we got back in the game, and then the underlying recurring thing happened: we turned the ball over. It's more penalties and you can't play football like that; it's just embarrassing, it's not a good look."
Sun Devils offensive coordinator Zak Hill admitted that the crowd had a literal impact on the game, with decibel levels so high at some points that it became difficult for the offensive linemen to hear Jayden Daniels' cues to snap the football.
"The crowd noise got to us a little bit," Hill said. "They weren't able to hear Jayden's clap and so we had to transition into a different form of snapping the football. They got to us a bit, rattled us a bit, and then it just compounded."
At the most critical moment of the game, none of the near-sellout crowd of 61,370 standing fans in LaVell Edwards Stadium were silent. BYU fans were screaming at Daniels; ASU fans were yelling to sit down.
They didn't. They just got louder.
And Arizona State — playing with just a 21-17 deficit after a 10-0 run — couldn't take it.
The Sun Devils (2-1) were playing in front of their first road crowd of the season — their first in front of a packed venue in two years after COVID-19 restrictions limited crowd sizes through all of the Pac-12's limited 2020 season — and they looked the part.
ASU was no longer playing Southern Utah or UNLV, with respect to those teams. Those games were at home, with a friendly crowd.
BYU fans are built differently, though, especially in their native habitat of Provo. Those voices, screams, thunder sticks or whatever else they used to make noise had a direct impact on the game, too.
"The difference between second-and-10 or second-and-35, those are some of the most important players," Tooley said. "Coverage is easier, you have so much to work with. All credit to the ROC: they were monstrous tonight, they brought the energy."
ASU had four false start penalties during a six-play drive that lasted nearly five minutes and accumulated 9 net yards. It was sheer pandemonium as Daniels tried to communicate plays and snap counts, and his teammates simply couldn't hear him from a few yards away.
"The ROC was probably the key," Rex said. "They were literally the 12th man, like the Seahawks. The ASU offense couldn't even hear the quarterback when they were by the ROC.
"They were literally the difference makers in this game. I love the ROC so much, and all the BYU fans."
BYU wraps up a three-game homestead Saturday against South Florida. The Bulls (1-2) won't bring in the same hype machine as last week's rivalry win over Utah or a top-25 matchup with a third consecutive Pac-12 foe.
But the game, which will kickoff at 8:15 p.m. MT on ESPN2 or ESPNU, will be played at home as the Cougars continue a rare September slate that won't leave the state of Utah until Oct. 16.
And that's a secret weapon that has already had a major effect on the 2021 season.
×
Related Stories