Estimated read time: 2-3 minutes
HUNTSVILLE, Weber County — Snowbasin Resort is slowly turning into a community as it plans for a massive expansion of services in the next few years.
The Weber County ski resort announced Thursday it will build a 300-room hotel along with more parking and ski lift changes to be completed by 2024, as the first phase of a village master plan to turn the resort into a village.
"We're thrilled to announce this extensive list of improvements for both our local guests and travelers that will now have the opportunity to stay at Snowbasin," Davy Ratchford, the general manager of Snowbasin Resort, said in a statement. "These new developments put us on track to become the world-class resort destination envisioned for Snowbasin."
Some of the improvements are already underway or complete. For instance, the 435 new parking spots in the Maples and Canyon Rim parking areas will be available this upcoming season. Crews are still in the middle of a project to replace a ski lift in the Middle Bowl Triple with a high-speed six-person lift that will also open this season, according to a spokesperson for the resort.
But several of the other expansion plans are expected in the next few years, including a 300-room "all-inclusive" Club Med hotel to be located at the current site of the original Day Lodge and Wildcat parking area. Resort officials say the hotel is expected to add about 400 new jobs to the local economy once it is up and running, which is currently estimated to be December 2024.
The hotel is a key component of a village master plan that will also include restaurants, shops and "other programming" near the base of the resort in the coming years. In addition, the resort announced it will expand resort space, adding a new Ridgeline chairlift and beginner terrain also by 2024.
Construction of a resort village is planned to begin in 2025, where retail, residential and resort amenities will be added "over the span of many years," according to Snowbasin Resort officials.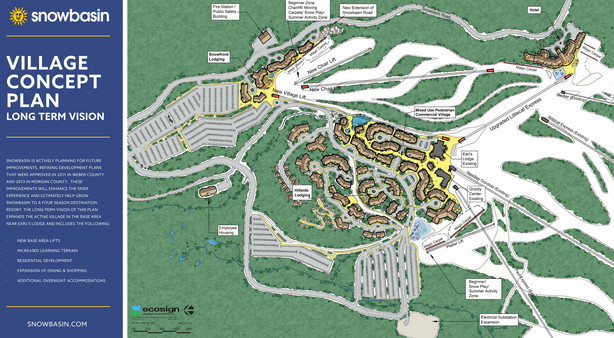 "We will be working over the next few years to build upon the incredible vision that Earl Holding and his family have had for this resort," said Chris Frampton, CEO of East West Partners, the developer of the resort. "Combining the best ski experience in Utah with pre- and post-ski experiences that maintain the character of Snowbasin is our top priority."
Resort officials said there will be two open house events about the expansion next week, which have already been reserved.
×