Estimated read time: 7-8 minutes
This archived news story is available only for your personal, non-commercial use. Information in the story may be outdated or superseded by additional information. Reading or replaying the story in its archived form does not constitute a republication of the story.
TAYLORSVILLE — When it comes to piecing together representative boundaries, Stuart Hepworth views the roads as a key component bringing the different districts together.
For him, it's important that someone can drive from one Utah voting district to another without randomly crossing into another district in between. That's something that can be difficult in the Beehive State.
"Utah's geography is pretty uniquely hard as someone who values cohesiveness and road contiguity. Compared to other states, it's a lot harder to create districts that are compact and that are road contiguous," he said, during a Utah Independent Redistricting Commission meeting Tuesday evening. "With Utah's geography, you have areas that look like they should be connected on a map, like Uintah and Grand counties as an example, where there's no real way to get between them."
As Utah's independent redistricting commission continues to gather feedback regarding the state's new voting maps for the next decade, its leadership spent the majority of Tuesday's 2½-hour meeting listening to how a handful of the state's residents designed their own congressional, legislative and school board maps.
A design-your-own map feature, which was launched last month, is one of the innovative ways the Utah Independent Redistricting Commission is trying to compile public feedback in the process of trying to come up with fairer voting maps to be considered by the Utah Legislature later this year.
The commission has gotten a modest amount of response over the past few weeks. Commission staff members said they've received more than a dozen congressional map submissions but they've struggled with school boards, receiving just two in that category.
The system allows anyone to design maps and send those to the committee. It drew in people like Hepworth, a South Jordan native and current University of Utah student. Hepworth was perhaps the star of Tuesday's meeting, showcasing not just his designs for all four voting maps but multiple congressional district options based on various definitions of the assignment.
Explaining his Utah House of Representatives map to the commission, he said that aside from his roads theory, he wanted to focus more attention on neighborhoods and similar communities — a redistricting term referred to as communities of interest — rather than keeping cities in the same districts.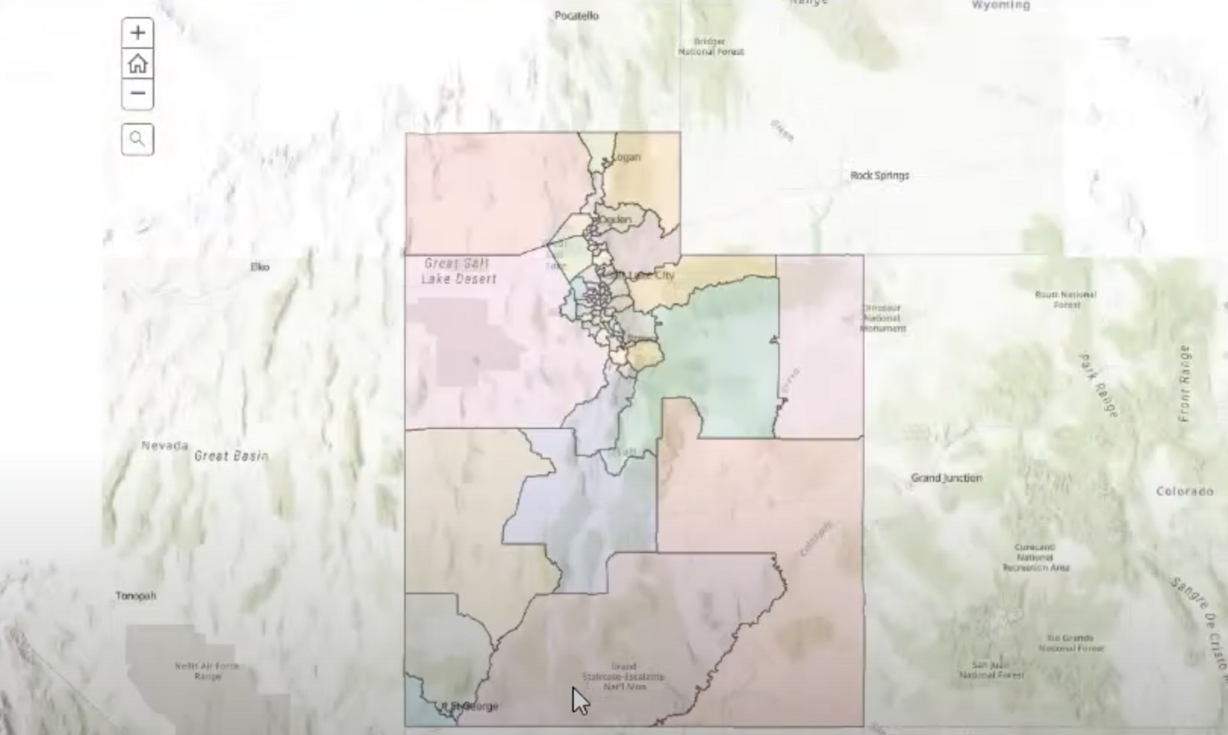 "I tried to avoid splitting neighborhoods up in cities with very well-established neighborhoods," he said. "One of the (big) things in all of my maps is keeping districts road-contiguous, so you can drive from one district to another without crossing into another district."
Communities of interest are a large component of redistricting. They are neighborhoods and communites with shared interests. So if you want to be in the same voting district as your neighbor, that's a community of interest. The same may go for a specific neighborhood in a city, such as Glendale in Salt Lake City or East Bay in Provo.
What is not a community of interest? Trying to keep a county in the same district, which is some of the feedback the commission has received, according to Joey Fica, a GIS and logistics specialist for the Utah Independent Redistricting Commission.
The commission allows residents who maybe aren't into designing maps to show on the map the community of interest they want preserved. The commission views economic, educational, environmental, ethnic, industrial, language, local government, neighborhood and religious communities as all examples of communities of interest.
Those comments can be found online for anyone to view. For instance, one resident in Salt Lake City's Sugar House neighborhood said they view "traffic, air pollution or safety concerns" as unifying topics for their area, as a reason they would like to be in the same districts. A resident in Vernal wrote that it was important to keep Native American lands and reservations in eastern Utah together so that they could "maintain culture and ... rights."
Provo resident Daniel Friend argues rural Utah is potentially the state's largest community of interest. That's why he designed a congressional map that featured one giant district for rural communities and three smaller districts that divvy up the population cluster that is the Wasatch Front.
"Although it is very expansive geographically, rural Utah shares so many things," he said. "One thing the census brought up is that a lot of rural Utah is losing population, a lot of the Wasatch Front is gaining it. I don't know how one (representative) can represent both of those interests because they are direct opposites."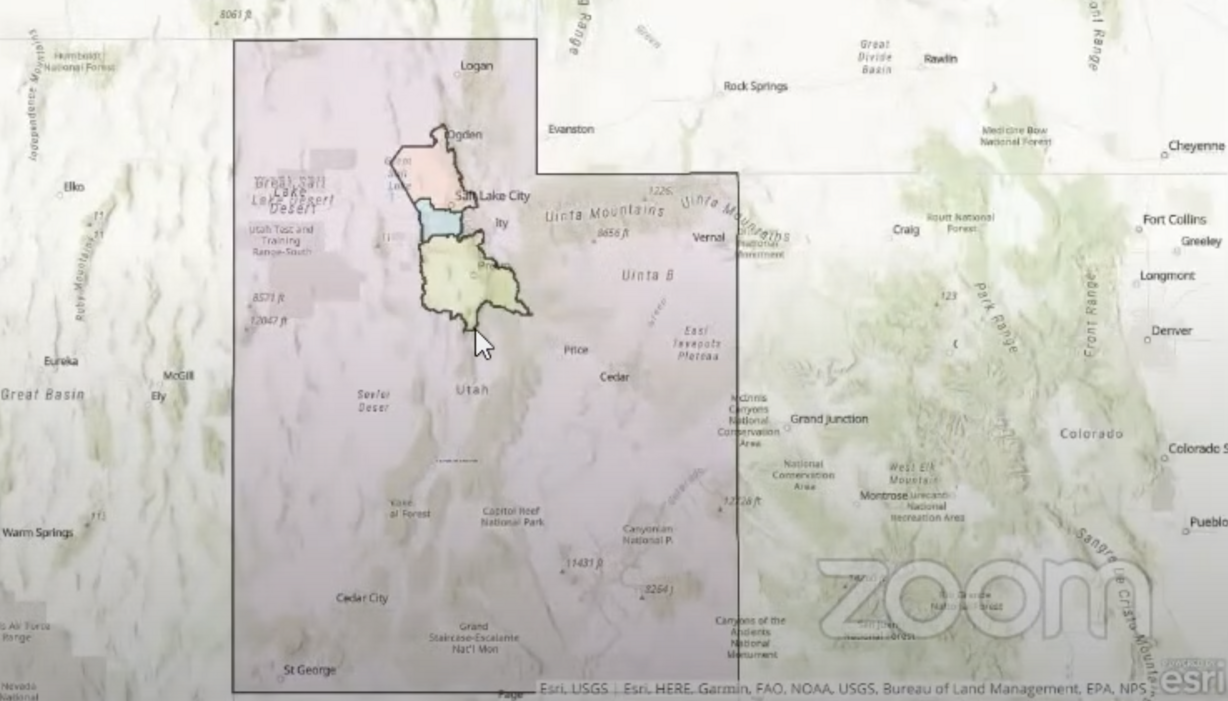 He told the commission that he is aware that the current congressional districts are split up in a way that ensures that all four districts have at least some urban and some rural communities in them; in fact, he said he heard feedback from a rural Utah resident who prefers that. However, he's concerned that some districts are already determined by urban participation and all four districts will eventually be if population trends continue the way they have.
Unlike Hepworth, Friend also believes cities should be kept together as much as possible. That's why his Utah legislative districts — a map that wouldn't be accepted as is because of problems with some of the boundary population sizes — kept places like Eagle Mountain and Riverton within the same House of Representatives districts, as well as combining Cedar City and Enoch together.
Travis DeJong, a Utah resident and Draper City employee, shared his maps with a similar approach. He said his goal was to keep counties and cities intact as much as possible. Both he and Friend also tried to split up larger cities by neighborhood boundaries instead of placing the lines straight through them.
Another approach involved taking the current boundaries and adjusting them to new populations, which is what Kevin Jones did. Still, the Utah resident was ready to crown Hepworth the champion for having the "best House map on this entire earth."
The Utah Independent Redistricting Commission has until Nov. 1 to finalize maps to send to legislative leaders. Gordon Haight, the commission's executive director, said they've entered "crunch time" in their process.
The Utah Legislative Redistricting Committee, which is composed of Utah legislators, is also taking in public feedback before it also recommends potential voting maps for the next decade. Despite the lengthy delays in receiving 2020 census data that is used to help determine voting maps, the state is still on pace to complete the process before the end of the year.
It's possible one of the designs shared Tuesday could be selected by the commission before the end of October when the commission will wrap up public comment and submit a design to state leaders. It could also end up being the state's final voting map.
Even if that's not the case, Rex Facer, the chairman of the Utah Independent Redistricting Commission, told the residents who shared their maps that he is appreciative of their efforts.
"There's something very helpful about seeing alternative visions of how we can group things," he said.
Meanwhile, the commission also voted to add and amend some of its public feedback tour that is already underway. It added a new event in Mexican Hat in San Juan County on Sept. 29 at the request of the Navajo Nation, according to staff members. It also will hold a newly scheduled meeting in Moab on Oct. 13.
The commission also switched its Oct. 9 meeting from Saratoga Springs to Eagle Mountain and moved up its Herriman meeting from Oct. 22 to Oct. 21. The commission still has 10 public feedback events scheduled across the state through Oct. 23.
Facer said Tuesday that the commission will continue to accept public feedback and also map designs through Oct. 23, as well. All of those can be done through the commission's website.
×
Related links
Related stories
Most recent Politics stories