Estimated read time: 9-10 minutes
TAYLORSVILLE — A group of local government leaders walks into a room with a Utah map.
There's no punchline here. They were all focused on how they can use a computer program tool to design a voting district map that best represents state interests. It's quite possible that they, or really any Utahn, have the perfect design to evenly divide the state without partisan influence.
The Coalition of Utah Mayors and the Utah heads of the two major political parties came together Monday to express their support for public input in the redistricting process — the process to split up congressional, legislative and school board representation for the next decade — and to learn how to use a new online mapping program that will allow anyone to draw their own maps online for the Utah Independent Redistricting Commission to consider.
Rex Facer, the first-ever chairman of the Utah Independent Redistricting Commission, told KSL.com on Monday that the commission is still translating the raw census data that arrived last week into programs that will make it possible to design voting districts based on the new data. That work is expected to be completed by next week, and the first rough draft is expected in just a few weeks.
Once the data upload is complete, Utahns will have the ability to even make their own maps to show leaders what they believe the best district breakdown is. The commission hopes that Utahns will follow along and become invested in the process so that the final maps are ones that almost everyone could agree with. That's why they've launched TV ads and attended community events across the state, just so people are aware of what the redistricting process is and why it's important for Utahns to be involved.
"It's really important that we get that word out to people so we have them come and voice their opinion, voice their reactions to the maps that we have drawn," Facer said. "One of the things is the maps will be somewhat interactive to some extent. We'll put out a map, we'll get public input and we'll see where we got it right, where we got it wrong and try to make corrections, try to make it better and more representative of the people's interests.
"After all, we're trying to draw the peoples' maps."
How you can get involved
Utahns will be able to draw congressional, Utah House of Representatives, Utah Senate and State School Board maps using 2020 Census data the way they best believe fit beginning as early as next week. That function will be available on the commission's website.
Once on the site, click the "Show Us Your Community" on the homepage to find the map function, and then "submit a report" to begin the process. There, users can draw out the maps of their own community and submit a comment as to why the user drew the map in the way they did before sending it to the commission.
There are two types of maps that people can draw, Facer explained. The first is referred to as a "community of interest," which can be a neighborhood or community that would benefit from staying in one district rather than being split up between multiple districts.
"It might be an economic interest, it might be a social interest, it could be an ethnic community — something where they want to see it kept together because they think they share interests that they want to see represented," he said. "So people can go online and draw those communities of interest."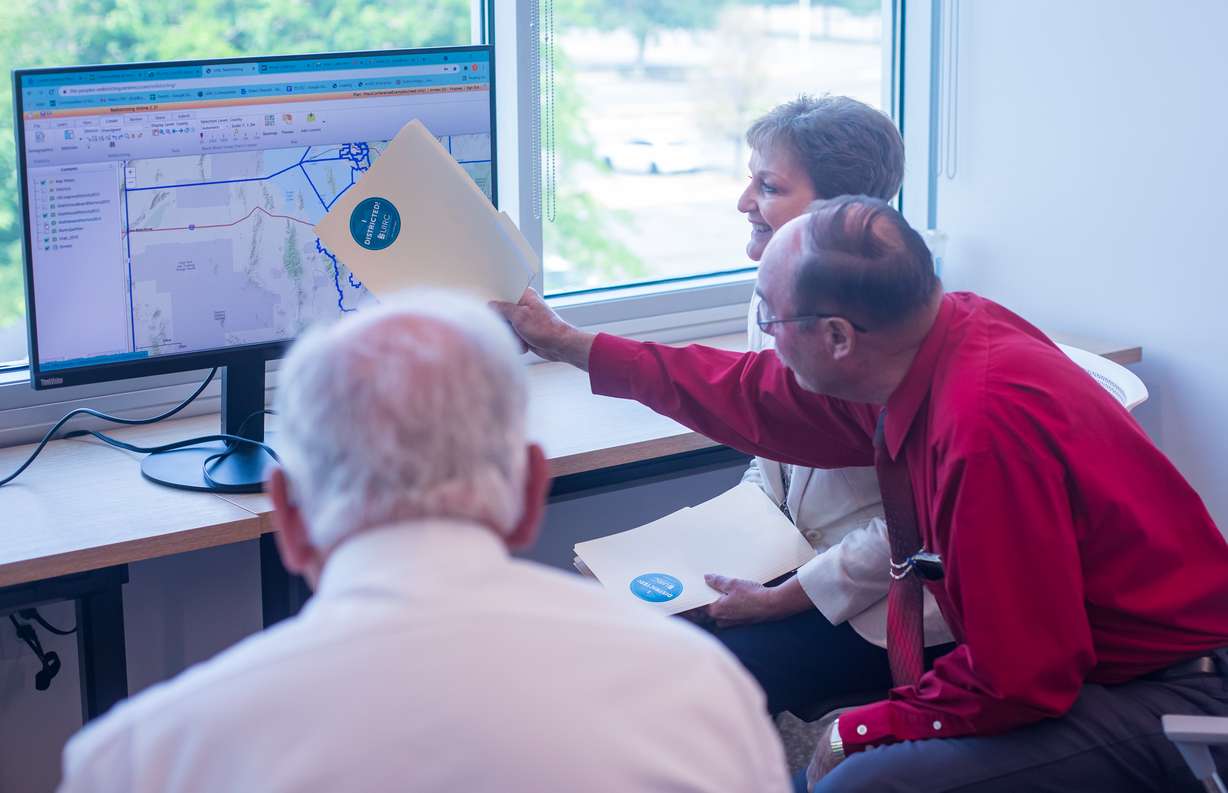 The second option allows people to draw complete Utah voting maps. This option is a bit more advanced because there are parameters that must be met and it becomes even more difficult the more districts there are for the state to be divided into.
For instance, the Utah Legislative Redistricting Committee, which the commission will report to with their suggestions later this year, released on Monday recommended district sizes based on the new Utah population counts from the 2020 Census. The "ideal" congressional district size is 817,904 residents, while State School Board districts should contain 218,108 residents, state Senate districts should contain 112,814 residents, and state House districts should contain 43,622 residents in an ideal situation.
That said, there can be some population range depending on the circumstances. A State School Board district's population range is listed at between 207,202 and 229,013 residents.
"They're all challenging because they have to have equal population, but the software lets you check to see if you've got it right," Facer added. "It does checks to make sure you didn't leave anyone out and captured everybody."
The commission is also accepting public comments through the website without users having to draw maps. Facer said people can write them to let them know what they want to see on their maps.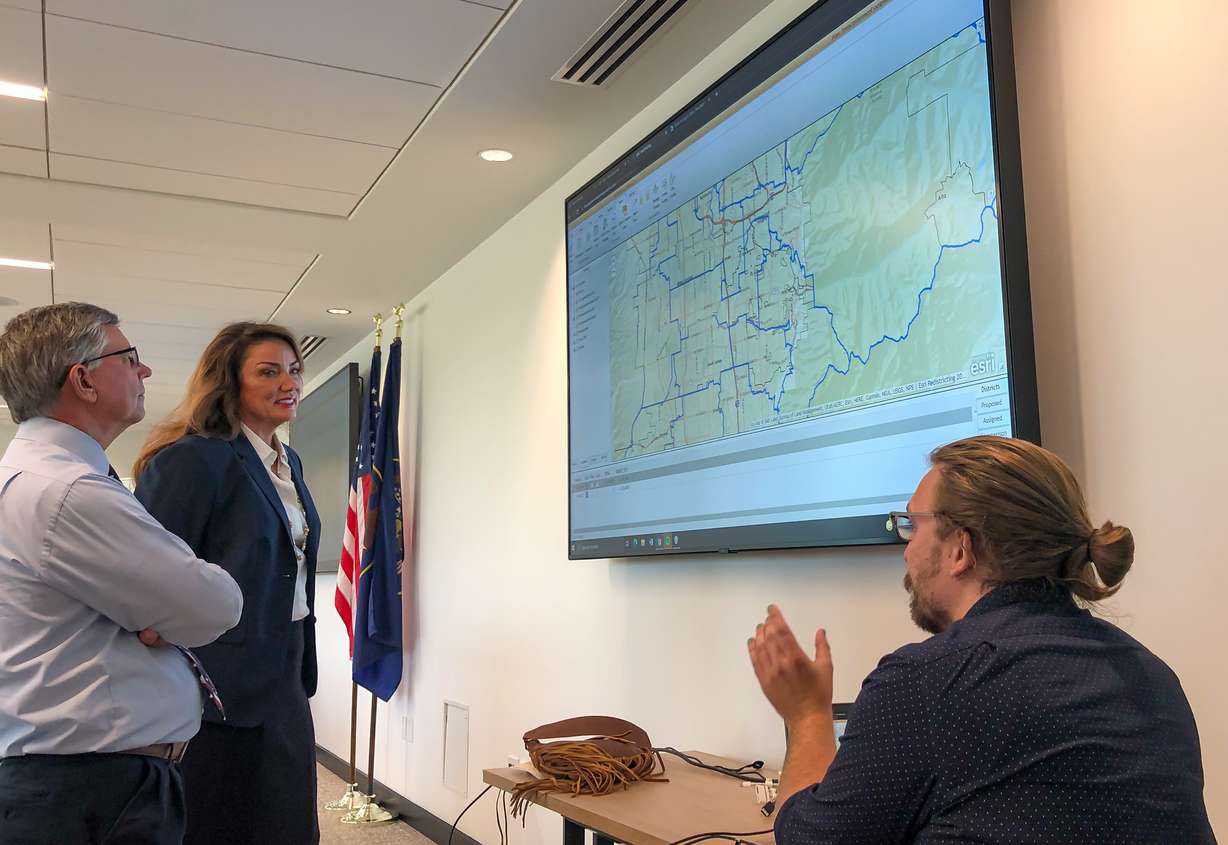 Provo Mayor Michelle Kaufusi, who attended the commission's seminar Monday, said she hopes Utahns will get involved in the process because of how important it is in the representation process.
"This is such a huge opportunity for citizens," she said. "You only get this opportunity once every 10 years, so if you don't get engaged and speak up and try and get on the (online input) tool and figure out how it best serves you, then it's hard to have an opinion, right? ... Honestly, you won't have another chance (to adjust representation boundaries) for another 10 years."
Removing partisan bias from maps
The Utah Independent Redistricting Commission itself was set up through a voter initiative that Utahns narrowly passed in 2018. It called for an independent commission to draw state voting boundaries so it could clear up voting districts drawn to benefit one political party over another, a process known as gerrymandering. The state Legislature tweaked the bill in 2020 to the system that exists now.
---
We're trying to reach out and gather as much input as we can but, at the end of the day, it's the public that has to be willing to let their voice be heard. We're willing to listen. We want them to speak up.
–Rex Facer, Utah Independent Redistricting Commission
---
Under the format, the commission advises a legislative committee that recommends maps that the Utah Legislature votes on. Facer said the commission is doing all it can to live up to the reason behind its creation. They plan to strip away any data tied to political affiliation as they draw maps.
"That will be completely off the table, so we won't have any idea where the pockets of Republicans are, the pockets of Democrats are," he said. "When we draw maps, we're going to be paying attention to municipal boundaries, county boundaries, these communities of interest that people tell us about, trying to make sure we're paying attention to natural boundaries and borders like mountain ranges — trying not put people on two sides of a mountain together if we can avoid it."
To hold itself in check, the commission will stream all its meetings live on YouTube over the next few months. That means all Utahns, even those who can't make it to meetings at the state office in Taylorsville, can see where the commission believes boundaries lines should be and why.
The seven commissioners hope that stripping away partisan politics will make the process more inviting for Utahns. It's why they're doing whatever they can to get the word out about redistricting.
"We're trying to reach out and gather as much input as we can but, at the end of the day, it's the public that has to be willing to let their voice be heard," Facer said. "We're willing to listen. We want them to speak up."
The commission's goal is why political parties and nonpartisan local government leaders continue to voice support for its work. Jeff Merchant, the chairman of the Utah Democratic Party, said he hopes that the final maps will come out of the commission because it'll strip out any partisan design.
"We will fully support the maps that come out (of the independent commission); whether those maps benefit the Democratic Party or not — those are the maps we should be looking at," he said Monday. "I encourage every member of the Utah Legislature to do the same. The Legislature shouldn't be creating their own maps. They should be looking at the maps the Utah Independent Redistricting Commission puts together."
Carson Jorgensen, the chairman of the Utah Republican Party, on the other hand, defended previous maps as being the best they could be with the data available at the time they were drawn. He said he's confident that will happen again this time around, especially if Utahns chime in and help in the process.
"I just want to encourage everyone to be involved and to have complete and total transparency throughout this process," he said. "Take all the data we have and make the decisions that are the best for the state of Utah."
The commission's timeline
Perhaps nobody in Utah was as excited about Thursday's census data release as Facer. That's because, as a result of pandemic-related quality assurance delays, the 2020 census data didn't come until mid-August, and the commission's work was supposed to have completed its job by now.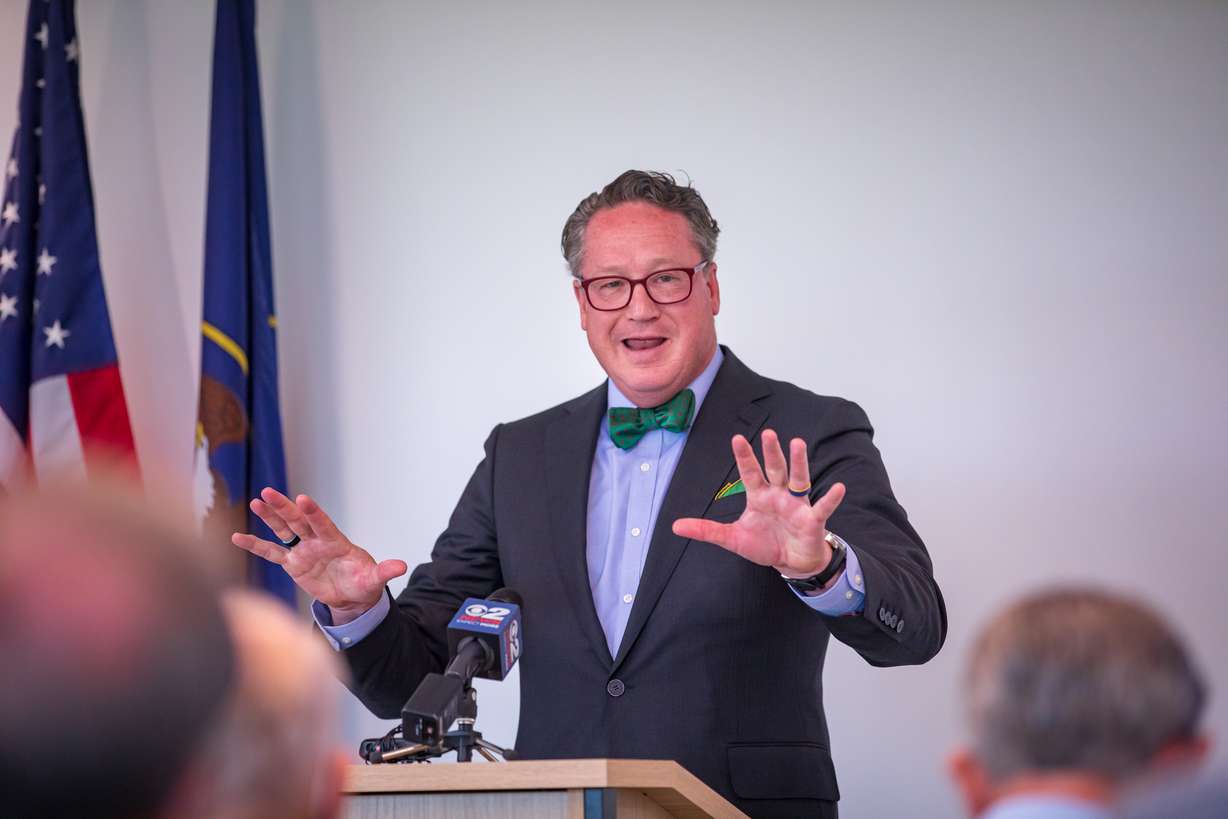 The state Legislature altered Utah's redistricting timeline to account for this delay, but the commission is still rushing to plug the data into the system to get maps cranked out as soon as possible. So there wasn't much of a celebration Thursday; the commissioners went right to work making sure the raw census data goes into programs that churn maps, tables and anything else that helps in the redistricting process.
"We immediately got to start looking at some of the data, to start seeing some of the patterns and shifts," Facer said. "It's still going to be another week or so before the data is all uploaded into the software so we can start drawing maps, but it's starting to become more real and more exciting."
The first drafts are expected to be released in the first week of September, before the commission holds meetings across the state to gather input for changes to the voting maps. They'll also look at the public comments and maps submitted to them to make any necessary alterations that way, too.
The commission has until Nov. 1 to finalize maps to send to legislative leaders.
"Our hope is because of the public process that we've gone through, the Legislature will see and treat those maps with the respect that they deserve," Facer said, "because they will be the maps coming from the people's input."
×
Related Stories