Estimated read time: 4-5 minutes
This archived news story is available only for your personal, non-commercial use. Information in the story may be outdated or superseded by additional information. Reading or replaying the story in its archived form does not constitute a republication of the story.
SALT LAKE CITY — Jimmer Fredette still commands an audience.
It's been eight years since Fredette captivated the college basketball world by scorching nets across the country on his way to being named the National Player of the Year during his senior season at BYU.
Eight years that's been filled with a disappointing NBA career and a comeback in China. Fredette hasn't played professionally in America since 2016, but his name still gets attention.
On Saturday night, ESPN ran an entire segment on SportsCenter on Fredette's first game back in the NBA. Fredette played just four minutes and scored 0 points in the Suns' loss to the Kings. But the highlights still revolved around him. He was the story.
And before stop No. 2 of what he is calling his "mini-reunion tour" in Salt Lake City, Fredette stood in front of a horde of Utah media members just like the old times at BYU. But even before that, Fredette provided a flashback of his own.
The now 30 year old was in a Utah arena showcasing the shooting touch that made him a national star — one that gave him god-like status in China and that has made him a cult-like phenomenon.
In a mostly empty Vivint Arena, Fredette drained shot after shot.
Fredette, who signed a deal with the Suns last week, started in the corner and worked his way around the 3-point line.
Swish. Swish. Swish.
In all, he made 10 3-pointers in a row.
The Jimmer has returned. pic.twitter.com/B4UkoSGSuk

— Ryan Miller (@millerjryan) March 25, 2019
"There's not a lot of secrets when it comes to Jimmer," Suns coach Igor Kokoskov said. "We know his talent. We know what he's capable of doing."
That talent has made him a star— both in America and in China — but it hasn't allowed him to carve out a role in the NBA.
He's hopeful that will change this time around.
"I've just matured as a basketball player and as a person in general," Fredette said after the Suns shootaround Monday. "I have a family now. It puts things in perspective. Just go out there, play your game, be myself, be aggressive.
"I've worked on a lot of different things while in China, being able to play so much in game time — on court time — the last three years makes you better, being the focal point of the team. So I've been able to work at all facets of my game, and hopefully this time it will be a different story."
Fredette played for four teams — the Kings, Bulls, Pelicans and Knicks — over a frustrating five seasons in the NBA. He was never able to carve out a role and eventually opted to sign with the Shanghai Sharks of the Chinese Basketball Association.
He became a superstar there.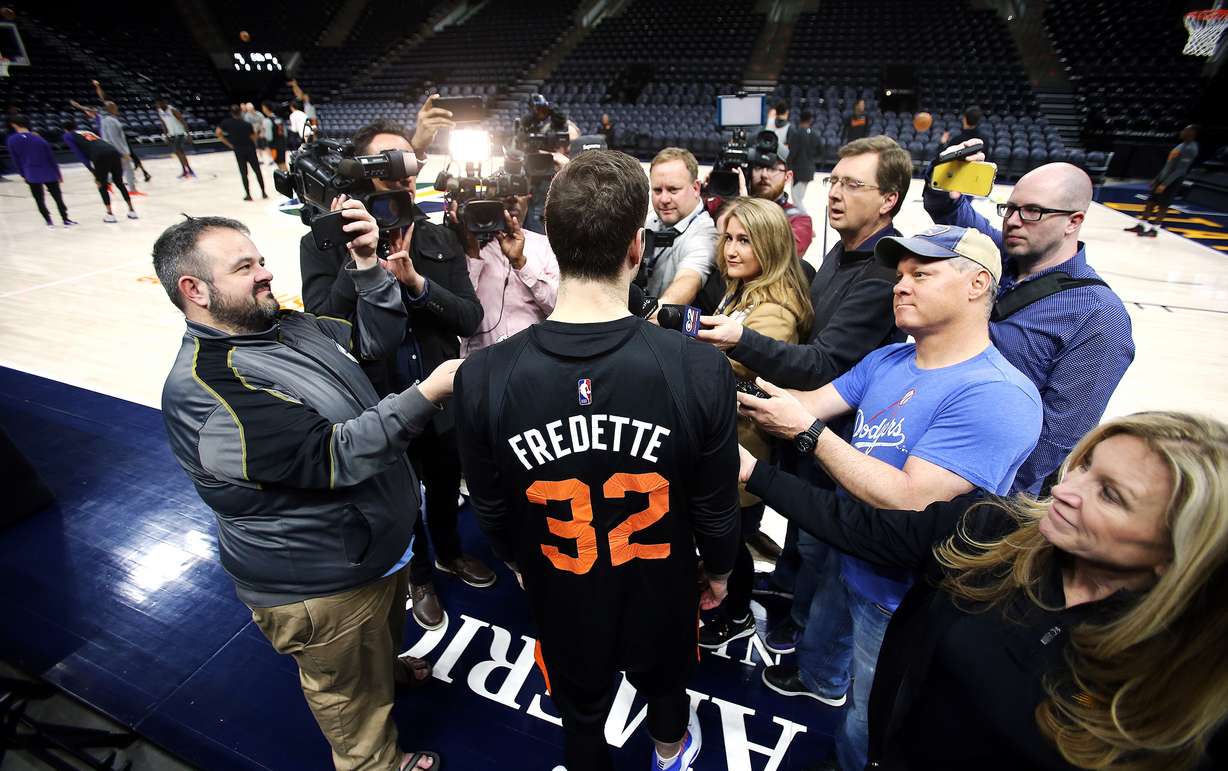 Fredette was named the International CBA MVP in 2017, an All-Star all three seasons and made headlines across the world when he scored 75 points in a game last November. And those types of performances gave him "Lonely Master" or someone who was so much better than anyone else that they were thought of as a god.
It's that kind of status that Fredette is giving up to make another run at the NBA.
"They'll still always be able to refer to me as that, wherever I am in the world," Fredette said. "I am grateful for my three years there. The fans are so great to me and my family. Hopefully, I'll still be remembered for that."
It's what Fredette learned in China that has him thinking he has a chance to stick in the league this time around. He said he played primarily off-ball with Shanghai which helped him develop into more of a catch-and-shoot player.
"Coming off screens, catch and shoot; transition, catch and shoot — whatever it is, I worked on that quite a bit," Fredette said. "So I feel so much more comfortable doing that now than I ever have been. So I think that only helps me playing in the NBA."
Even as Fredette garnered fame and fortune in China, he always had a hope that he would one day be back in the association. No matter how great his success was, his goal was always to get back to playing against the best in the world.
"I had it in my mind that it was going to happen," Fredette said. "You have to think things into existence sometimes if you want them to happen."
×