Estimated read time: 5-6 minutes
This archived news story is available only for your personal, non-commercial use. Information in the story may be outdated or superseded by additional information. Reading or replaying the story in its archived form does not constitute a republication of the story.
SALT LAKE CITY — One day after declaring Tuesday as Support Latino Business Day, Salt Lake City Mayor Erin Mendenhall gathered with community members and leaders Wednesday to recognize Hispanic Heritage Month along with the contributions and experiences of the Utah Hispanic community.
"Salt Lake City is fortunate that so many thousands of Latino and Hispanic residents call our capital city home," Mendenhall said. "From strong families to successful local businesses, beautiful customs and amazing food, our city is better for the contributions of the Latino and Hispanic communities."
The mayor read a proclamation she signed declaring Sept. 15 through Oct. 15 as "Hispanic Heritage Month" in the city. The proclamation noted recent data that shows the Latino and Hispanic community is a "significant and growing" demographic.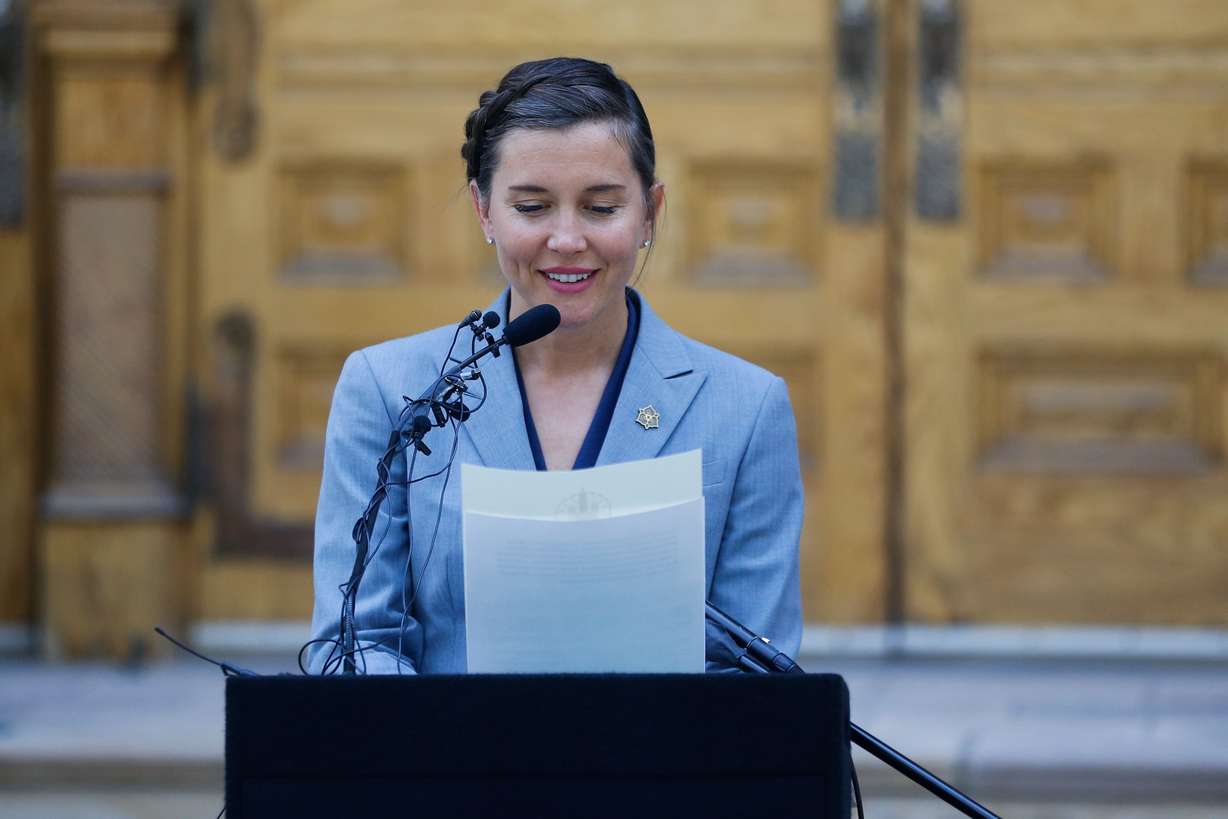 Census data released in August 2020 revealed that racial and ethnic minorities in Utah contributed slightly more than half, 52%, of roughly 508,000 new faces in the last decade. The same data revealed that Hispanic Utahns added the most of any minority group with more than 134,500 people.
Despite the growth in numbers, the population has faced barriers highlighted in recent years. The Hispanic Heritage Month 2021 theme "Esperanza," the Spanish word for "hope," encompasses the hope and resilience of the community, Mendenhall said.
"Latin Americans have a powerful and unique history in the state of Utah. These types of proclamations help to recognize the work our Hispanic communities put into making our society a better, more inclusive place. I am proud of my South American heritage and I want my daughter, and the sons and daughters of all immigrants to recognize and understand their heritage and where they came from," said Silvia Castro, executive director of the Suazo Center.
The history and heritage of Latin Americans in Utah were acknowledged by other speakers throughout the event. José Borjón from the consulate of Mexico noted that present-day Utah was once a territory of Spain and recognized the "the imprint and the deep ties that are between Mexico, Utah and the Latino population." Borjón invited Utahns to celebrate both Mexican and Utahn independence and the contributions brought by both.
But to Richard Jaramillo of the Utah Coalition of La Raza said Hispanic Heritage Month should be more than a celebration.
"Beyond the lively music, the wonderful food and the incredible art that we often highlight, we should also take time this month to think deeper about Hispanic heritage. Heritage rightly understood is about what we inherit from those who came before us," Jaramillo said.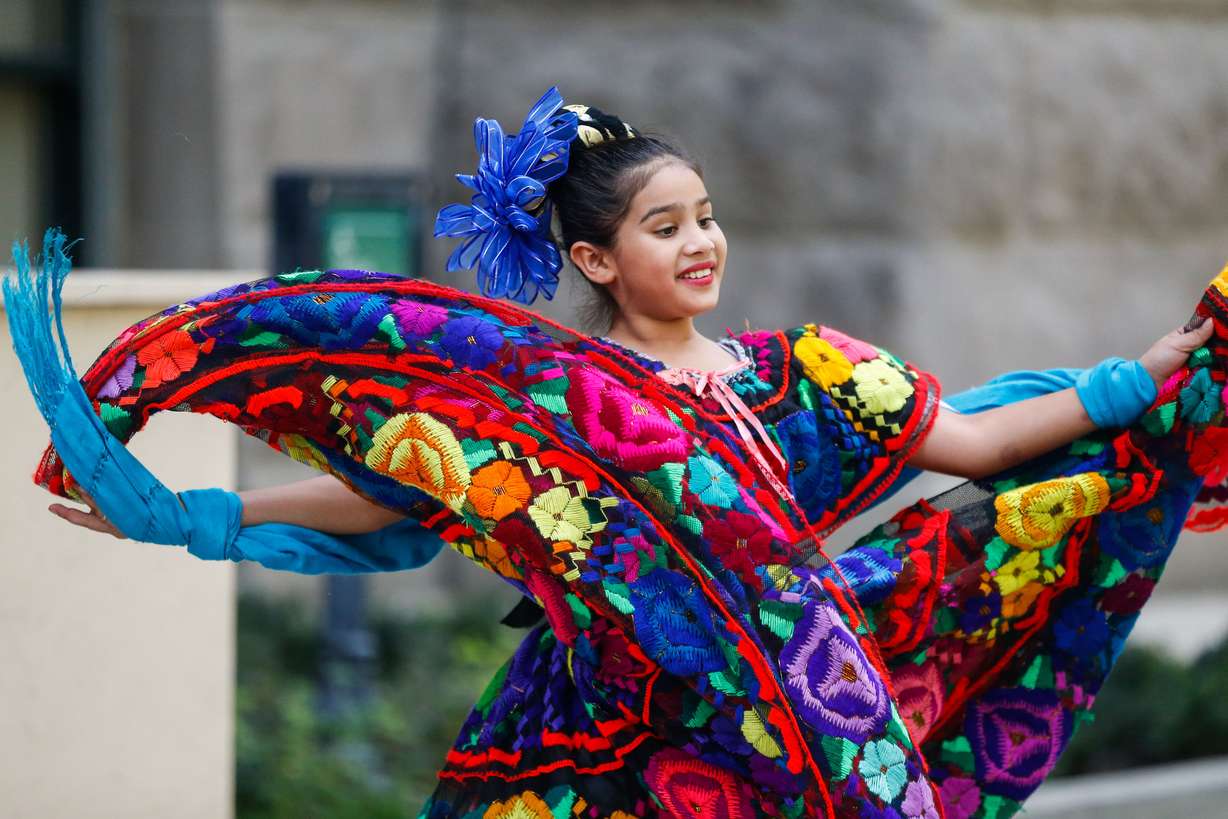 "We should honor Latinx contributions across every industry in Utah's economy," he continued, using a gender-neutral term. "We should seek to find common humanity, good shared values, and similar traditions. Most importantly, while we should certainly take time to celebrate, we should also take time to reflect on the political, economic and social conditions that our Latinx community face today and how we can work together to improve those conditions."
The Utah Foundation was approached by Hispanic business, civil and elected leaders who asked the organization to provide key data related to Utah's Hispanic and Latino population. The project, which received support from the Utah Division of Multicultural Affairs, highlighted disparities and challenges the community faces.
Some of the data in the 2021 report includes:
Hispanic Utahns tend to have poorer educational outcomes and far lower educational attainment when compared to all Utahns, in general.
Utah Hispanic households have the highest median income of any Hispanic population in the Mountain States. However, the median income overall in Utah is about 25% higher than that of the Hispanic population.
Among the Mountain States, Utah has the highest disparity in childhood poverty between Hispanic children and the general population.
Hispanic Utahns are far more likely than all Utahns, in general, to have experienced a loss of income since the pandemic. The fall 2020 data on the coronavirus' economic impacts show that 2 in 5 Utahns saw a loss of employment income. For Hispanic Utahns, that impact was 3 in 5.
A greater proportion of Hispanic Utahns are having a hard time paying usual household expenses during the coronavirus pandemic as compared to all Utahns, in general.
Hispanic Utahns are less likely to have health insurance but also less likely than all Utahns, in general, to have days with poor physical health.
The report notes that it "explores a set of challenges that are neither universal to all Hispanic Utahns nor set in stone."
Gov. Spencer Cox and Lt. Gov. Deidre Henderson are working to address gaps among groups, said Nubia Peña, Cox's senior advisor of Equity and Opportunity and director of the Utah Division of Multicultural Affairs. Peña pointed to the One Utah Roadmap, which has sections on how the administration plans to address equality and opportunity.
She added the past year has allowed a "beautiful bridge" to be developed along with a "meaningful experience of partnership" between state leaders and community stakeholders.
"It is important to acknowledge the beautiful complexity of each person's humanity and recognize we each navigate this world in a manner that is highly influenced by our backgrounds and intersecting identities. By creating practices that take into account and work to serve the different needs of people, we demonstrate not only that we value the vast diversity of our constituents, but that inclusion is a priority for our organizations," Peña said.
That sentiment was carried by Salt Lake City Council member Ana Valdemoros, who said being a Hispanic woman "means working hard, persistently having faith that you will earn your praise in our community, that you will be able to shine as you bring all of your cultural values and diversity to the table. It's a table I know that can expand and welcome."
×
Photos
Related stories
Most recent Utah stories