Estimated read time: 4-5 minutes
This archived news story is available only for your personal, non-commercial use. Information in the story may be outdated or superseded by additional information. Reading or replaying the story in its archived form does not constitute a republication of the story.
PROVO — For as long as college football relies on four-year commitments from players still bound to a university via academic standards, the game will be flush with teams trying to reload and recharge after the departure of a particular standout.
This year's "replacement" — if you can call it that — at BYU is Sione Takitaki. The 6-foot-2, 230-pound linebacker from Fontana, California, was as steady as it gets (at least on the field) for BYU, racking up 237 tackles, 14.5 sacks and 13 quarterback hurries in his college career.
Now Takitaki is off to the NFL, a third-round draft pick by the Cleveland Browns who is expected to contribute in his rookie season, at least on special teams, head coach Freddie Kitchens recently told The Athletic.
And with classmate Butch Pau'u also moving on from the Cougars, the hole in the middle of the BYU defense is laudable.
"It's really been the same," BYU defensive coordinator Ilaisa Tuiaki told KSL.com. "Every single year we seem to lose a key guy — Kai Nacua, or Fred Warner, or Sione now.
"Somebody else is going to step up and be the guy; there's always a cool story developing there. But it's always the guys battling, now for Sione's mike linebacker part."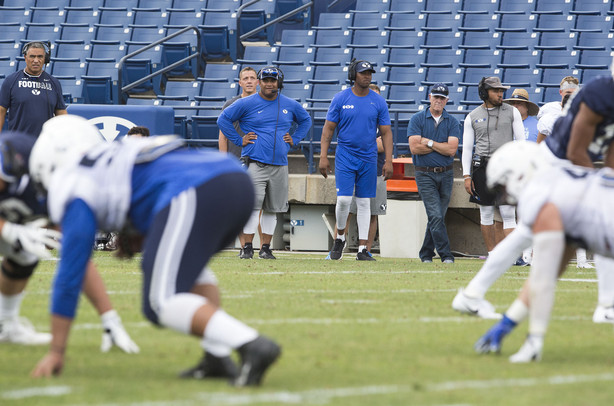 So who will be the next Takitaki, or Butch Pau'u? The top candidate appears former Syracuse High star Kavika Fonua.
The 6-foot, 205-pound redshirt junior has had his fair share of injury-related issues during his tenure at BYU. After signing in 2014, Fonua played in 11 games before serving a two-year mission for The Church of Jesus Christ of Latter-day Saints in Vancouver, British Columbia, then returned to make 24 tackles in 13 games as a sophomore in 2016.
Zayne Anderson brings experience to the Cougar linebacking corp, as a rare senior at outside linebacker. So on paper, Fonua makes the most sense at mike linebacker. The most experienced of the group, he was the Cougars' top special-teams tackler two years ago, linebackers coach and special teams coordinator Ed Lamb said.
He's so well known that Fonua nearly moved to running back this spring. But with the emergence of graduate transfers Ty'Son Williams (South Carolina) and Emmanuel Esupka (Rice) — not to mention the return of lead back Lopini Katoa, among others — Fonua, who rushed for 1,071 yards as a senior at Syracuse High, gradually saw his position within the offense becoming redundant.
"I have history with Kavika," Lamb said. "I know he can run, he can tackle, and he's tough. I've been able to pencil him in as competing for a starting job from the first day of training camp.
"At running back, he's one of many — and on defense, we are ready to pencil him at least in competing for starting reps."
Fonua's biggest concern at linebacker, then, is health. He played in just four games in 2017 before suffering a season-ending back injury, an incident that allowed him to regain his lost eligibility via a redshirt.
Then a broken ankle caused him to miss the entirety of the 2018 season with a medical redshirt.
There were thoughts that Fonua might not fully recover enough to play football again. Sure, he had people telling him it might be best to call it a career.
Now he could be the starter at middle linebacker.
"Moving him back to our side of the ball, he's looked pretty smooth," Tuiaki said. "It doesn't look like he's missed a beat."
If Fonua is not the full-time replacement in the middle of the linebacking corps, the job will likely rest on a pair of redshirt freshmen, Jackson Kaufusi and Payton Wilgar.
Kaufusi needs no introduction; the younger brother of BYU's Isaiah and a cousin of defensive lineman Devin, Jackson Kaufusi was a second-time all-state honoree by the Deseret News in 2015 at Brighton High.
Similarly, Wilgar, a 6-foot-3, 235-pound battering ram who prepped at Dixie High in St. George, played in three games a year ago en route to a redshirt season. And while his size stands out among BYU's linebackers, he was also an accomplished basketball player with the Flyers, averaging 5.8 points and 5.4 rebounds per game for the 22-4 Flyers as a senior in 2017-18.
"I feel like most linebackers have their short change of direction that is their strength," Lamb said. "That's what we look for first. But then a middle linebacker has to have the toughness to take on tight ends and offensive linemen — and I think he has that."
×
Related Stories