Estimated read time: 6-7 minutes
PROVO — Ten in a row.
The perfect 10.
One, and a goose egg (or a donut, for followers of Homer J. Simpson).
That's the streak that the University of Utah will seek to claim against its heated and hated rival at BYU when the two historical nemeses meet Saturday night at LaVell Edwards Stadium (8:15 p.m. MT, ESPN).
The Utes have a chance to make history Saturday night, stretching the third all-time nine-game winning streak to a first-of-its-kind 10 consecutive wins over its rival from the south.
Does that make the 2021 game any different from the last nine, dating back to the 2010 season?
Hardly, says head coach Kyle Whittingham. Turns out, 10 is just a number.
"Yeah, you know, nothing lasts forever, but we're just approaching it like we do every year and pretty much every game," Whittingham said. "The preparation will be the key; it's not the emotional part of it or how many wins in a row or any of that stuff, it's just that you've got to prepare the right way, and that your best chance to win a game is through great preparation."
That's not Whittingham admitting defeat or throwing in the towel on a rivalry series that dates back 95 meetings over a century with similar nine-game winning streaks duplicated once by BYU from 1979-87 and once by Utah from 1929-37. For perspective, the Utes haven't lost to BYU since before current Cougars starter Jaren Hall was slinging touchdowns at Maple Mountain High School.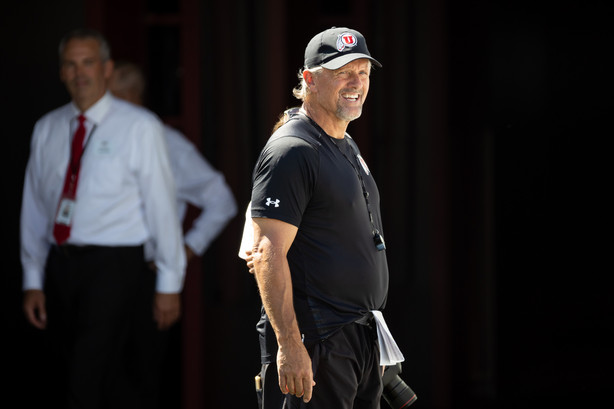 But all good things must come to an end, Whittingham admits. That's the law of probability; three monkeys typing into infinity will eventually produce Hamlet, or so the saying goes.
For Utah, the drive to extend the inevitable another year — or three in this case, with the series taking a hiatus in 2022 and 2023 — is what drives the players and coaches. The rivalry still holds a key place in the Utes' schedule, even if players and fans born in the Pac-12 era don't want to admit it.
For BYU fans, it's the hope that kills you, to quote legendary AFC Richmond manager Ted Lasso. Every year is going to be different — and for nine-straight meetings, it hasn't been.
The Cougars will do everything they can to stop the streak from stretching to 10.
And if they fall? They'll rise up and congratulate their longtime rivals, because that's how head coach Kalani Sitake is and that's a personality that has rubbed off on his team in his sixth season as head coach.
"In the rivalry, I have been on both sides, and I have had family that have been on both sides, so there are really good people all over this place, especially in the rivalry games," Sitake said. "And I think it does really good things for the soul to wish good things on people. I want to beat Utah, I really do.
"But afterwards, I wish them success and hope they do well. Wishing bad things on good people is not good for the soul."
Whittingham knows what he's doing, too. He's earned the respect.
The former all-conference linebacker at BYU has led an incredible reign during his 17 years in charge on the Hill. The 61-year-old former defensive coordinator with a career record of 135-66 and an average salary of $4.1 million has been a part of both undefeated seasons at Utah, one as defensive coordinator and the other as a head coach, that helped vault the program to new heights with admittance into the Pac-12.
That was the turning point for the rivalry, too. The Cougars haven't won a game in the series since 2009, though six of the last seven meetings have been decided by 10 points or less.
Players come and go, and Whittingham has changed over assistant coaches and even offensive coordinators several times in that span.
But one thing remains constant.
"It starts there; this game is a huge deal to him," said BYU offensive coordinator Aaron Roderick, who worked under Whittingham for six of the past nine rivalry games. "He makes it a huge deal to the whole program. We have to match that.
"But he's an outstanding coach, and that's why they're good. He's leading that ship."
BYU receiver Samson Nacua has seen both sides of the rivalry. Before he suited up for the Cougars in last week's season-opening win over Arizona, he was a dyed-in-the-wool Ute — so much that he's still remembered on the Hill for the red dye he'd literally apply to his then flowing locks of hair during several seasons.
But when the Timpview High graduate had a chance to transfer home when his mother needed him and his younger brother Puka wanted to depart Washington to play for BYU, he put a lot of thought into it. A lot of prayer.
Samson Nacua made the move to Provo, and he hopes Utah fans can understand the reasons far superior to football that spurred the decision.
And if they don't? That's fine; he still loves the passionate fan base that cheered for him every week while he led the Utes in touchdown receptions in two of the last three years.
"I hope I get a big cheer," Nacua said of the hundreds of Utah fans that will be present at the sold-out 63,000-seat LaVell Edwards Stadium on Saturday. "It was not an easy decision making the change. I've still got so much love for them in my heart.
"If not, nothing's ever going to change, though."
Nacua has seen just how important the rivalry is to both sides of the divide — among fans, but also among players and coaches.
The two programs are much more alike than they are different, Roderick said. Both schools recruit heavily in the state of Utah and both rosters have a strong influence from members of The Church of Jesus Christ of Latter-day Saints, the shared faith of both Whittingham and Sitake.
But on rivalry week, there's something extra.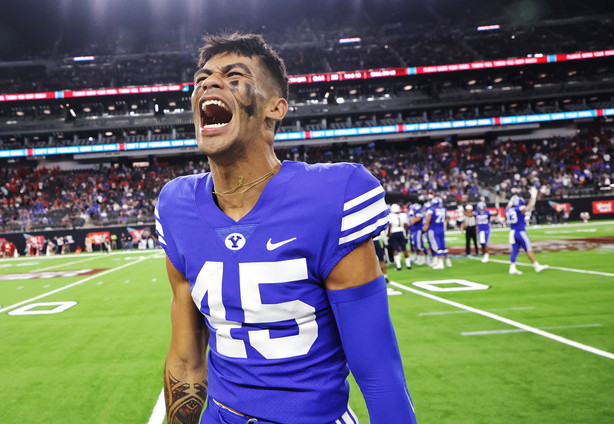 "There's a bit more energy in the air," Nacua said. "Everything's a bit more exciting."
Outside of rivalry week, the two coaches are among the best of friends, too. Sitake worked for Whittingham for over a decade in Salt Lake City, when the one-time linebackers coach was thought to be a possible successor to Whittingham if he ever retired.
Which is why you'll never hear Sitake say a bad word about Whittingham, a feeling that appears to be mutual, at least in public. The ever-loving first Tonga-born head coach at the FBS level is almost universally beloved — on both sides of the rivalry fence, and around college football — largely because he tries to extend that same love to others.
And his attitude is spread to his team, too.
"Everyone is always saying to compete with the guy next to you. I've always thought it can be a little weird; I'm always competing with myself, and I want everyone to succeed in this life," said Nacua, who spent the past three seasons at Utah. "This life isn't easy; everyone's been through so much.
"Whether we're on the same team or not, I want you to succeed. I don't have time to hate, or wish for them to lose. I just wish for the best team to prepare, and that they can come out with the win. That's how it's going to be."
How to watch, listen and stream the game
No. 21 Utah (1-0) at BYU (1-0)
Where: LaVell Edwards Stadium, Provo
When: 8;15 p.m. MT
TV: ESPN (Dave Fleming, Rod Gilmore, Alex Chappell)
Streaming: WatchESPN
Radio: BYU Radio 107.9 FM, KSL Radio 1160 AM/102.7 FM (Greg Wrubell, Riley Nelson, Mitchell Juergens)
Series record: Utah leads, 59-21-4
Legacy of LaVell: Both head coaches were coached by legendary BYU coach LaVell Edwards, when Utah's Kyle Whittingham was an all-conference linebacker for the Cougars from 1978-81 and BYU's Kalani Sitake was a fullback on Edwards' final teams from 1997-2000. Both coaches credit the late Edwards' influence on their playing and coaching careers and his impact off the field in their lives.
Back in the Pac: Utah is the second of three Pac-12 teams that the Cougars will face to open the 2021 season. In total, BYU will play five teams from the Pac-12 in 2021, with forthcoming games against Arizona State, Washington State and USC.
×
Related Stories